Former Coronavirus Skeptic Warns Others to Take It Seriously After Being Hospitalized
In a Facebook post, the former skeptic revealed that his wife is on a ventilator and may not survive.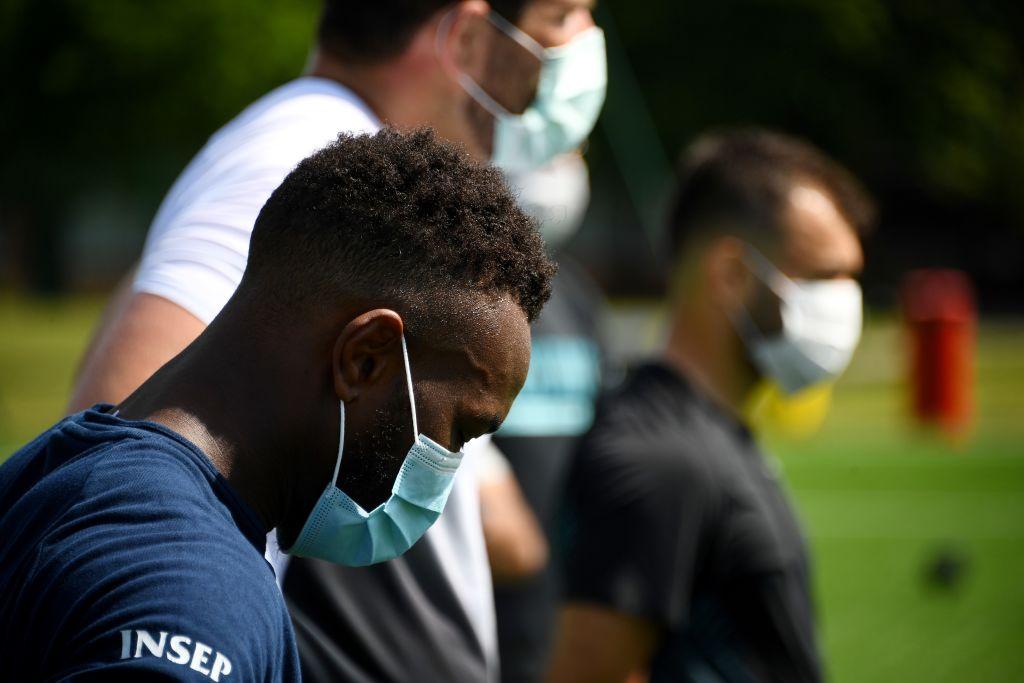 A man who doubted the seriousness of coronavirus has spoken out and encouraged others to take the virus seriously after he and his wife were hospitalized with serious infections.
Article continues below advertisement
Just last month, Hitchens didn't think that the coronavirus crisis was anything to worry about. He told WPTV-TV in West Palm Beach in an interview from his hospital bed that he thought fear surrounding the coronavirus was misplaced.
"I thought it was maybe the government trying something, and it was kind of like they threw it out there to kinda distract us," he said.
"I'd get up in the morning and pray and trust in God for his protection, and I'd just leave it at that. There were all these masks and gloves. I thought it looks like a hysteria."
Article continues below advertisement
On his Facebook page, the rideshare driver said in early April that he did "not fear this virus because I know that my God is bigger than this Virus will ever be."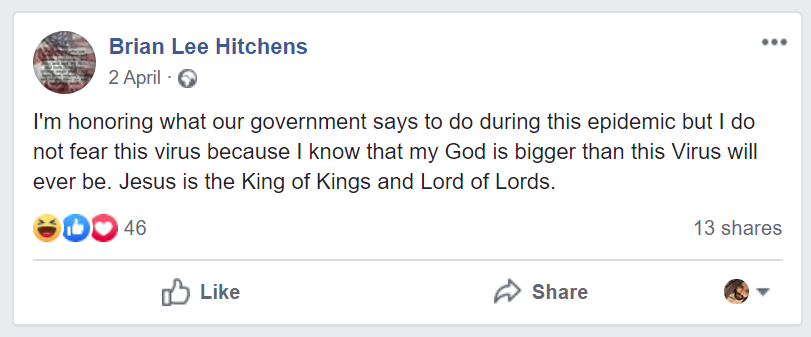 Article continues below advertisement
However, Hitchens made a dramatically different post last week, revealing that he and his wife were hospitalized after contracting coronavirus.
"Many people still think that the Coronavirus is a fake crisis which at one time I did too and not that I thought it wasn't a real virus going around but at one time I felt that it was blown out of proportion and it wasn't that serious," Hitchens wrote.
"We kept on watching the news and kept on hearing about the spreading of the Coronavirus and to be honest I didn't really think nothing of it I still thought it was being blown out of proportion."
Hitchens went on to reveal that in mid-April, he began to feel very ill.
Article continues below advertisement
"I started to feel sick I stopped working and stayed home yes I came down with the Coronavirus and a couple days later after I started to not feel good my wife started to not feel good," Hitchens wrote.
According to the post, he and his wife decided to quarantine. After his wife deteriorated further, she received a test.
A few days later, the pair had both deteriorated, and Hitchens used the last of his energy to drive them to Palm Beach Gardens Medical Center, where coronavirus was confirmed. The two were admitted to the ICU, and although Hitchens began to recover, his wife unfortunately deteriorated further.
Article continues below advertisement
"I started feeling better within a few days but my wife got worse to the point where they sedated her and put her on the ventilator," Hitchens wrote. "I was never put ventilator and started feeling better feeling stronger never had terrible aches and pains just weak and exhausted."
"As of today my wife is still sedated and on the ventilator with no signs of improving. There were a couple times were they tried to start weaning her off the ventilator but as soon as they've done that her oxygen level dropped and they had to put her back on the ventilator full time."
Article continues below advertisement
"I have come to accept that my wife may pass away," Hitchens added. "The peace I have about it is that I know without a shadow of a doubt that she will be going home to be with the Lord but I also do believe in miracles and I'm holding on to the chance that she may get healed but if not I am thankful for her I know we've been married for 8 years."
Hitchens went on to encourage others to take coronavirus seriously.
"This thing is nothing to be messed with please listen to the authorities and heed the advice of the experts. We don't have to fear this, and by heeding the advice doesn't mean that you fear it, that means you're showing wisdom during this epidemic time."
He then states that he should have worn a mask, as he fears that he was the one to pass the virus onto his wife.
Article continues below advertisement
"Looking back I should have wore a mask in the beginning but I didn't and perhaps I'm paying the price for it now but I know that if it was me that gave it to my wife I know that she forgives me and I know that God forgives me."
"So just think about what I said and if you have to go out please use wisdom and don't be foolish like I was so the same so the same thing won't happen to you like it happened to me and my wife," Hitchens concludes.
After his post was shared hundreds of times, Hitchens spoke to WPTV-TV from his hospital bed.
"I don't want to see anybody go through what I went through," he said. "This wasn't some scare tactic that anybody was using. It wasn't some made-up thing. This is a real virus that you've got to take serious."
Article continues below advertisement
"My wife's on a ventilator. It's been like that for three weeks, and it's tough. It's sad," he added.
The best way to prevent contracting or spreading coronavirus is with thorough hand washing and social distancing. If you feel you may be experiencing symptoms of coronavirus, which include persistent cough (usually dry), fever, shortness of breath, and fatigue, please call your doctor before going to get tested. For comprehensive resources and updates, visit the CDC website. If you are experiencing anxiety about the virus, seek out mental health support from your provider or visit NAMI.org.