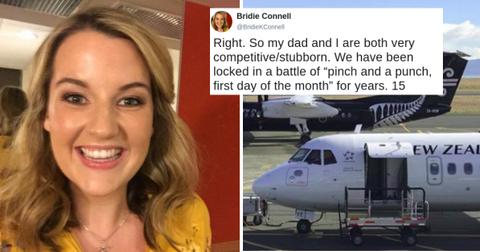 Dad-Daughter Prank War Story Ended with a Victory for This Woman's Old Man
By Mustafa Gatollari
A 15-year-long prank war between a father and daughter hit its zenith when pops decided to go above and beyond to pull a seriously incredible gag on his little girl.
One of the main reasons I never wanted to be a parent was because I thought it automatically made me a lame-o. None of my favorite people or characters had children, like Batman. He's got no kids. Neither did Benicio Del Toro's character in Fear and Loathing in Las Vegas — no one would entrust that man with raising a child but that didn't mean he wasn't the kind of hot mess I wanted to end up like.
But it wasn't until I got older and presumably lamer that I saw dads could actually be kind of cool and fun. We didn't need to be the stern authoritarian figures that are the out-of-touch, roast-worthy losers in '80s movies and '90s sitcoms. I could eventually come around and be a pops like Kenny Powers in Eastbound and Down. And that's pretty cool.
So I naturally love the relationship that Bridie Connell and her dad has.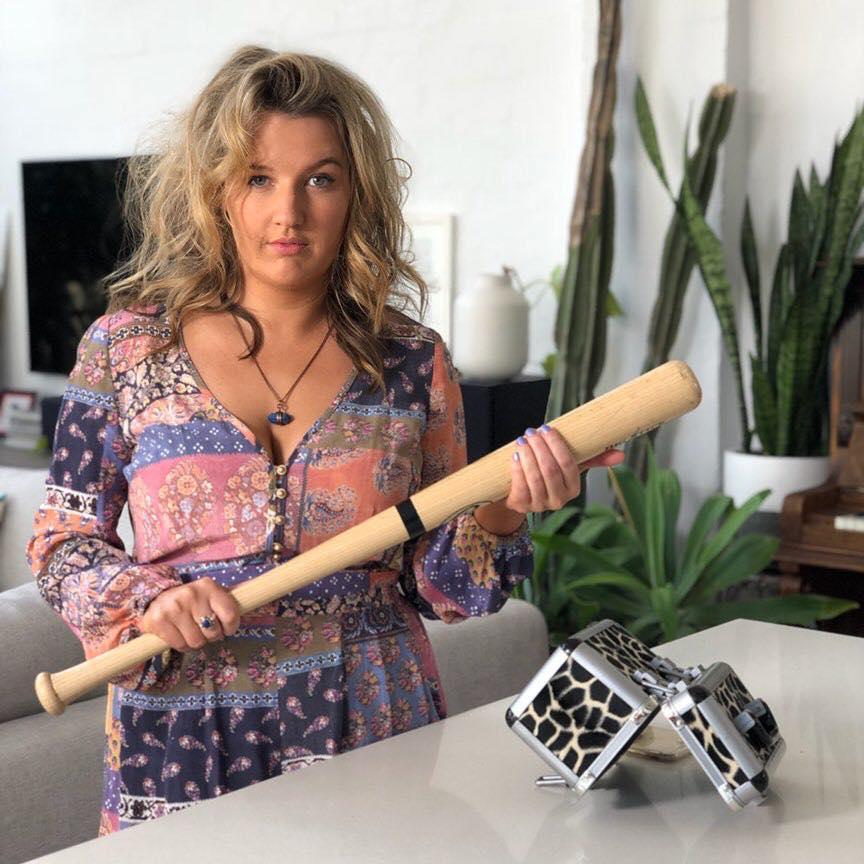 The actress and writer shared that her and her father have shared quite a few laughs' at one another's expense over the past 15 years in the form of a glorious prank war.
It's called "Pinch and a punch, first day of the month."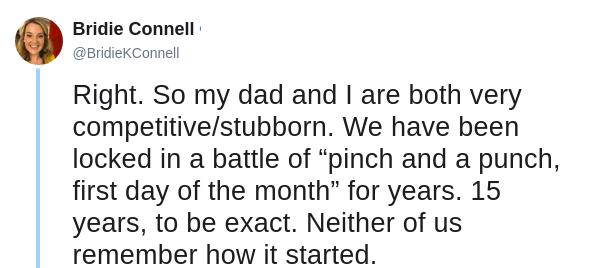 It's a lighthearted way for the two of them to show much they love each other by displaying one should never take life so seriously that you can't crack a joke.
The rules of the game are simple:

The more you catch someone by surprise with the phrase, the better the victory. By doing it every single month, however, it's resulted in some pretty creative outcomes.
Over the the course of the past 15 or so years, they've had some absolute doozies.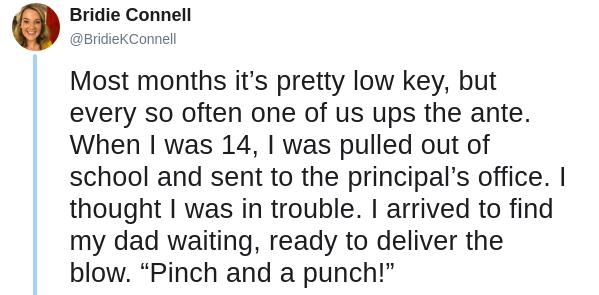 The best part is, they're no strangers to getting other people involved in these pranks.
Even if they are unwilling participants.

Some of the more high stakes pranks they've pulled off are nothing short of incredible.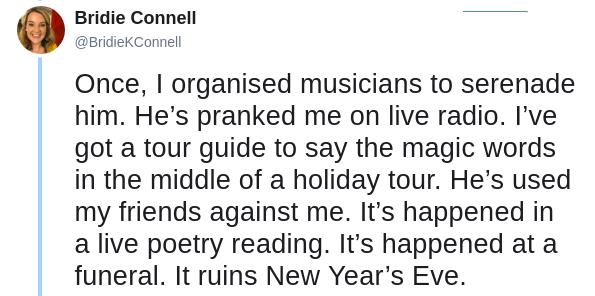 From getting a band to come and sing the phrase to him, to radio stations, to family gatherings. No place, vacation, our outing is sacred. The prank can come at any time.
Understandably, other members of Bridie's family don't approve of it all that much.

It would be nice to just have a nice and quiet funeral for once. Just saying.
There's a pretty complex score-keeping system involved in the prank war as well.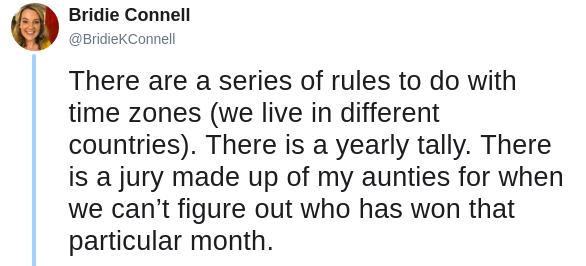 Tie-breaking authority is given to a panel of Aunt-Judges, and there are some serious time-keeping issues that need to be considered.
But this last particular prank that Bridie's dad pulled off takes the cake.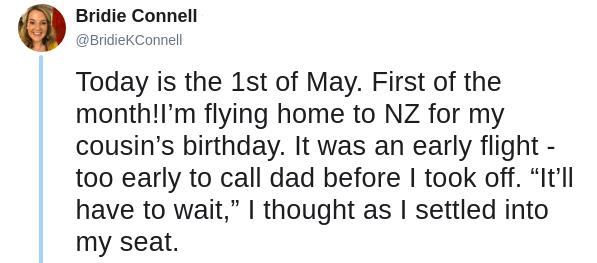 Bridie started her day none the wiser when she was boarding an airplane to visit her cousin for her birthday.
In her excitement to board her favorite airline, she apparently let her guard down.

Just thinking about that ample legroom and complimentary chocolate threw her off her game.
So when an airline worker approached her, she thought she was getting an upgraded seat.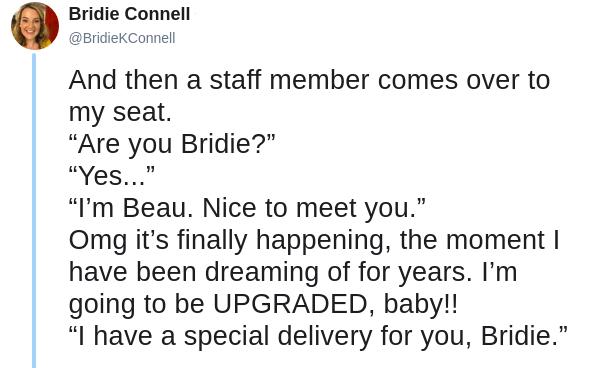 How many of us haven't dreamed of the moment when someone on the flight asks you to be upgraded to first class. It's probably one of my top 3 airline fantasies. That and finding a monster on the wing. Oh wait, that's not a fantasy but an absolute nightmare and an episode of The Twilight Zone.
She was sure of it.

Bridie was almost probably prepping the first-classiest look she could muster.
That is, until, she was handed a letter by the staff member.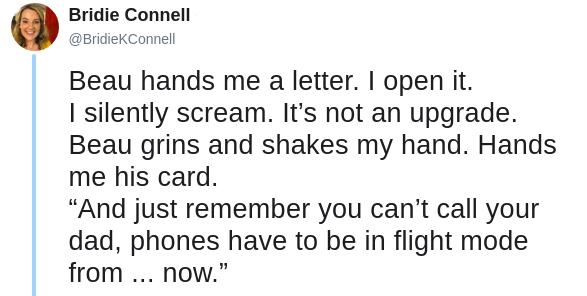 The worst part is that she couldn't even call her dad to vent her frustrations.
The amount of careful planning her dad did to turn a lovely airline employee annoyed Bridie.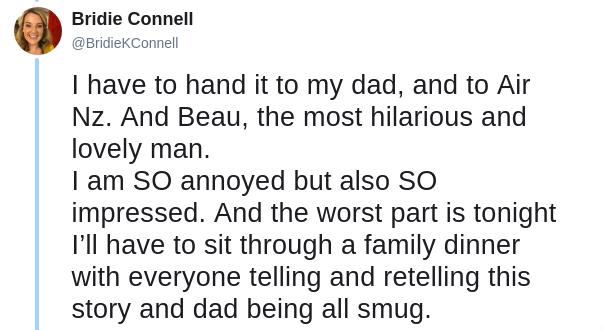 But she also had to give them credit for hearing her pops out and going through with such a wonderfully elaborate prank.
Bridie immediately went to work on getting back at her dad.

And she's looking for some help in case you've got any ideas.
She also got a photo of Bridie with proof of the entire ordeal.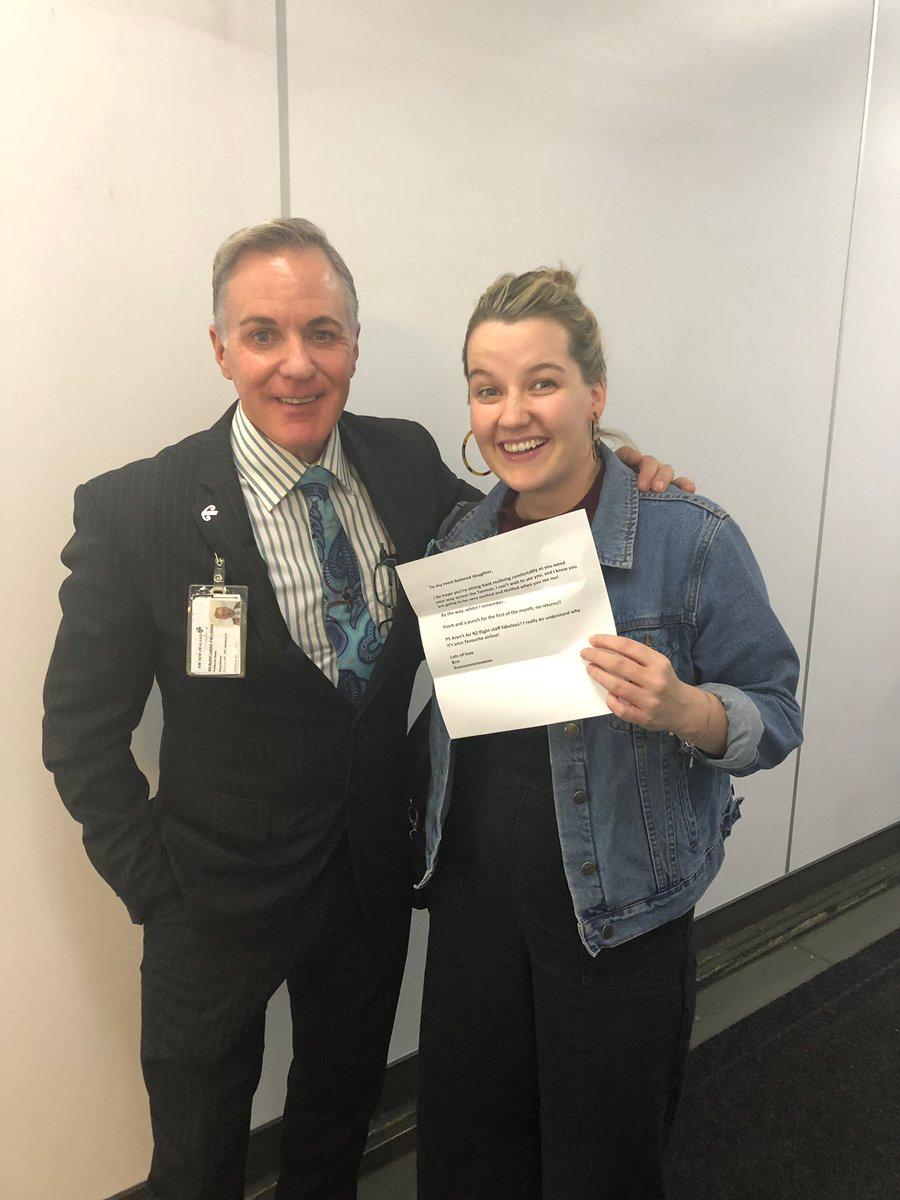 Here she is with the airline employee who helped her dad carry out the amazing gag.
And here's the letter than make Bridie's heart sink.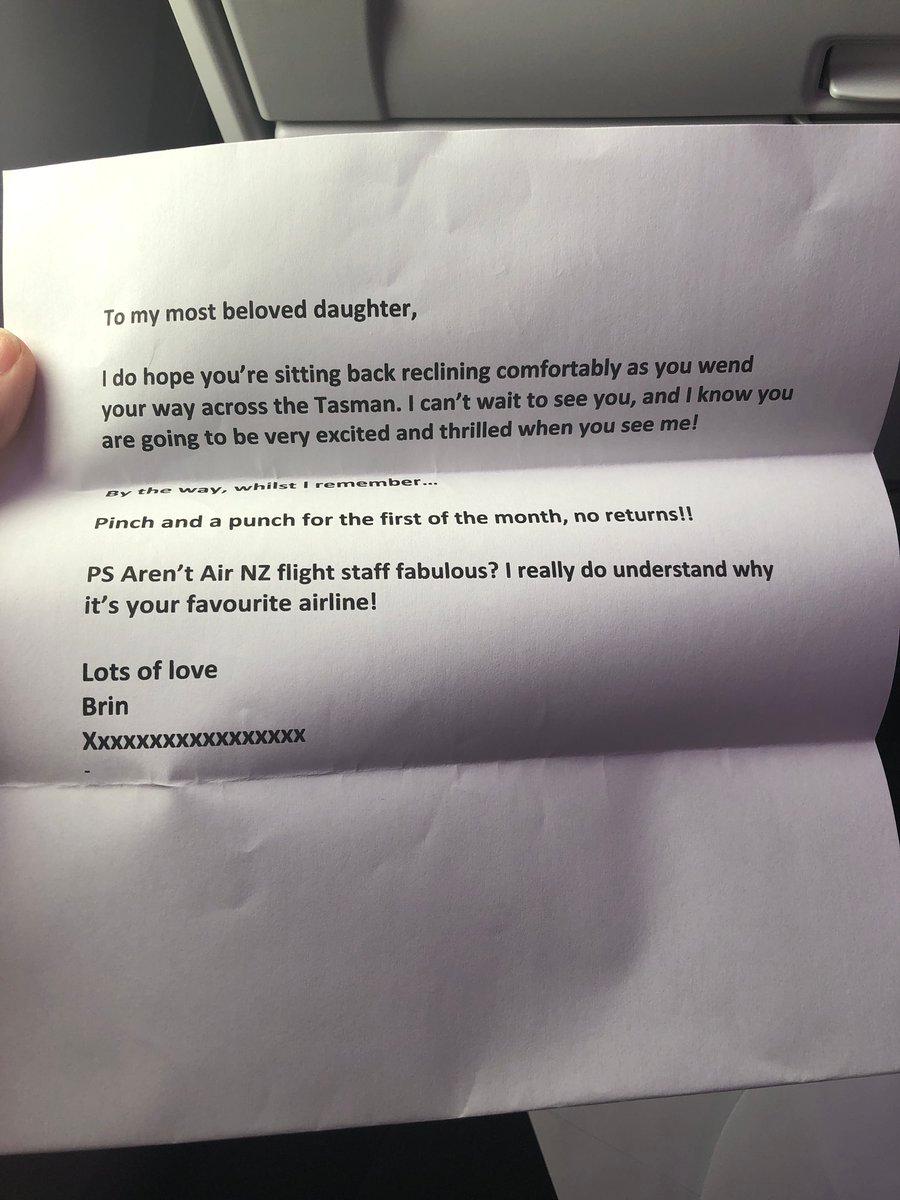 So, so good. This is the kind of dad I aspire to be.
Even though she lost the prank battle, she won the flight upgrade war.

It's no first class but the extra leg room in premium economy was most definitely a welcome treat for the young woman. I'm waiting with bated breath to see how she's going to respond to come back at her pops.
Anyone have some suggestions? I'm thinking the hiring a deadbeat nerd and pretending like you're going to marry them and inviting them over for dinner route. Will take some leg work but it could definitely be pulled off.