Doctor Tries to Explain What It's Like Treating a Patient Who Doesn't Believe COVID-19 Is Real
He doesn't blame the patient but the lies people are fed and the willingness of many to deny the reality right in front of their faces.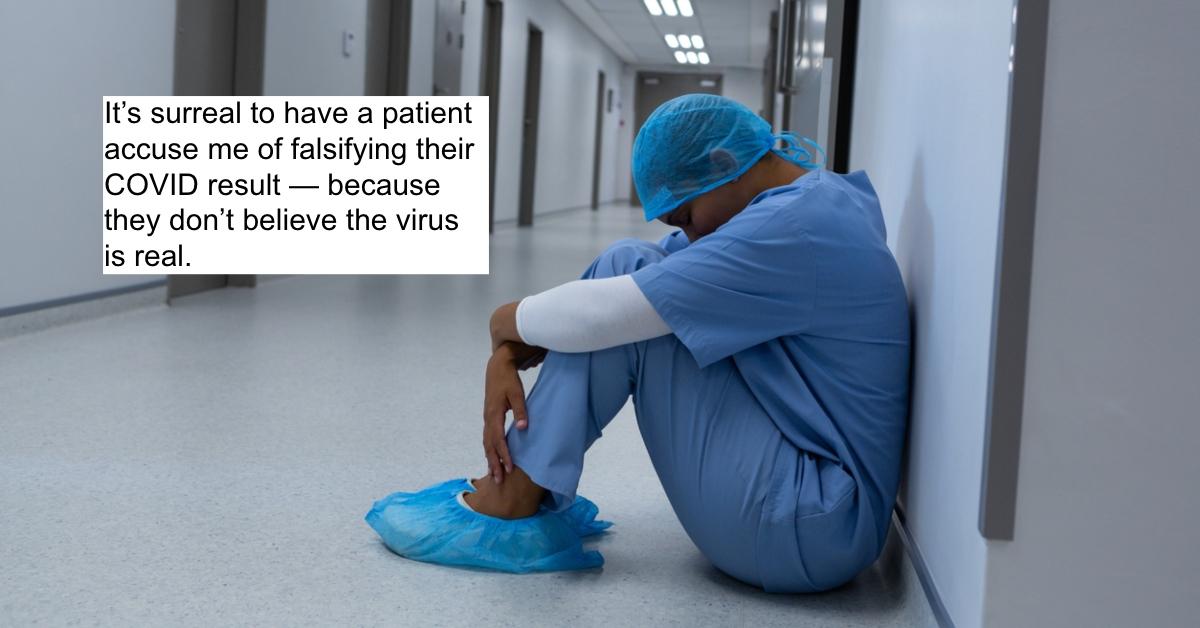 Emergency room doctor Ryan Marino took to Twitter recently to share his utter frustration. He's encountered a thoroughly modern problem: one of his patients sick with COVID-19 has been fed so many lies that they do not believe the virus is real.
Article continues below advertisement
How do you treat a person for a virus they don't believe exists? How have we gotten to the point where people are denying reality even when it's entered their bodies? What do you possibly do in a situation like this?
Article continues below advertisement
It's no secret that doctors put up with a lot from patients. Some become mean, violent, or resist treatments that they so clearly need. But it's a new thing for Ryan Marino to have a patient who doesn't even believe the virus with which they've been diagnosed exists in the first place.
They are in the hospital. They clearly have severe enough symptoms to land them there. Not to mention, there's a global pandemic that even President Donald Trump has admitted is actually happening.
Article continues below advertisement
Yet, it seems there are people out there who believe it's a hoax or a conspiracy and that COVID-19 not only isn't a problem for the U.S. but isn't actually real. At all.
Ryan doesn't blame the patient. We have been fed so many lies and half-truths and leadership has been so nonexistent that it's not all that surprising that a patient would accuse him of falsifying test results.
Article continues below advertisement
It's really crazy that we live in a time where people won't believe what's right in front of them. Facts are no longer accepted as truth. People believe everything is political, including science, because that's what the president and his party have been spewing. That's what the spread of internet conspiracies has done. Those are the divisions that networks like Fox News have focused on widening.
Article continues below advertisement
So how does a doctor treat a patient whose brain has been so poisoned? Well, you hope, I suppose, that they don't believe those lies more than they believe what's actually happening to their body.
Article continues below advertisement
I imagine that's extremely difficult to deal with. The people who you trust most in the world, probably your family, has been telling you this virus is fake, and now you're in a hospital and the doctor is telling you that you have it. That has to be world-shattering.
Luckily, Ryan somehow got this person to accept treatment. It's not clear whether or not they finally believe COVID-19 is real and that they have it, but the important thing is that they're not denying hospital treatment.
Article continues below advertisement
It's so upsetting that everything, including this pandemic, has become so political. There should be no question that we listen to scientists and heed expert advice, even when it's not politically convenient.
But that's not the world in which we live, and it's terrifying because it's unclear how we come back from that. How do we convince people to listen to experts when there are leaders who tell them not to? How do reverse this pattern when the truth isn't accepted as truth anymore?