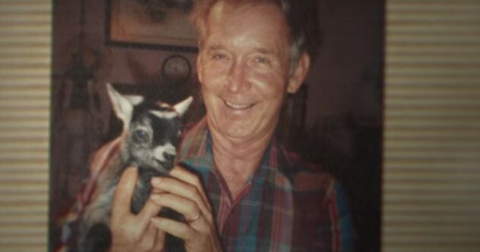 The Popularity of 'Tiger King' Has Sparked Some Don Lewis Theories
By Devan McGuinness

Updated
Netflix's documentary Tiger King has now become the most-watched of all time. Several factors are driving up the popularity of the series, including the fact that everyone is looking to watch more TV as we wait out the pandemic.
The cast of real-life characters is hard to believe without watching yourself, and of course, there's the unsolved murder of Don Lewis, Carole Baskins' first husband. Sparked from the popularity of the show, there are now several Don Lewis theories surrounding his disappearance that have surged since the Netflix show dropped.
Is Don Lewis still alive?
In the documentary, viewers learn that Carole's husband went missing in 1997 — he was legally declared dead in 2002 — but the case still hasn't been solved to this day. Legally he is dead, but people who have heard of the story or have watched Tiger King have formulated some Don Lewis theories of what happened to him, if he's dead, and if so ― how he died.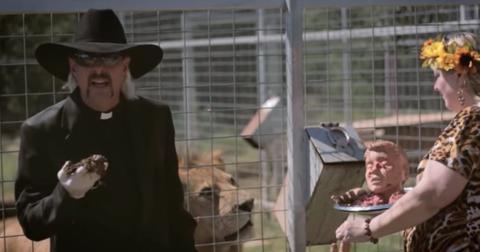 Theory 1: Carole Baskin killed her husband Don by feeding him to a tiger.
One of the most pronounced Don Lewis death theories was that his wife had him murdered by feeding him to one of the tigers they cared for on their Big Cat Rescue property. Viewers heard Tiger King, Joe Exotic himself, say he feels this is what really happened, and this seems to be the leading theory. Joe Exotic produced a music video for "Here Kitty, Kitty" with a Carole-look-alike that can be seen feeding a fake body to the tigers.
Theory 2: Don Lewis fled to Costa Rica.
According to what Carole said in the documentary, the last thing she and her husband talked about was him planning his early morning trip to Costa Rica. In the documentary, someone close to Don says that he was told by Don: "If I can pull this off, it will be the slickest thing I ever did." This was referencing his alleged decision to leave Carole and disappear to Costa Rica and to move his wildlife sanctuary there with him.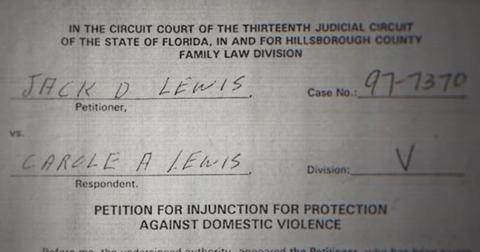 Theory 3: He tried to fly to Costa Rica but died in a plane crash.
Carole said in the documentary that Don didn't pass the licensing needed to fly his small plane — but that didn't stop him from flying. Theories started to pop up that he had flown to Costa Rica using his plane, undocumented because he was operating without a license. While watching Tiger King, this theory was pretty much squashed because it was said to be "impossible" for the plane Don owned to fly that far non-stop.
Theory 4: Don Lewis is under the septic tank.
One of the funniest parts of the Tiger King documentary for many was when Joe Exotic was so adamant that Don Lewis is buried under the septic tank, and he even went as far as mocking Don in a skit.
Many theories surround the disappearance of Don Lewis, and even outside the popularity of Tiger King, any cold case that goes this long without having an answer is compelling. People are suspicious of Carole's involvement and Don's kids and ex-wife are also wary of her. Don's attorney didn't address Carole's suspected involvement but did say he thinks Don was killed.
With the Tiger King sparking interest in the case, there has been some talk about the case being re-investigated, and there is a significant public push to find out what happened.