9-Year-Old and a Baby Are Among Those Who Paid More Taxes Than Donald Trump
Regular people who aren't millionaire businessmen reality TV stars paid much more than the president in income taxes.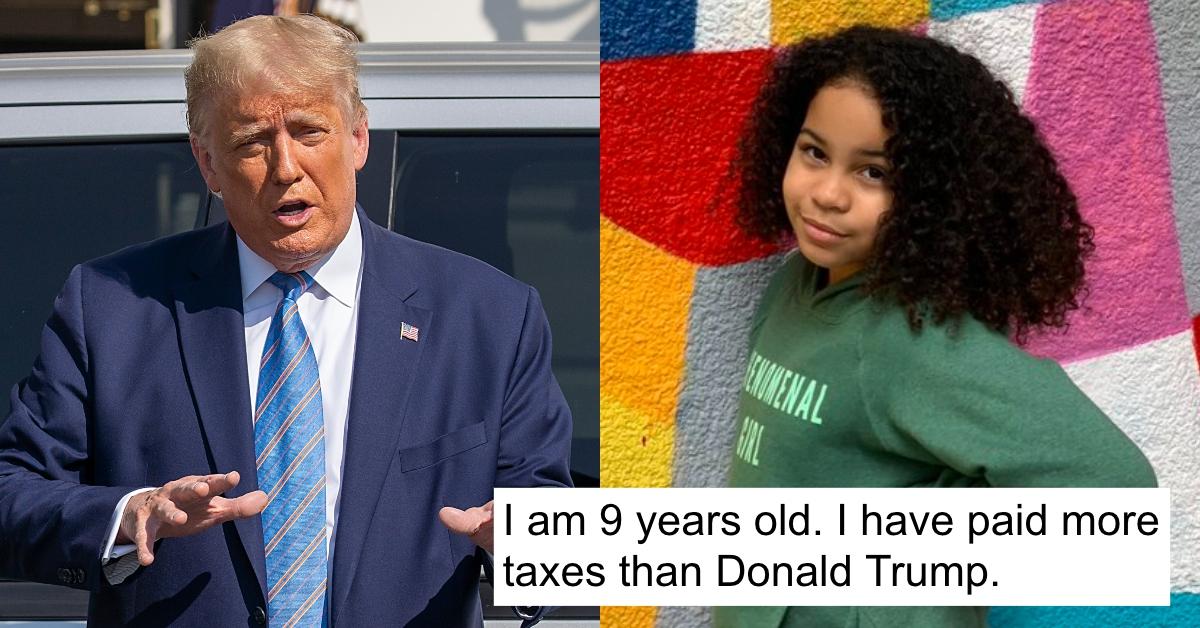 The New York Times recently released a bombshell report about President Donald Trump's tax returns, including the fact that in 2016 and 2017, he only paid $750 in federal income tax for each entire year. Other revelations include the fact that he paid no income taxes at all for 10 of the past 15 years as well as evidence of massive amounts of debt that he will not likely be able to pay off in the next few years when it's due.
Article continues below advertisement
Trump was the first president not to disclose his tax returns while campaigning for the job, and although many have suspected the reason for that was that his finances were messy beyond belief, we didn't have confirmation of that until now.
Twitter found that "$750" number particularly despicable. Many people who make far less than the millionaire real estate mogul turned reality TV star turned president pay much more than $750 in taxes every year, prohibitive amounts that measure in the thousands.
Article continues below advertisement
The fact that Donald Trump and other members of the mega-wealthy class can loophole their way out of paying their fair share while the rest of us drown points to a totally broken system, one that people hope to dismantle by sharing their own stories. These tweets demonstrate just how ludicrous it is that Donald Trump got away with only paying $750 in taxes in a year.
This small business owner paid 225 times more in federal taxes than Donald Trump did in 2016 and 2017. When I was a freelancer scraping up a meager five figures, I owed about $6,000 in taxes for one year. The experience of paying taxes as a freelancer really opened by eyes to the inequality in our system.
Article continues below advertisement
Rodrigo isn't the only undocumented immigrant to pay more in taxes than the president. A viral tweet from comedian Chris Garcia explains the stark discrepancy between their contributions.
Lots of conservatives like to say that undocumented immigrants are a "burden on the economy" even though they contribute billions in taxes each year. Meanwhile, a man with several gold toilets is refusing to pay his fair share and draining resources in the process.
Article continues below advertisement
Even a teenager with a part-time job pays more in taxes than the President of the United States. But she is far from the youngest one who commented on this absurdity.
Havana is 9 years old and has paid more in taxes than Donald Trump. Taxes are a positive thing. They help the country run smoothly, build infrastructure, and provide services for its people. But the system is broken when a child has to pay more than a multi-millionaire TV star.
Article continues below advertisement
This baby — less than a year old, being held by Jessica Biel and Gerard Butler — paid more taxes than Donald Trump. Let that sink in.
This gif is most appropriate for this situation. Donald Trump is just a symptom of a much larger, structural issue. Our tax system isn't fair. It doesn't work for the vast majority of people.
Article continues below advertisement
If you need a little perspective, Abraham Lincoln literally paid more dollars than Donald Trump in taxes when he was president...150 years ago. These numbers aren't adjusted for inflation. They are the actual numbers.
In case that was too confusing, here are a few more modern examples. Every single president for the last 40 years has paid tens of thousands, hundreds of thousands, or even over a million dollars in federal taxes during their first year. Donald Trump? $750. $750. I can't repeat it enough. $750.