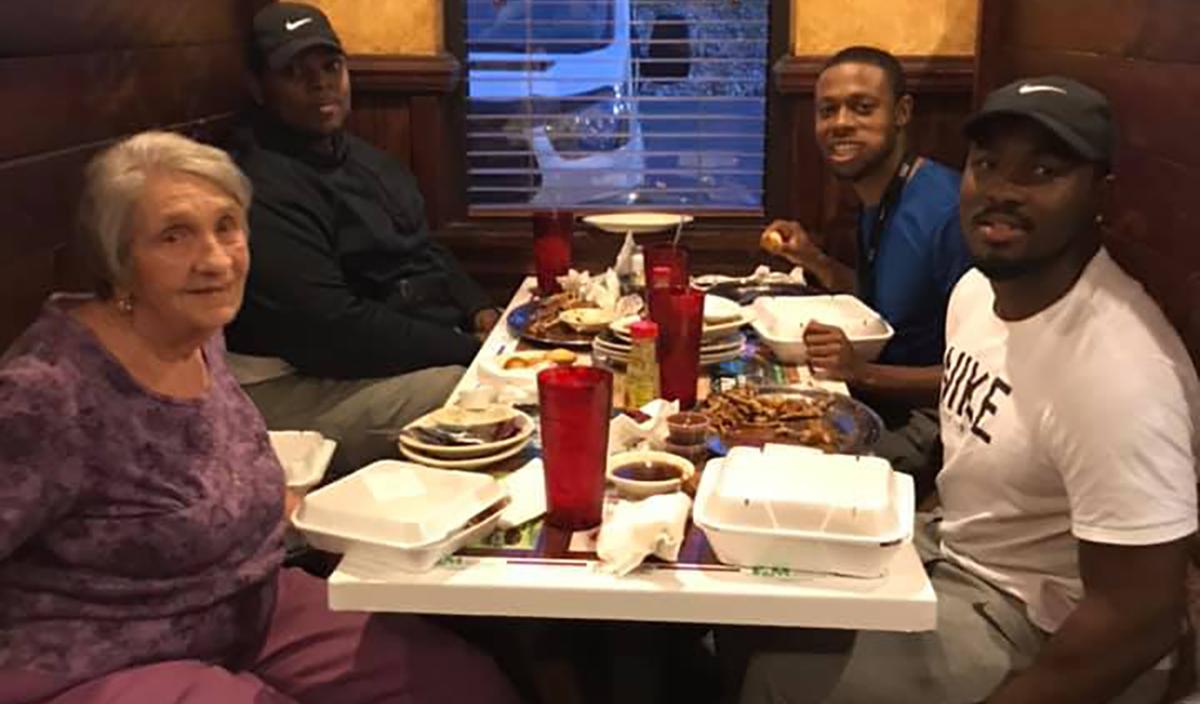 Men Invite Elderly Woman Eating Alone to Eat With Them and It's Too Sweet
Jamario Howard was out with some friends eating at Brad's Bar-B-Que in Lincoln, Alabama, last week when he noticed an elderly woman sitting alone.
"My exact thoughts were, 'Dang, I'd hate to have to eat alone,'" Howard wrote on Facebook. "So, after thinking about it a minute I walked over to her and asked if I could sit with her."
Article continues below advertisement
The woman was Eleanor, and after a few minutes of talking Howard learned that she had recently lost her husband and the following day would have been their 60th anniversary. So Howard decided to ask Eleanor to join him and his two friends, JaMychol Baker and Tae Knight, for dinner.
Article continues below advertisement
Howard posted photos of the dinner on Facebook, where they quickly went viral with over 43,000 shares and thousands more comments.
"I instantly gave my condolences and asked her to come eat with us, which she was excited to do," Howard explained in a caption alongside the photo. "The point in this is always be kind and be nice to people. You never know what they are going through. This woman changed my outlook on life and how i look at other people. Everyone has a story so do not judge! And people I can't stress this enough."
Howard ended the post by stating; "GO SEE YOUR MOM AND YOUR GRANDPARENTS. They miss you!!"
Article continues below advertisement
Howard's post attracted thousands of positive comments. One commenter wrote:
"You are thoughtful, compassionate and a loving soul to notice and act on the needs of a stranger in such a kind and generous way. What the world needs now, is more of this!"
"This is a very heartwarming story. May your kindness and outreach of love to this elderly lady be an example to everyone. You all are to be admired for being gentleman. You all made this lady's day and something she will never forget. I hope everyone will read your story and do something kind today."
The world could always use more kindness.