A Flight Attendant Refuses to Store a Passenger's Wheelchair — the Story Unfolds on TikTok
On TikTok, a disgruntled passenger says that a flight attendant refused to store their wheelchair on the plane. The 32-second video explains all.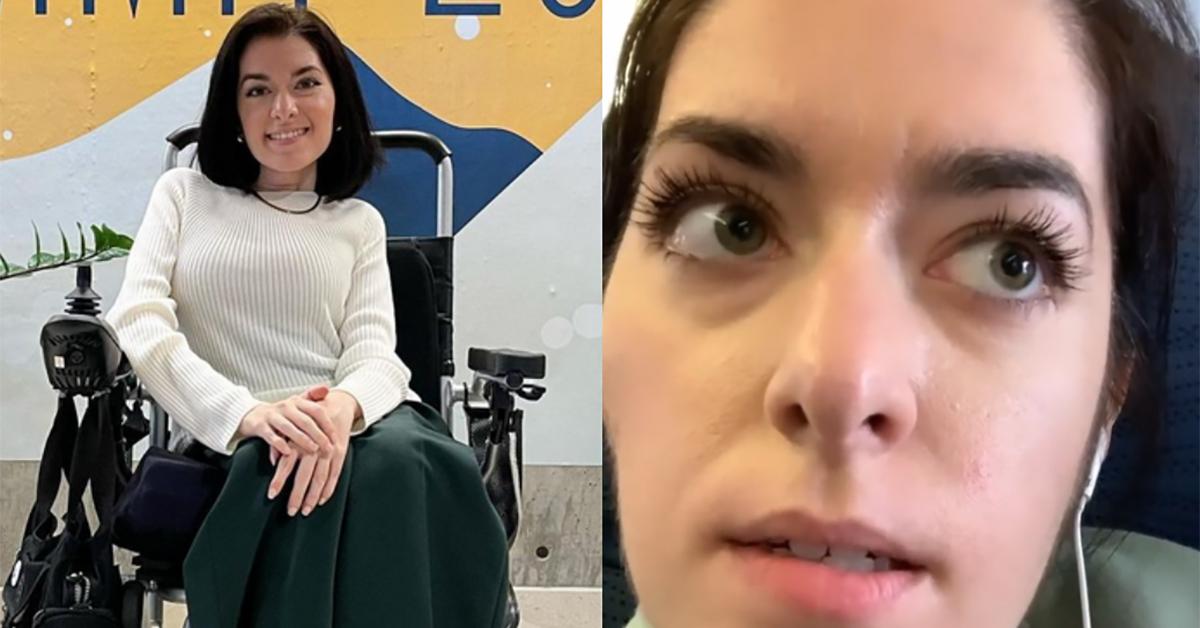 Flying on a plane is already stressful enough. You have to be at the airport at least several hours before your flight just to make it through the long lines and annoying checks at airport security. Then you have to find your gate, which can be either as close to security as possible or at the furthest end of the airport as humanly possible, and that's assuming that your gate doesn't change every half hour. At take-off, you're stuck with dozens of people in an enclosed space while trying to bide your time.
Article continues below advertisement
Now imagine doing all of that in a wheelchair. For people with disabilities who require an extra apparatus to move around, having to account for things like a wheelchair when trying to board a plane is more thing to add to the list of things you have to keep track of when it comes to air travel.
You would hope that places like airports would accommodate folks with disabilities in that regard, but in one glaring instance recounted on TikTok, a flight attendant reportedly refuses to store a passenger's wheelchair.
Article continues below advertisement
A flight attendant reportedly refuses to store a passenger's wheelchair. Here's a firsthand account.
On March 24, 2023, Maayan Ziv (@maayanziv_ on TikTok) posted about her frustrating experience with a flight attendant who she says would not store her wheelchair as she was boarding the flight. According to her own website bio, Maayan lives with muscular dystrophy, which the CDC defines as "a group of muscle diseases caused by mutations in a person's genes." This can lead to physical weakness and loss of muscle mass. As such, she is an avid advocate for rights for people with disabilities.
While she has made many of her own strides to help others like her, having founded an app that maps the accessibility status of various locations called AccessNow, she still comes across plenty of obstacles. In her recent video, she recounts her negative experience while trying to fly out from a Canadian airport.
Article continues below advertisement
"[The flight attendant] told me that my wheelchair is a dangerous good and it can't be stored in the closet or the plant in the cabin. It's actually the law that it should take priority, [but] the closet was filled with her suitcase and her purse," she explains in her 32-second video.
Though Maayan explained that she's had to deal with broken wheelchairs before when flights wouldn't accommodate it, she was apparently shrugged off when the flight attendant said that the airport would pay for it.
Article continues below advertisement
In a later TikTok, she revealed that she filed a complaint against Air Canada following the incident.
This is far from the first time this has happened to her too. Many of the videos on her TikTok show her dealing with alleged lax wheelchair regulations at Air Canada wherein airports would break her wheelchair, lose it, or otherwise inconvenience her in relation to it.
According to official Canada Transport Agency regulations, an aircraft with 100 or more passenger seats "should have a priority space in the passenger cabin designated for stowage of at least one manually-operated folding or collapsible wheelchair owned by a passenger." Regulations also indicate that "the determination of the storage location should be at the discretion of the carrier" to comply with cabin safety.
Article continues below advertisement
Despite these guidelines and Maayan using a wheelchair "specifically designed" for flight storage, she appears to continue running into trouble when flying Air Canada. This latest incident simply adds to the reasons she continues to advocate for rights for people with disabilities.
"These are the type of experiences that people with disabilities are having in air travel every day, but we can make a difference. By advocating [and] sharing our stories, we can create a change and make rights on flights for people with disabilities possible," she argues passionately in her latest TikTok.