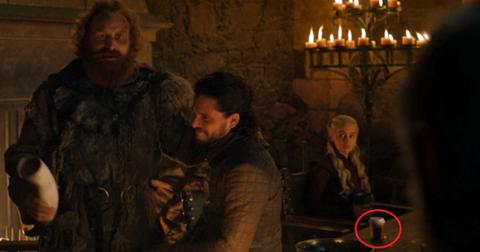 HBO Has Already Removed the Coffee Cup From 'Game of Thrones' Episode 4
By Mark Pygas
Yesterday, social media was ablaze after eagle-eyes viewers spotted a small error in Game of Thrones Season 8 Episode 4. Fans of the show spotted a coffee cup, which many believed was specifically a Starbucks cup, as the forces of Winterfell celebrated their victory with a feast.
The gaffe quickly went viral, and even earned a humorous response from HBO itself. "The latte that appeared in the episode was a mistake," a spokeswoman for HBO said in a statement and on the show's social media accounts. "Daenerys had ordered an herbal tea." The spokeswoman also went on to confirm that the coffee cup was actually from craft services, not Starbucks.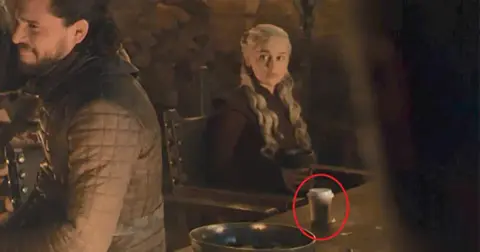 But all good things must come to an end. According to IndieWire, the coffee cup has already been digitally removed from the version of the episode on HBO's own streaming apps such as HBO Go and HBO Now. While HBO didn't let anyone know that the change has been made, we're guessing that the corrected version of the episode will soon make it to other distributors as well.
Game of Thrones executive producer Bernie Caulfield appeared on the "All of It" during the social media craziness and downplayed the mistake.
"If that's the worst thing they're finding, then we're in good shape," he said. "I can't believe [it]! Our on-set prop people and decorators are so on it one thousand percent. I just honestly can't, I'm like, is that really? Because nowadays you can't believe what you see because people can put things into a photo that really doesn't exist. But I guess maybe it was there, I'm not sure. But, yeah. We're sorry! Westeros was the first place to actually have Starbucks, it's a little known fact."
But neither of these facts seem to have stopped the memes from flowing. Here are just a few of our favorites.
"That Winterfell starbucks cashier ain't ready to write Dany's name on her coffee cup," one user joked.
And to be fair, I don't think all her titles could fit on a coffee cup.
Others believe that the cup was planed by Daenerys' enemies.
Many think the cup should have been a main character.
R.I.P. Starbucks Cup 05/05/2019 to 05/06/2019
Game of Thrones airs on HBO every Sunday at 9 p.m. EST.