Business' Hiring Sign Asks for "Baby Boomers Only," Blasts Gen Z for Not "Knowing What Work Actually Means"
A business owner lambasted two Gen-Z workers who quit because they didn't let the employees' boyfriends hang out at the store all day.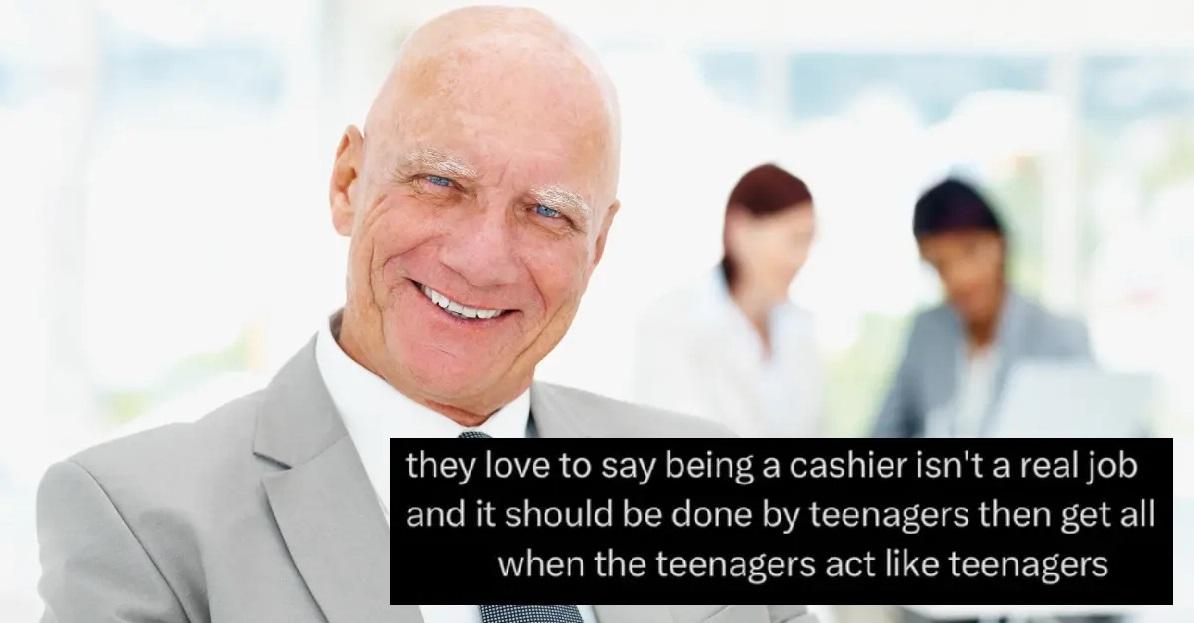 Article continues below advertisement
However, there are many who would argue that the last bit may have more to do with the fact that with the way the economy is headed, it's becoming increasingly difficult for more Americans to own anything of real value, like land. This leads to the argument: why work so hard for something when you know you probably aren't going to be able to own it anyway when the chips are stacked against you where the cost of living is increasing so much that inflation is constantly outpacing salary increases.
But generational beefs aren't anything new, and there are plenty of instances where Gen Z-ers and Boomers have gone head to head with one another. Now, a recent hiring sign that's making the rounds on Reddit has stoked the fires of this dispute once again.
Article continues below advertisement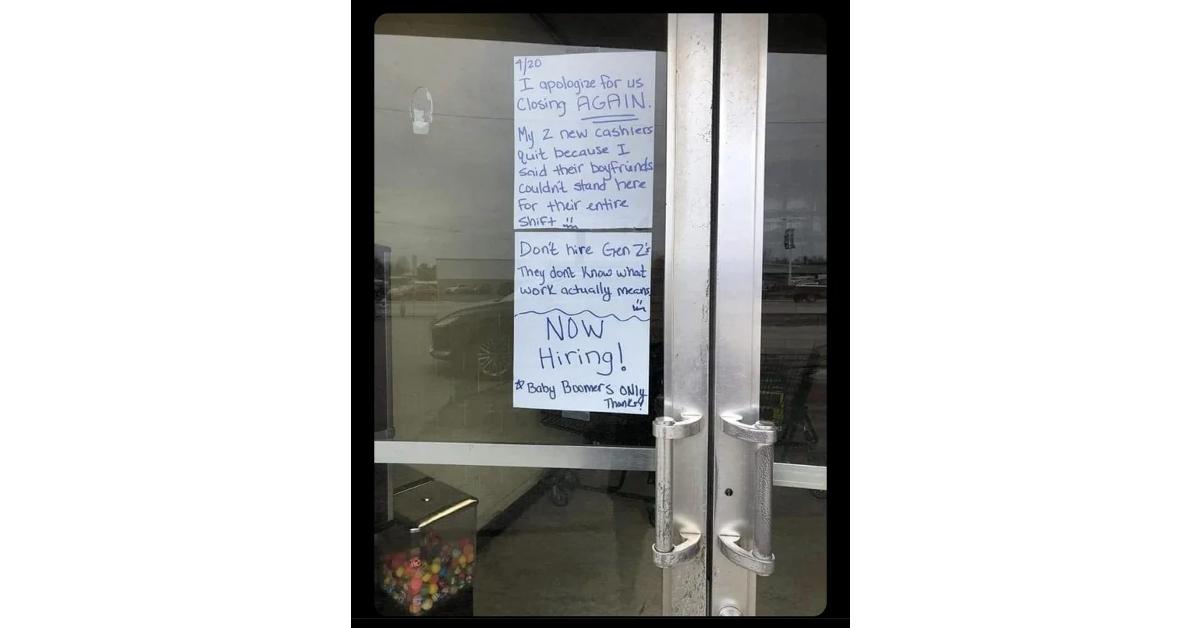 The image appears to be a screengrab from the @Univers_Lover Twitter account, which went viral on Reddit's r/antiwork sub. User @Adelu1219, posted the picture, which shows a sign in front of a business that apologizes to its customers for being closed "again" because of the store's inability to staff it appropriately.
Article continues below advertisement

The sign calls out Gen Z employees for not knowing the definition of work and that they're only willing to hand a paycheck over to "baby boomers."
Article continues below advertisement

It reads: "I apologize for closing AGAIN. My 2 new cashiers quit because I said their boyfriends couldn't stand here for their entire shift. Don't Hire Gen Z's they don't know what work actually means."
Article continues below advertisement

The second part of the sign reads: "Now hiring! * Baby Boomers only thanks."
@Universe_Lover found the sign to be ironic, writing: "they love to say being a cashier isn't a real job and it should be done by teenagers then get all p---- when the teenagers act like teenagers."
Article continues below advertisement

Others didn't couldn't understand the logic of the store owner, writing: "HEY you're a baby boomer! I'm a baby boomer! Work for me and I'll pay you minimum wage and we can talk all day about how great our generation is"
Article continues below advertisement

Others penned their own sardonic comments from the viewpoint of the boss, writing: "Ha ha, just kidding. Go scrub the toilets, if you have time to lean you have time to clean! Meanwhile, I am going to go drop off todays earnings and then go fishing on my boat. What a hard work life I have. Goodluck!"
Article continues below advertisement

Another wrote: "I need you to close tonight and open tomorrow. I'll be in around 11 to see how you're doing."
But then there were those who pointed out that Boomers are this point in time are either retirees "or dead at this point."
Article continues below advertisement

Perhaps the store owner was referring to Gen-Xers? Or maybe millennials with a different type of work ethic?
What do you think? Are you a Gen-Z'er who believes that the assessment in your age group are lazy and entitled? Or do you just outright refuse to work for someone if you aren't getting paid what you believe you deserve for your labor?