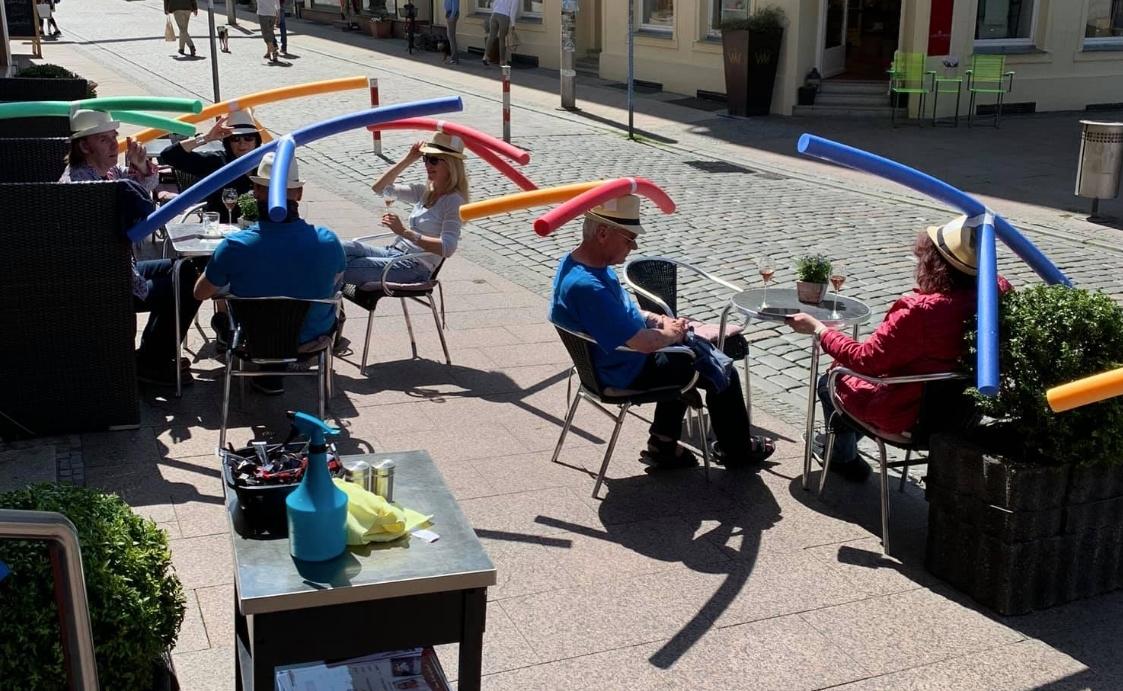 German Café Reopens and Uses Hats with Pool Noodles to Enforce Social Distancing
Germany is among many countries attempting to reopen following a global shutdown do the spread of coronavirus. Several states have allowed restaurants and bars to reopen after weeks of closed doors, though they must follow special hygiene restrictions.
Article continues below advertisement
Cafe & Konditorei Rothe in Schwerin was one of those to reopen in the last few days, and they've come up with an interesting way to enforce social distancing. The café handed out straw hats equipped with pool noodles for patrons to wear on their heads to ensure that they stay apart.
"In these difficult times, it's a pleasure to make others smile," restaurant owner Jacqueline Rothe told Insider about the stunt. Hopefully, Rothe keeps the hilarious idea going in the days and weeks to come to keep the smiles coming.
"Most commercial spaces under 8,600 square feet have been allowed to reopen," according to the publication. The government has also strongly recommended wearing masks.
Article continues below advertisement
Unsurprisingly, the move prompted quite the response on social media.
Journalist Katy Lee shared the photos on Twitter, writing: "Oh my god, this is amazing. A German cafe is making people wear swimming pool noodles as hats to enforce social distancing."
Article continues below advertisement
Other users were equally impressed, with one commenting: "Applaud this for multiple reasons: Great PR, makes sense from disease POV, shames people who insist they need to sit in cafes rn."
Article continues below advertisement
While another added: "This is the cafe literally next door to the former shop of my exchange student's dad ! I love this so much."
Article continues below advertisement
Others weren't so impressed, with one user adding: "Amazing? The world has turned into one big circus, and we're all clowns! I'd rather walk around naked with my out of shape dad bod. That way I'm sure nobody comes close to me."
Article continues below advertisement
While another simple joked: "Sorry but I would ruin it for everyone by pretending to be a helicopter."
Article continues below advertisement
The best way to prevent contracting or spreading coronavirus is with thorough hand washing and social distancing. If you feel you may be experiencing symptoms of coronavirus, which include persistent cough (usually dry), fever, shortness of breath, and fatigue, please call your doctor before going to get tested. For comprehensive resources and updates, visit the CDC website. If you are experiencing anxiety about the virus, seek out mental health support from your provider or visit NAMI.org.