Hospitals are Threatening to Fire Doctors Who Speak Out About PPE Shortages and It Needs to Stop
Healthcare workers need to speak out during the coronavirus crisis.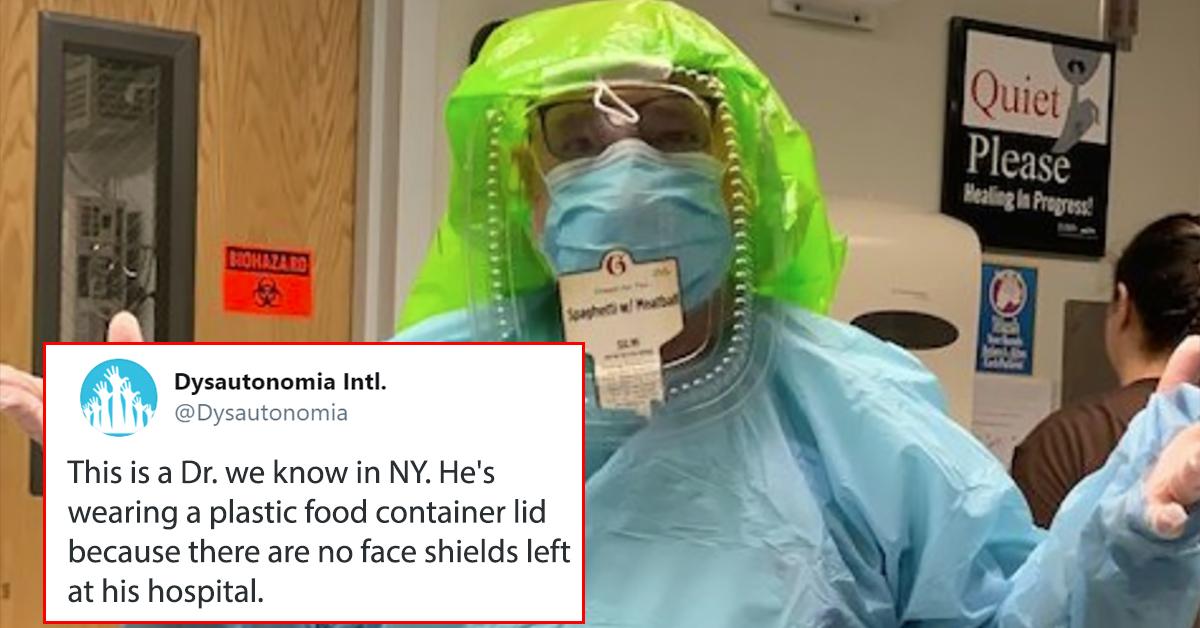 Healthcare workers around the United States are taking to social media to report shortages of personal protective equipment (PPE) as hospitals struggle to keep up with rising coronavirus cases.
Article continues below advertisement
Doctors, nurses, and other staff have been using the hashtag "GetMePPE" to highlight some of the extreme lengths they've gone to because of the shortages. "I'm a physician at a hospital in NYC, and THIS IS THE 'PPE' I WAS JUST HANDED for my shift," one user wrote, sharing a photo of a rain poncho they're using in the place of a medical gown. "Our federal government has completely failed its health care workers."
Article continues below advertisement
Dr. Ayrenne Adams, a doctor at Brigham and Women's Hospital in Boston added: "After examining a hypoxic woman in her 50s with no medical problems who likely has COVID, I had to clean my single-use face shield that I've worn the past three days with disinfectant used to clean hospital beds since we ran out of sanitizing wipes."
Article continues below advertisement
And this emergency room doctor has even resorted to putting his protective gear in an oven to try and kill any viruses that might be on them.
Article continues below advertisement
But according to a Bloomberg report, some medical workers are being threatened with dismissal over such posts. Ming Lin, an emergency room physician in Washington state, was fired by his hospital after he spoke to a local newspaper about a similar post he made on Facebook.
In Chicago, nurse Lauri Mazurkiewicz was fired when she emailed colleagues complaining about a lack of protective gear. And in New York, the NYU Langone Health system sent out an email threatening to dismiss any employee who talks to the media without their permission.
Article continues below advertisement
Mazurkiewicz, the Chicago nurse who was fired, said that she was encouraging colleagues to wear more protective gear because she has asthma and cares for her elderly father.
"A lot of hospitals are lying to their workers and saying that simple masks are sufficient and nurses are getting sick and they are dying," she said. "I didn't want to get infected because I'm not wearing the proper mask and then spread it to my patients and my family."
The hospital declined to comment because Mazurkiewicz has filed a lawsuit.
Jim Mandler, a spokesman for NYU Langone Health, told Bloomberg that the policy was to protect patient and staff confidentiality. "Because information is constantly evolving, it is in the best interest of our staff and the institution that only those with the most updated information are permitted to address these issues with the media," he said.
Article continues below advertisement
Ruth Schubert, a spokeswoman for the Washington State Nurses Association, told Bloomberg: "Hospitals are muzzling nurses and other health-care workers in an attempt to preserve their image. It is outrageous."
She added that in this time of crisis, healthcare workers "must have the ability to tell the public what is really going on inside the facilities where they are caring for CCOVID19 patients."
Glenn Cohen, faculty director of Harvard Law School's bioethics center told the publication: "It is good and appropriate for health-care workers to be able to express their own fears and concerns, especially when expressing that might get them better protection. When health-care workers say they are not being protected, the public gets very upset at the hospital system."
Article continues below advertisement
Despite the threats, many healthcare workers still seem to be speaking out. This paramedic shared photographs of the mask she's had to wear for days on end, even though they're supposed to be single-use.
Article continues below advertisement
And this doctor shared photos of the bags that workers are using to store their reused equipment.
Article continues below advertisement
While this charity shared a photograph of a doctor have to use a plastic food tray because the hospital had run out of visors.
The best way to prevent contracting or spreading coronavirus is with thorough hand washing and social distancing. If you feel you may be experiencing symptoms of coronavirus, which include persistent cough (usually dry), fever, shortness of breath, and fatigue, please call your doctor before going to get tested. For comprehensive resources and updates, visit the CDC website. If you are experiencing anxiety about the virus, seek out mental health support from your provider or visit NAMI.org.