Twitter Jumps on the Story Bandwagon With a New Feature Called "Fleets"
Twitter recently rolled out a new update introducing Fleets to the app. Here's how to post your own fleeting tweets and thoughts on Twitter.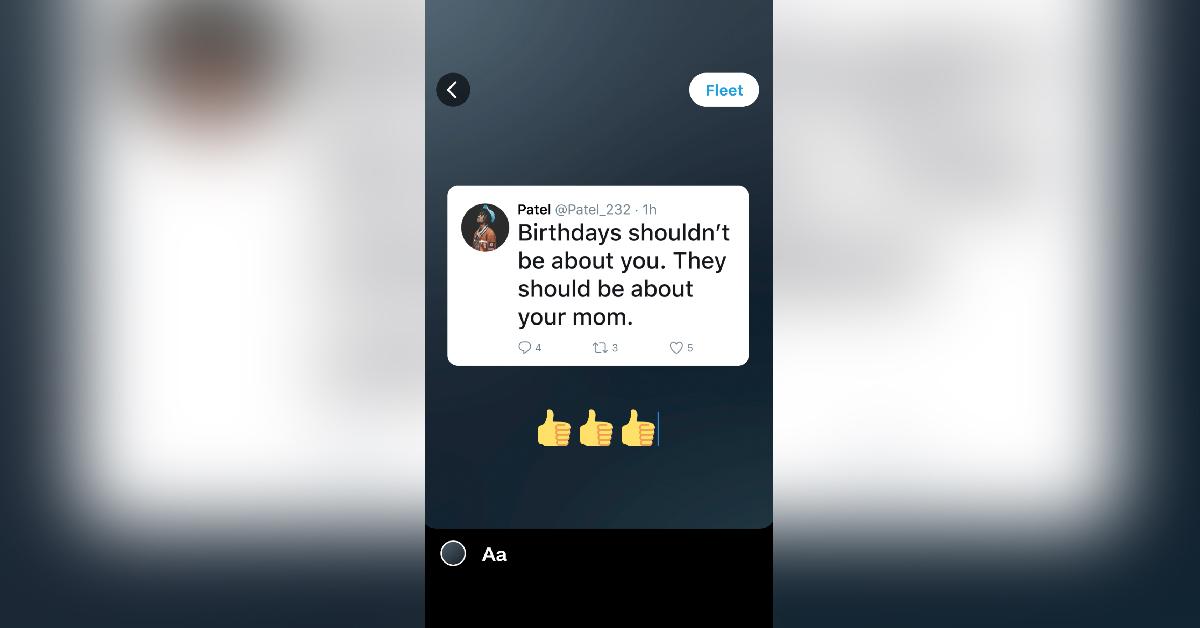 You've probably heard the warning that anything you post online stays there forever ... except it seems all social media sites are doing everything they can to change that. Snapchat originally started making messages and posts less permanent with their disappearing photos, videos, and Stories.
But Snapchat no longer dominates the market with temporary posts. Since then, both Instagram and Facebook have added a Story feature where you can make posts that disappear after 24 hours.
Article continues below advertisement
Now, Twitter wants to hop on the train as well with its newest update. The social media site has introduced Fleets, a new way to tweet your thoughts without the previous pressure of permanence from the platform. Here's how to post Fleets on Twitter.
Article continues below advertisement
What are Twitter Fleets?
Twitter Fleets follow the same format as the Story feature from Snapchat, Instagram, and Facebook. According to the official announcement on Twitter's website, these fleeting tweets are formatted exactly like all of the other Story features on other social media platforms. The "Fleet" can either be text with a colorful background, sharing another tweet you want to comment on, or sharing a photo or video.
Basically, Fleets are just Twitter's take on a Story.
"Some of you tell us that Tweeting is uncomfortable because it feels so public, so permanent, and like there's so much pressure to rack up Retweets and Likes," Twitter wrote about the new feature. "That's why, unfortunately, there are so many [fire] Tweets left in drafts! To help people feel more comfortable, we've been working on a lower pressure way for people to talk about what's happening."
Article continues below advertisement
Here's how to make a Fleet.
Just like all of the other Story options, you can either create your own original Fleet or share another tweet in a Fleet. To add an original Fleet to your feed, you just select the add button on your profile icon at the top of your home feed.
Here, you can either take a photo or video, or share some text on a colorful background or some emojis. According to the company's announcement, stickers and live options will also be added to Fleets in the future.
Article continues below advertisement
To share a reaction to someone else's tweet in your Fleet, just select the share option on a tweet and choose "Share in a Fleet." Then, you can move the tweet around the screen, choosing to center it, make it bigger or smaller, etc. From here, you can add your own text to your Fleet if you have a reaction you would like to share.
All Fleets only last 24 hours before disappearing forever, which is what makes this option different than the platform's current option to quote tweet.
"Those new to Twitter found Fleets to be an easier way to share what's on their mind," Twitter claims. "Because they disappear from view after a day, Fleets helped people feel more comfortable sharing personal and casual thoughts, opinions, and feelings. These are early findings from our tests and we're excited to learn more about how Fleets are used by you."