Taco Bell Fans Can Win a Free Xbox Series X — Here's How to Get Yours
Taco Bell fans looking to pass the time in quarantine have the chance to win a free Xbox Series X through the chain's latest and greatest giveaway.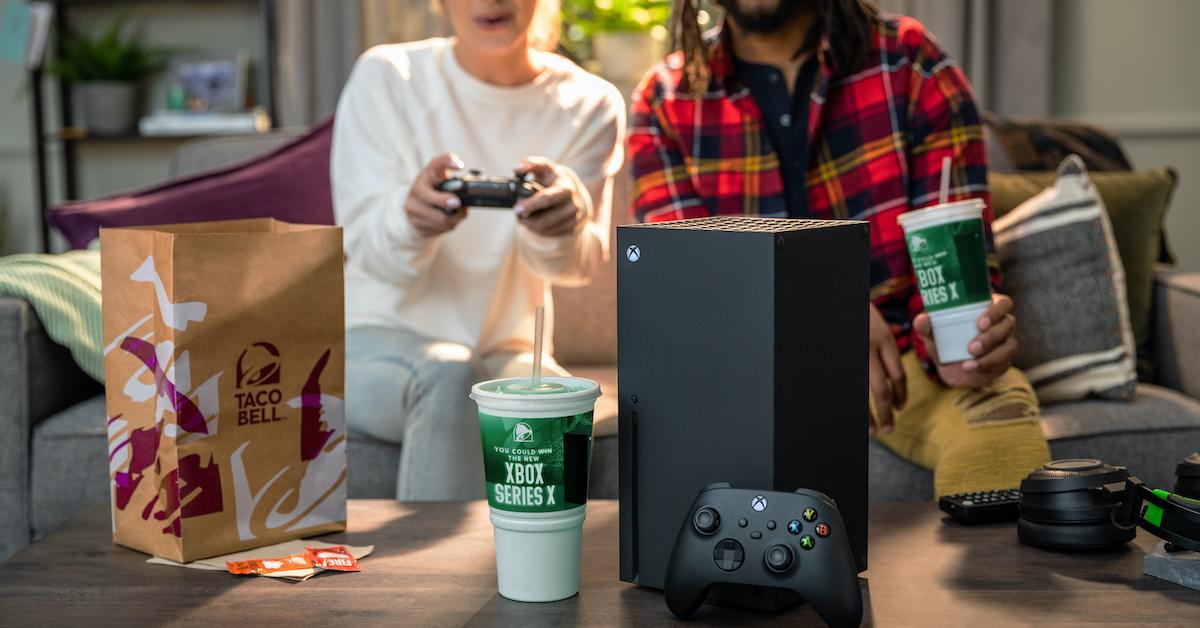 During an era when video games are basically a necessity to survive the ongoing quarantine, Tex Mex fans and gamers alike can rejoice, as Taco Bell is offering customers the chance to win a free Xbox Series X ahead of the Nov. 10 nationwide launch. That being said, we're definitely hoping to snag one for ourselves (and obviously, to get a few Doritos Locos Tacos while we're at it).
Article continues below advertisement
Keep reading for in-depth instructions on how to win a free Xbox from Taco Bell weeks ahead of the November 2020 Series X launch if you're looking to revolutionize your time indoors. To quote The Hunger Games, "may the odds be ever in your favor."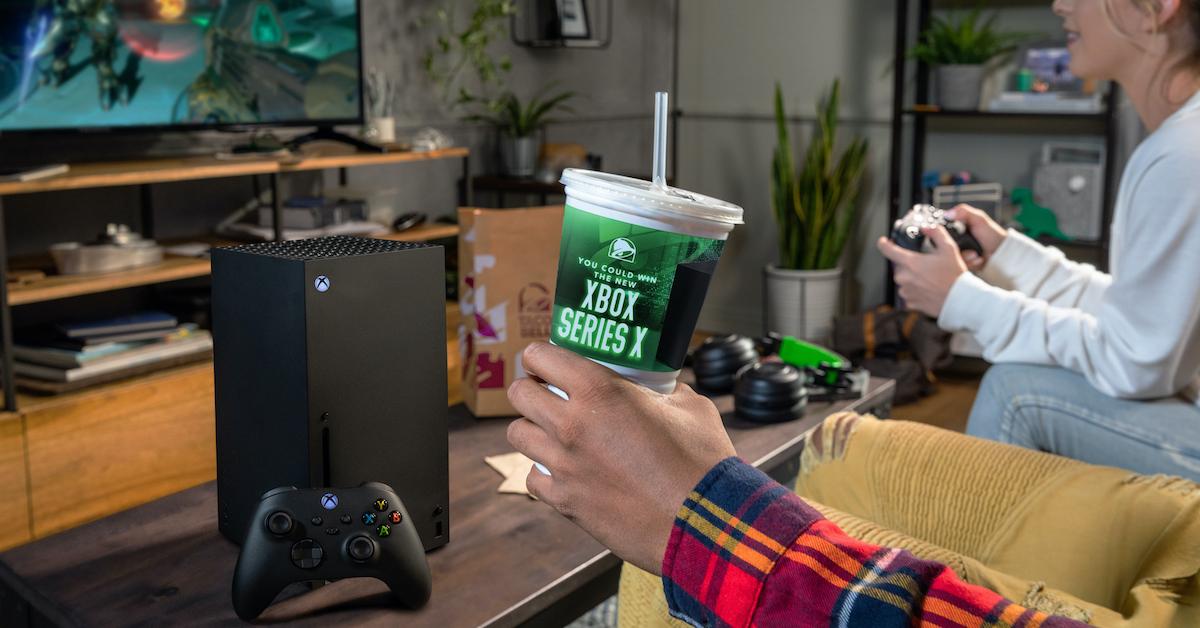 Article continues below advertisement
Taco Bell is doling out free Xbox consoles for the fourth year in a row.
Since 2016, Taco Bell has held an annual Xbox giveaway, and this year, the chain is doling out free Xbox Series X consoles weeks ahead of the new console release. According to a press release, starting Sept. 24, customers can enter to win by simply purchasing a medium or large drink through the Taco Bell app or at any Taco Bell restaurant. On their cups, customers will receive a code to enter to win the Xbox Series Bundle.
There will also be a free method to enter the sweepstakes with more details coming on Sept. 24. Fans will be able to enter up to three times a day, and there will be a winner announced every 15 minutes. The "Series Bundle" includes the new Xbox Series X, the new Xbox Wireless Controller and six-months of Xbox Game Pass Ultimate, which gives fans a slew of benefits including online multiplayer, and access to console and PC games, cloud gaming on Android devices, and exclusive member deals.
Article continues below advertisement
"For four years now, Taco Bell and Xbox have continued to break the mold to create experiences consumers crave," said Nikki Lawson, Taco Bell's Chief Global Brand Officer. "Our goal has always been to meet our fans where they are culturally, and the gaming world is no exception. With digital gaming and entertainment serving as a connector for so many people these days, we're excited to be the first to offer consumers the ultimate gaming console before it launches nationwide."
Article continues below advertisement
Another thing we can look forward to? Taco Bell wine.
You heard that correctly, but only locations in Canada are getting blessed with this delicacy. Taco Bell is releasing a line of wine called Jalapeño Noir, which is available at select Taco Bell locations throughout Hamilton and Toronto for a limited time via Uber Eats starting Sept. 16. Taco Bell experts recommend pairing it with the Toasted Cheddar Chalupa, because seriously, what's better than wine and cheese?
The U.S. won't get its hands on the wine, but Taco Bell's Toasted Cheddar Chalupa is coming back to U.S. menus in November. It melts six-month-aged sharp cheddar cheese onto a toasted chalupa shell, and is filled with seasoned beef, as well as your choice of toppings. Needless to say, it's unlike anything else.
Article continues below advertisement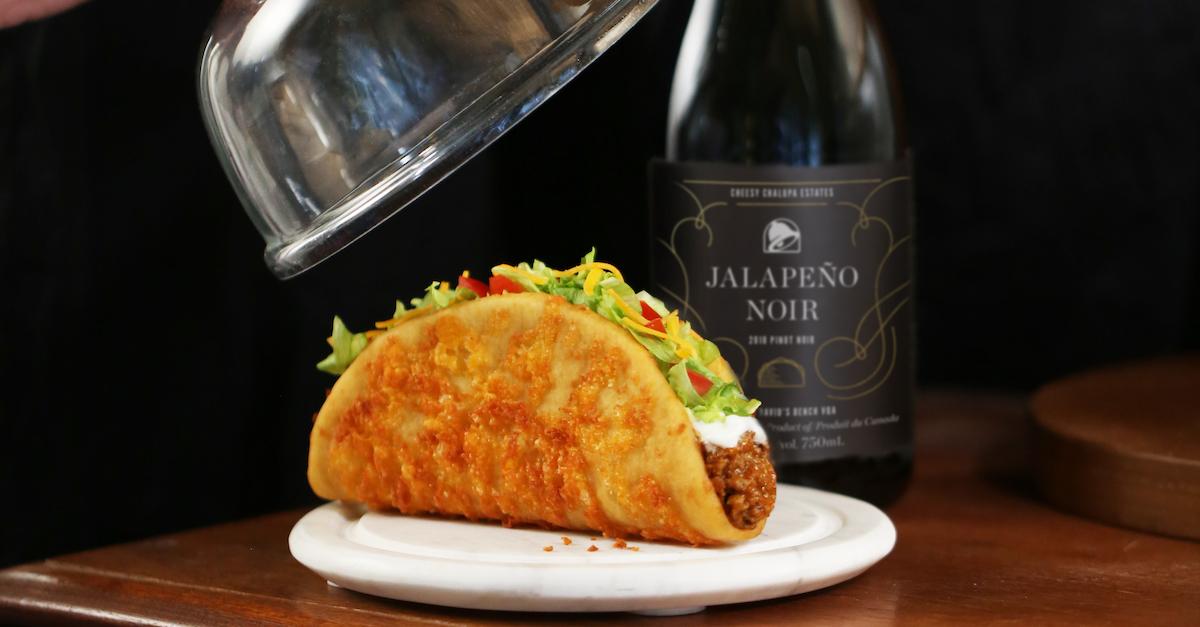 Taco Bell Jalapeño Noir, and a Toasted Cheddar Chalupa paired with a few rounds of Black Ops on your new free Series X? Sounds like our kind of Friday night. With that in mind, mark your calendars — Sept. 24 is the first day to enter, and we won't be missing out.