Everyone Is Freaking Out Thinking Apple and Google Secretly Installed Spying Apps on Phones
Social media was fired up with news of a COVID-19 tracking app that was on all iPhones and Android systems tracking everyone's moves, but here's the truth of it.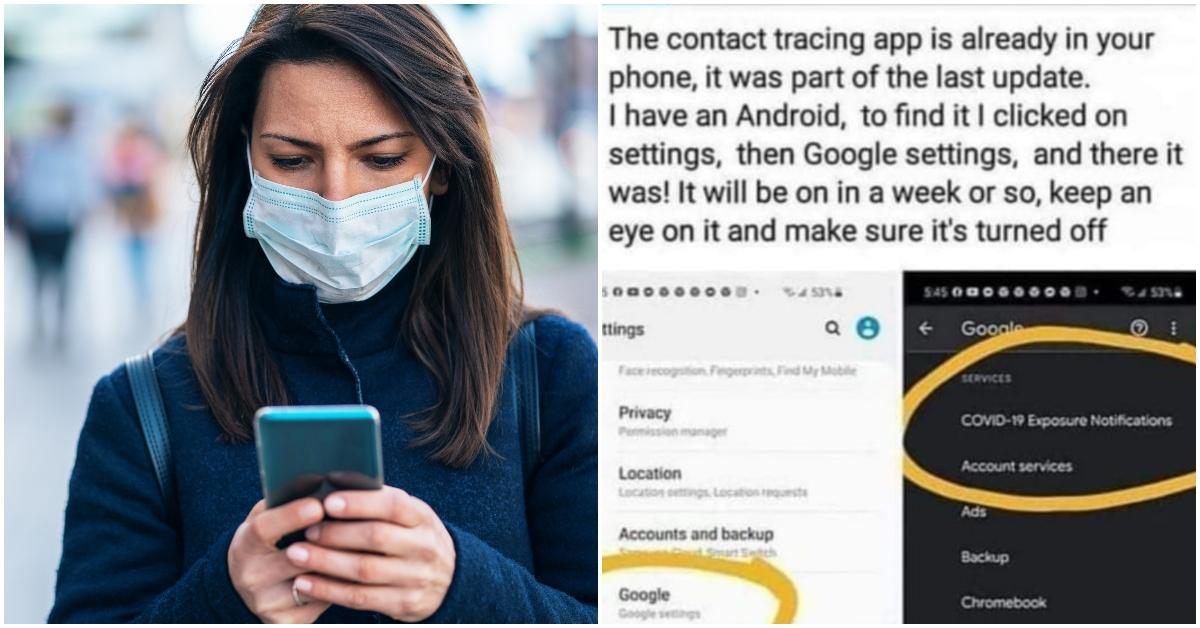 We love a good conspiracy theory. They're just as fun as ghost stories where we can play pretend and think about what would happen if the story really was real. The problem with these conspiracy theories is that for some people, they are legitimately scared and afraid they are real.
Article continues below advertisement
The latest conspiracy theory running around the internet is an iPhone COVID-19 tracking app. People are scared that the big tech companies have secretly installed programs to keep tabs on our whereabouts and it's messing with people's heads. While the idea does sound terrifying, here's the truth about the COVID exposure tracking apps.
What is the iPhone COVID-19 tracking app all about?
Social media has been buzzing about an app that was "secretly" installed on to everyone's phone. The claim is that this app is allowing Google and Apple to track people's whereabouts under the guise of a tracking system to help log the novel coronavirus transmission.
Article continues below advertisement
These messages are urging people to check their phones, turn off the ability to be tracked, and to, you know, rally against the system.
Article continues below advertisement
People are taking to social media to share their outrage that an app was downloaded to their phones and installed without their permission. The claim that this app is a "track and trace" has everyone upset. Social media users are going off saying this app violates their rights to privacy and are demanding these to be removed.
Article continues below advertisement
But there's one big problem with their demand: no app has been installed that is tracing or tracking their location.
Article continues below advertisement
So, where did the COVID-19 tracking apps rumor come from?
This conspiracy didn't just pop out of thin air. Something was updated on both iPhones carrying an iOS and Google phones carrying its Android OS, but it wasn't an app.
According to Forbes, if you were to go to your settings, you may see "COVID-19 exposure notifications" at the top. This is where the conspiracy rumor started, but people misunderstood its meaning.
Article continues below advertisement
Apparently if users were to click on that, another notice pops up on the screen telling the user they need to "install or finish setting up a participating app to activate the exposure notifications."
So, what did happen? And what exactly do the "exposure notifications" mean?
People are getting upset about a whole lot of not really much to see here. According to Forbes, the new notifications were just to allow Android and iOS to update their application programming interface (API) to put in the framework for application developers to use the notification function.
Article continues below advertisement
"It's not an app; it's the framework within the operating system that will allow such an app to function once it becomes available and if you decide to install it," Forbes describes.
Article continues below advertisement
As the two companies were working to bring the new API development back in May, they issued a joint statement to clarify then that this was not an app."What we've built is not an app - rather public health agencies will incorporate the API into their own apps that people install. Our technology is designed to make these apps work better," the statement read, on May 20.
To boil it down: there is zero tracking going on, no app has been installed, and people can relax.
The best way to prevent contracting or spreading coronavirus is with thorough hand washing and social distancing. If you feel you may be experiencing symptoms of coronavirus, which include persistent cough (usually dry), fever, shortness of breath, and fatigue, please call your doctor before going to get tested. For comprehensive resources and updates, visit the CDC website. If you are experiencing anxiety about the virus, seek out mental health support from your provider or visit NAMI.org.