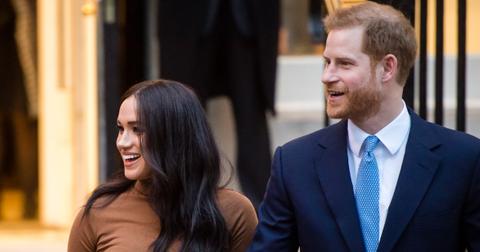 Is Prince Harry Losing His Title? Royal Fans Are Freaking Out
By Michelle Stein

Updated
Let's face it: Prince Harry was never destined to be king. That burden rests on the shoulders of his older brother, Prince William. Still, Harry has remained a senior member of the royal family — complete with a life of privilege, a busy schedule of official appearances, absolutely zero privacy, and of course, a royal title.
When Harry and Meghan Markle tied the knot in May 2018, his official title became "His Royal Highness The Duke of Sussex." However, in light of a surprising choice by the Duke and Duchess of Sussex to "take a step back," it looks like things are changing in that department.
Let's take a look at the timeline of events leading up to "Mexit" — and what that means for Meghan and Harry's royal titles.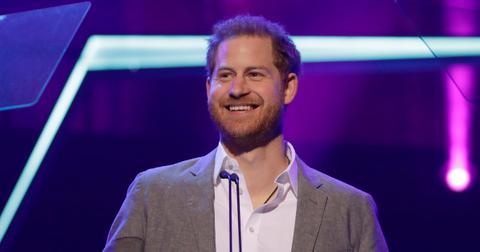 Harry and Meghan made a stunning announcement on Jan. 8.
The new parents revealed that they would be taking a "step back" and would no longer be "senior members" of the royal family.
"After many months of reflection and internal discussions, we have chosen to make a transition this year in starting to carve out a progressive new role within this institution," the Duke and Duchess of Sussex said in a statement posted to Instagram.
"We intend to step back as 'senior' members of the Royal Family and work to become financially independent while continuing to fully support Her Majesty The Queen. It is with your encouragement, particularly over the last few years, that we feel prepared to make this adjustment."
Harry and Meghan will now be balancing their time between the UK and North America, the statement explained, while "continuing to honour our duty to The Queen, the Commonwealth, and our patronages."
It continued: "This geographic balance will enable us to raise our son with an appreciation for the royal tradition into which he was born, while also providing our family with the space to focus on the next chapter, including the launch of our new charitable entity."
As unprecedented as Harry and Meghan's decision is, let's take a look at the signs leading up to Mexit. Because they were definitely there.
Harry is only sixth in line to the British throne, after all.
After Queen Elizabeth, the line of succession is as follows: Prince Charles, Prince William, Prince George, Princess Charlotte, Prince Louis, and then Prince Harry. So it's highly unlikely the Duke of Sussex will ever actually be King of England. It makes sense, then, that he wouldn't want all of the responsibilities of being a senior member of the royal family.
Source: Victoria Murphy/Twitter
The Sussexes announced in November they had private plans leading up to Dec. 25 and into the new year. A statement from a royal spokesperson said Harry, Meghan, and Archie would spend "extended family time" with Meghan's mom, Doria Ragland.
"This decision is in line with precedent set previously by other members of the Royal Family, and has the support of Her Majesty The Queen," the statement said.
So, are Prince Harry and Meghan Markle losing their titles?
On Jan. 18, Buckingham Palace announced the conclusions made from the royal family's summit — which included Prince Charles, Prince William, and Prince Harry gathering at Queen Elizabeth's Sandringham estate on Jan. 13.
"Following many months of conversations and more recent discussions, I am pleased that together we have found a constructive and supportive way forward for my grandson and his family," Queen Elizabeth said in the statement.
The statement continued: "Harry, Meghan and Archie will always be much loved members of my family. I recognise the challenges they have experienced as a result of intense scrutiny over the last two years and support their wish for a more independent life. I want to thank them for all their dedicated work across this country, the Commonwealth and beyond, and am particularly proud of how Meghan has so quickly become one of the family."
The monarch added, "It is my whole family's hope that today's agreement allows them to start building a happy and peaceful new life."
These new changes will take effect in spring 2020, according to Buckingham Palace. At this time, Harry and Meghan will no longer receive public funds for royal duties — nor will they be able to formally represent Queen Elizabeth. They will, however, continue to maintain their private patronages and associations.
"The Sussexes will not use their HRH titles as they are no longer working members of the Royal Family," the statement declared, plain as day, adding that Harry and Meghan will also "repay Sovereign Grant expenditure for the refurbishment of Frogmore Cottage, which will remain their UK family home."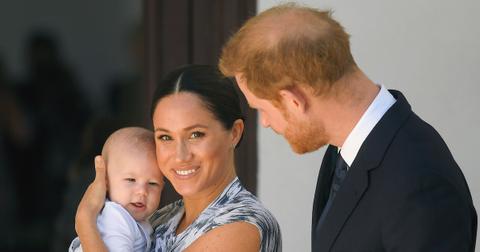 Plot twist: Queen Elizabeth has given Prince William another royal title.
Not long after stripping Harry and Meghan of their "HRH" titles, Queen Elizabeth appointed Prince William as Lord High Commissioner to the General Assembly of the Church of Scotland, People reported. This means William is now the Queen's personal representative to the church, and can carry out visits and ceremonial duties in her place.
The bottom line: Harry and Meghan will always be members of the royal family. But since they are no longer working, senior members of the royal family, it looks like their HRH titles will be gone for good. And you know what? Good for them. Because it's obviously Harry and Meghan are both completely fine with this tradeoff.