Here Are the Odds in the Jake Paul Tyron Woodley Fight
For those who still aren't convinced that Jake Paul can box well enough to beat Tyron Woodley, you should check out these odds.
The sport of boxing has become somewhat of a charade these days, with folks who would absolutely get trounced by serious contenders flexing like they're professional pugilists. Jake Paul has managed to earn a lot of "hate dollars" by using his YouTube money to dedicate himself to learning the sweet science, and he's got folks convinced he can win against Tyron Woodley. This is directly reflected in the odds for their contest.
Article continues below advertisement
Jake Paul is favored by oddsmakers against Tyron Woodley.
As of now on Sportsbetting.ag, Jake Paul is a -160 favorite to win against the former UFC Welterweight Champion. Woodley, on the other hand, is a +130, meaning you will earn $130 for every $100 that you bet on "The Chosen One" to win.
For Paul, Woodley represents a step up in competition, as he's demonstrated that he at least somewhat knows how to throw a punch.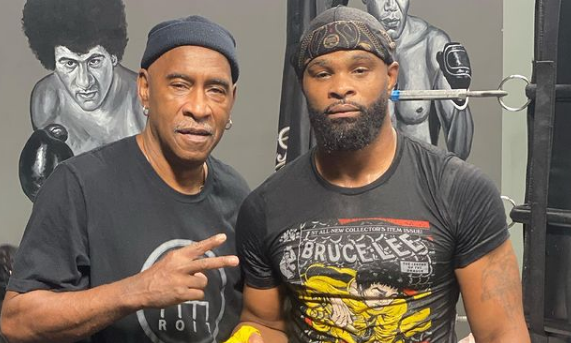 Article continues below advertisement
Although Tyron Woodley has no professional boxing experience, he has some knockout victories in MMA.
Woodley's strong suit is wrestling: He's an NCAA Division 1 wrestler, a two-time All-American, and a Big 12 champion. If you know anything about that mat life, you know how big of a deal that really is.
And while he has demonstrated explosiveness in his striking, specifically good counter punching that finds its mark (just ask Josh Koscheck), it's important to note that MMA is a heck of a lot different than boxing.
It's difficult to focus on throwing one's hands and utilizing footwork when you're not worried about someone shooting a double leg on you or tying you up and tripping you. Tyron was able to land significant strikes against his opponents because they were aware of his wrestling pedigree.
Article continues below advertisement
Tyron Woodley's height, weight, reach, size, age, and other stats will be a factor in his match against Jake Paul.
Paul usually tips the scales at around 189 pounds and Woodley has competed at 170 pounds for the majority of his UFC career. That being said, Woodley used to cut down to make that weight, so expect him to be around Jake's weight when the two face off.
Tyron is billed at 5'9" with a 74-inch reach, whereas Jake's 6'1", and has a reach of 76 inches. As of this writing, Woodley's also 39 years old and Paul is 15 years younger.
Article continues below advertisement
Many are hoping that Woodley will be able to knock Jake out and silence the "wannabe" fighter once and for all, but he's proven he can wobble and stun even a notoriously hard-chinned opponent like Ben Askren.
The former One FC and Bellator Welterweight Champion had a serious wrestling pedigree and made no secrets about his disdain for striking. The reason Askren got into MMA was so he could get paid to competitively wrestle, more or less.
Article continues below advertisement
What is the date for Jake Paul and Tyron Woodley's upcoming bout? And has a location been selected?
Ticket information has yet to go public, but we do know that the match is going to be presented by Showtime and it's currently set for August 28, 2021.
Article continues below advertisement
Paul's already started the trash talking and wrote on Instagram about Woodley: "It's official. I have a list of people I plan on knocking out and as I enter my fourth pro fight, I am excited to cross the first one off the list by challenging myself against @twooodley, a 5-time UFC Champion known for his knockout power.
"Tyron ran his mouth a little too much in the locker room when I knocked out his best friend Ben and earned himself a top spot on the Problem Child death list. Tyron's a seasoned striker who has fought the best MMA fighters in the world but will be dropped by a Disney teen star in 2 rounds.
"Maybe this time Dana White will actually be a man of his word and put his money on his former champion instead of trying to undermine my success like a jealous ex. Influencer vs. MMA ... Let's get it on. It's showtime."