Jim Carrey Nails His Joe Biden Impression on 'Saturday Night Live' Debate Parody
Jim Carrey played Joe Biden on 'SNL' as the NBC sketch comedy show returned for its 46th season on Saturday, Oct. 3. And he nailed the debate parody.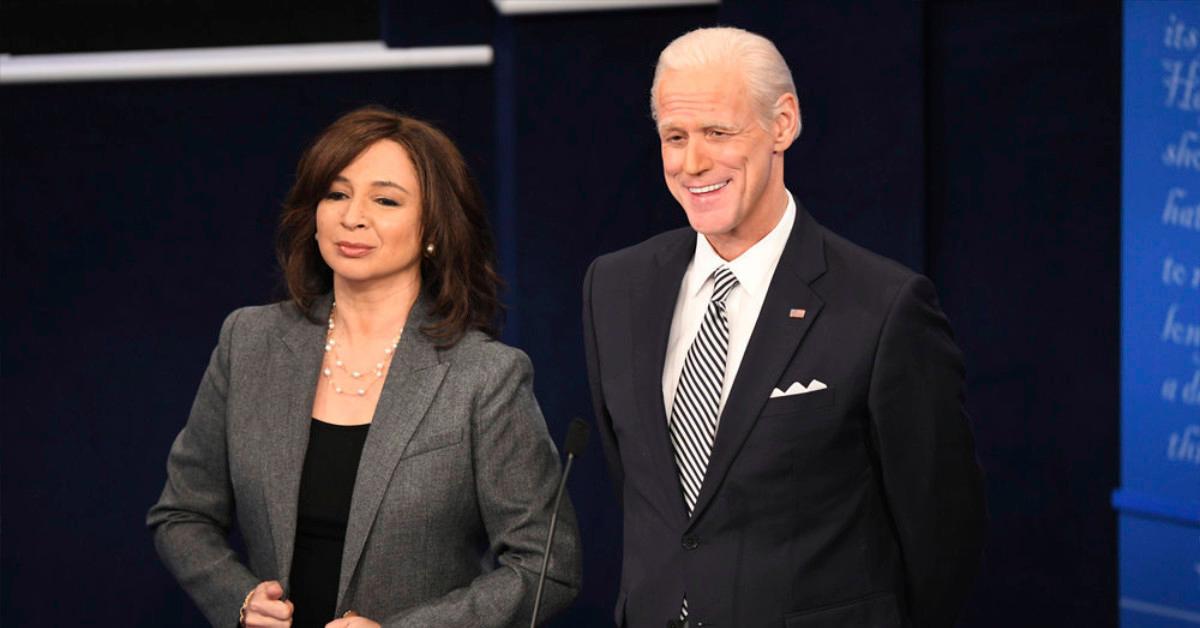 From the moment Jim Carrey came out with finger-guns blazing on SNL on Oct. 3, it was obvious he was an inspired choice to play Democratic presidential nominee Joe Biden.
Article continues below advertisement
Jim Carrey's resemblance to Joe Biden on 'SNL' was uncanny.
Saturday Night Live's 46th season kicked off on Saturday, Oct. 3, with a cold open skit mocking the first 2020 presidential debate. Carrey returned to the NBC sketch comedy show for the first time in five years to play Biden. "I've got the beginning of 46 thoughts," the actor, wearing a white wig and fake eyebrows, said as the former vice president. "Now let's do this. I'm holding my bladder; let's get at 'er!"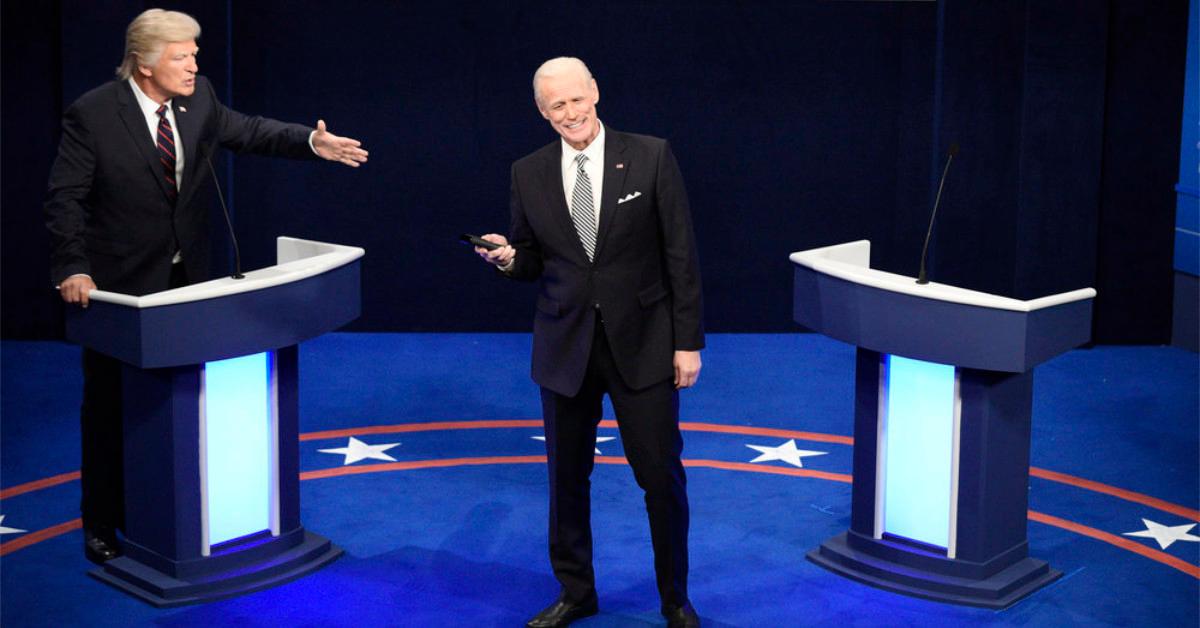 Article continues below advertisement
The debate skit captured the chaotic energy of the Sept. 29 debate, and Carrey even riffed on the moment Biden asked his opponent, current President Donald Trump, to shut up.
"I'm sorry I misspoke," Carrey's Biden added. "What I meant to was, I'd appreciate it very much if you could just allow me to finish my responses as opposed to sabotaging every waking moment with a toxic geyser of verbal diarrhea, you cracked-out, turd-hurling sack of rancid dog snot."
Carrey's version of Biden tried breathing into a bag and listening to a Harry Styles meditation tape to calm down, but he only found peace after using a remote control to put Trump on pause.
"Isn't that satisfying?" he asked viewers. "Just not to hear his voice for a single g—damn second. Let's roll with it. Let's bask in the Trump-lessness."
Article continues below advertisement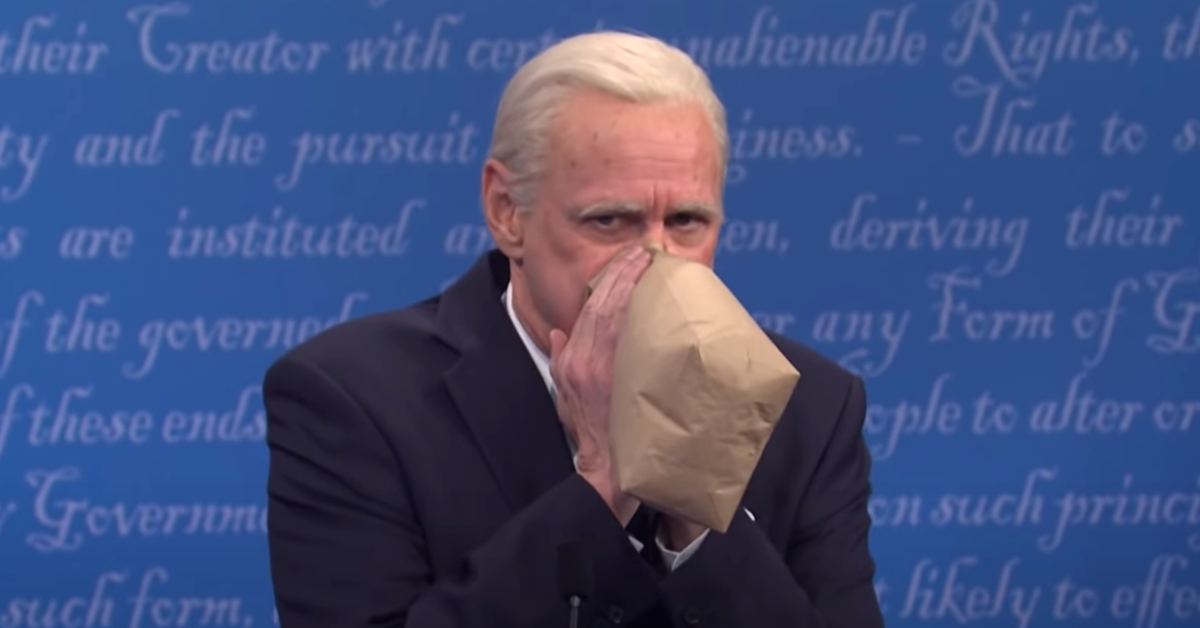 And, of course, Carrey's Biden alluded to Trump's COVID-19 diagnosis. "America, look at me," he said. "Look directly into my eyeballs. You can trust me because I believe in science and karma. Now just imagine science and karma could somehow team up to send us all a message about how dangerous this virus can be."
Article continues below advertisement
He continued, "I'm not saying I want it to happen. But just imagine if it did. So this November, please get on the Biden train, which is literally a commuter train to Delaware, and we can all make America not actively on fire again."
Who plays Trump on 'SNL'?
As he has for the past four years, Alec Baldwin played Trump on the Oct. 3 episode of SNL. This time, though, his version of Trump was excited about his Supreme Court nominee, Amy Coney Barrett, whom he called Amy Christina Barcelona. ("It was so nice to welcome her the other day with open arms and uncovered faces," he added.)
Article continues below advertisement
Baldwin's Trump also ranted incoherently about Biden, saying that his opponent "won't answer what about his son Hunter, and Burisma, and the mayor of Moscow, and Obama was spying on me, and he emailed Benghazi."
"Mr. President, no one understands what you're saying," replied Beck Bennett, playing debate moderator Chris Wallace. "You're just listing terms you heard on Fox News."
Other SNL favorites made cameos in the skit: Cecily Strong recreated Kimberly Guilfoyle's RNC shouting, while Maya Rudolph tried to bring order to the debate as Kamala Harris, Biden's running mate.
"Let Mama-la go to work," Rudolph told viewers, in character. "America needs a WAP: Woman As President. But for now, I'll settle for HVPIC: Hot Vice President in Charge."
Article continues below advertisement
Kate McKinnon made a touching tribute to RBG
Following SNL's "Weekend Update" segment, Kate McKinnon — donning the Ruth Bader Ginsburg's signature robes, lace collar, low bun, and round glasses — have a fitting tribute to the late Supreme Court Justice. The brief moment featured Kate facing the camera, placing her hand over her heart while nodding, and then looking to the sky. A graphic that read "Rest in power" appeared on the screen.
Saturday Night Live airs on Saturdays at 11:30 p.m. EST on NBC.