The Sierra Club Plans to Take Action After Acknowledging Their Founder's Dark History
The Sierra Club has apologized for their founder John Muir's racist comments, but what does this mean for the organization going forward?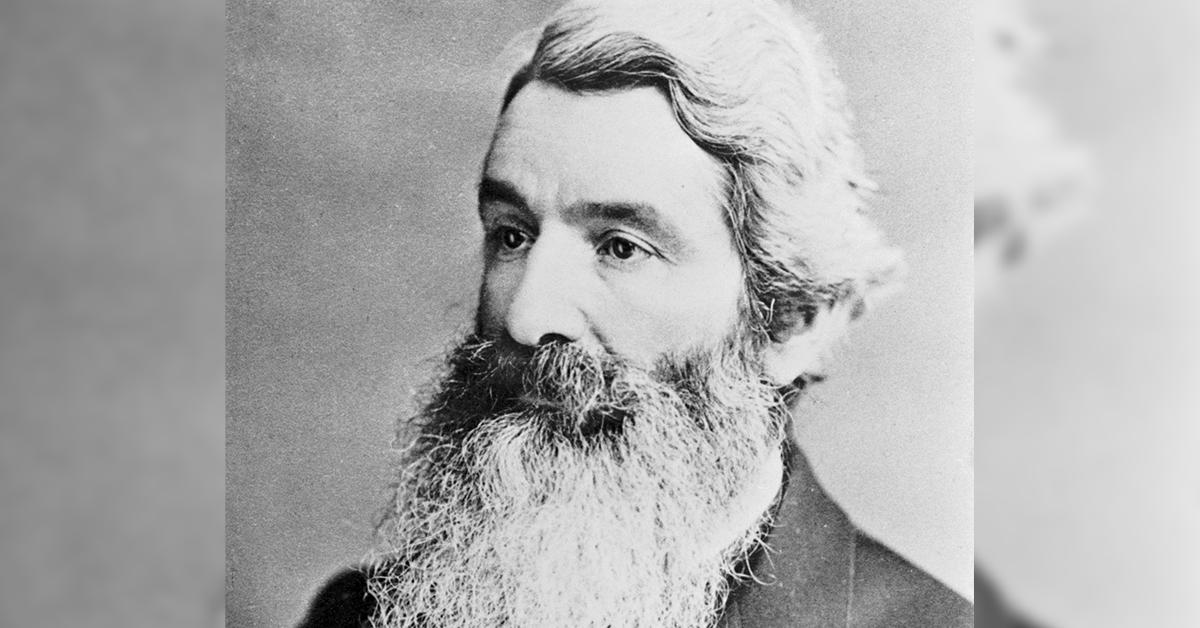 For decades, John Muir has been a huge inspiration to many. The Scottish-American naturalist, also known as the "Father of the National Parks," captured millions of hearts with his poetic words about nature. Because of his advocacy for the preservation of wilderness, places like the Yosemite Valley and Sequoia National Park are still around today.
Article continues below advertisement
However, Muir's legacy is also blemished by his racist words. The Sierra Club, which he co-founded in 1892, recently published a statement to acknowledge and discuss the conservationist's racist beliefs. But what does this mean for the organization moving forward? And how are people reacting? Here's what we know.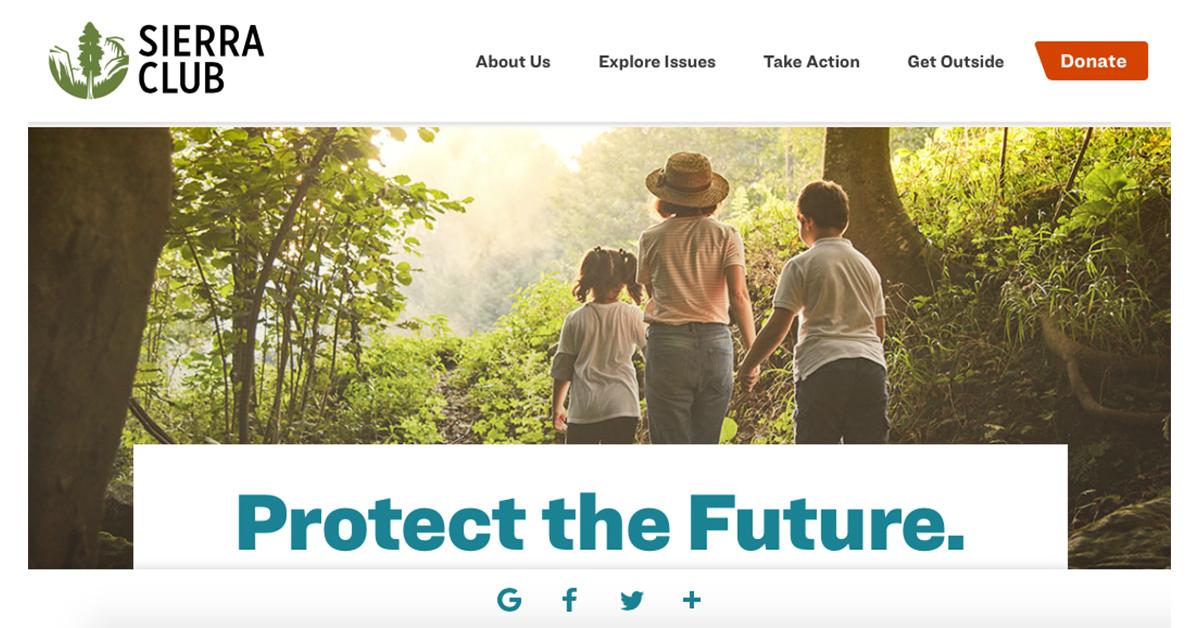 Article continues below advertisement
John Muir's history of racism is now coming to light.
On July 22, 2020, Sierra Club released a statement about John, acknowledging a part of his past that is often overlooked.
It reads: "Muir was not immune to the racism peddled by many in the early conservation movement. He made derogatory comments about Black people and Indigenous peoples that drew on deeply harmful racist stereotypes, though his views evolved later in his life."
To clarify what his offensive comments were, the organization linked to another post entitled "The Miseducation of John Muir," which gave an in-depth (and brutally honest) account of John's life. In it, the author reveals the ways John viewed Black and Indigenous peoples were quite different from the way that he viewed nature.
Article continues below advertisement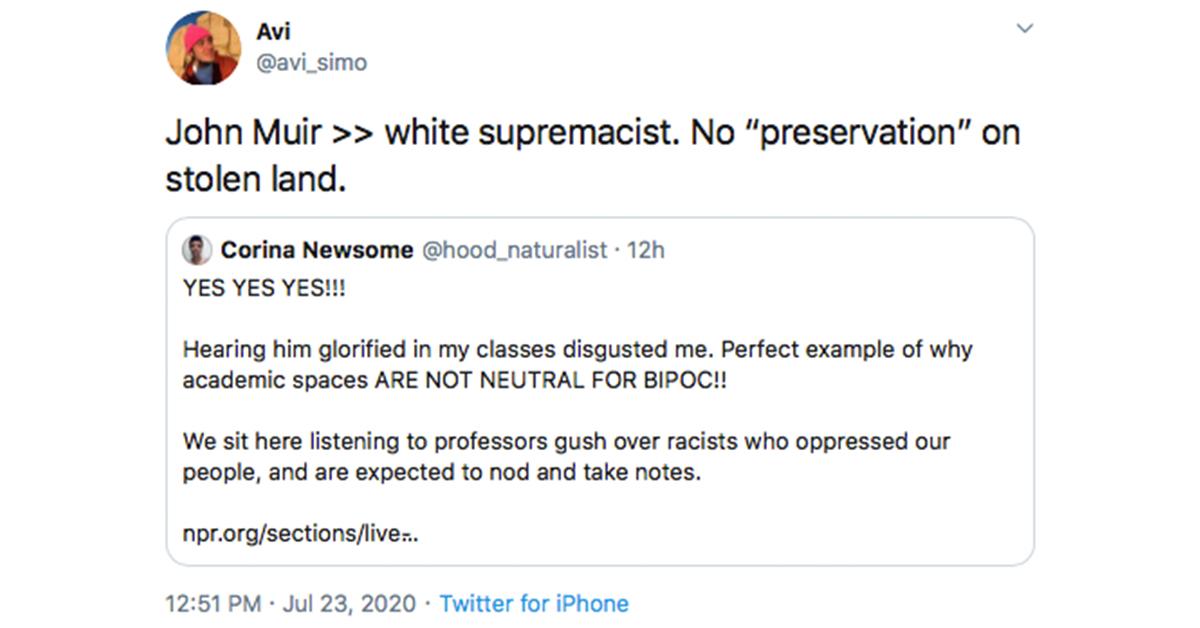 For example, when he documented his encounter with a Black couple in Florida, he said: "The dirt which encircled the countenances of these people... appeared to stand out a little on contact like a hazy, misty, half-aerial mud envelope, the most diseased and incurable dirt that I ever saw, evidently desperately chronic and hereditary. It seems impossible that children from such parents could ever be clean."
Article continues below advertisement
And in another disturbing entry, he described the Cherokee homes he saw as "the uncouth transitionist …wigwams of savages." Definitely far from the beautiful language he used to describe nature. But still, some people have pointed out that John's views had evolved after that, suggesting it's unfair to judge him based on his old beliefs.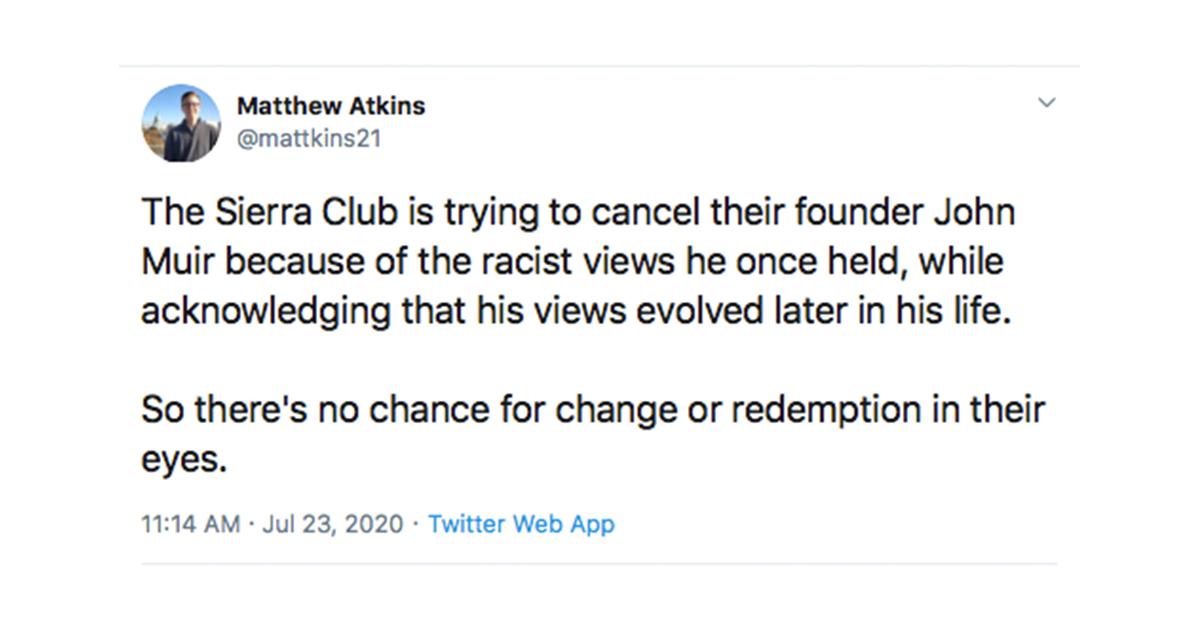 Article continues below advertisement
The Sierra Club's earliest members were also racists.
Executive Director Michael Brune pointed out that the organization began as an exclusive club for the most privileged white people. In fact, some of the earliest members, including David Starr and Joseph LeConte, proudly supported white supremacy and the eugenics movement, which aimed to prevent minority groups and people with disabilities from bearing more children. The fact that they worked so closely with John only adds to his problematic past.
The Sierra Club apologized for John Muir's racist comments in light of recent events.
Michael not only called out the founder and early leaders for their racism, but he also acknowledged its harmful effects and offered a sincere apology on behalf of the organization.
He wrote: "As the most iconic figure in Sierra Club history, Muir's words and actions carry an especially heavy weight. They continue to hurt and alienate Indigenous people and people of color who come into contact with the Sierra Club."
Article continues below advertisement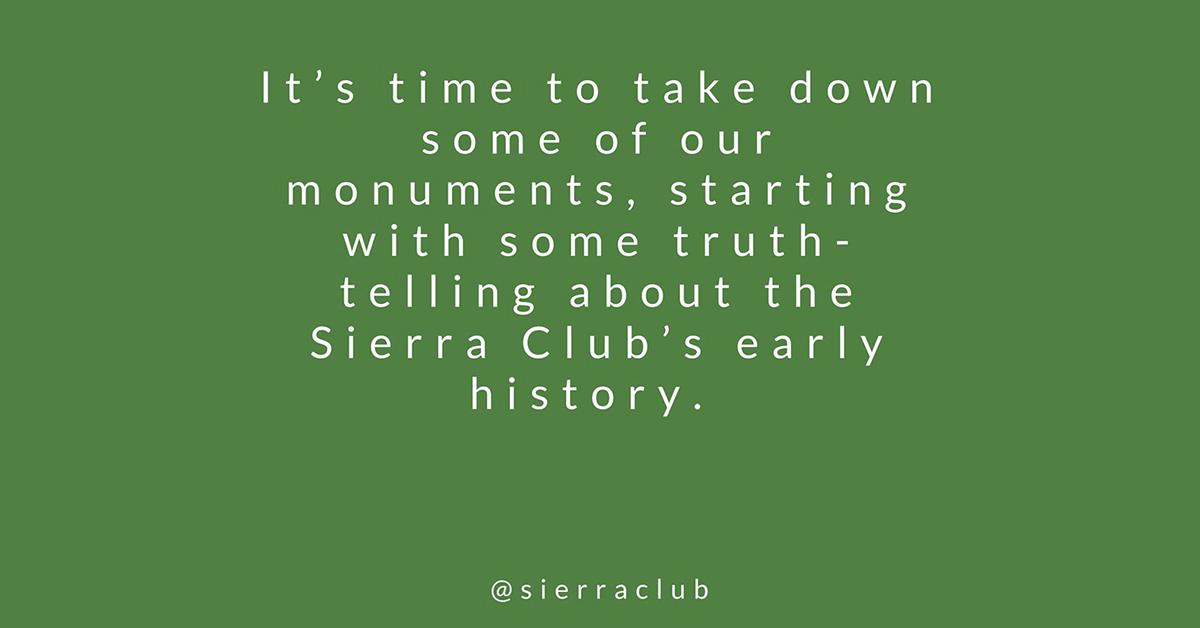 He continued: "For all the harms the Sierra Club has caused, and continues to cause, to Black people, Indigenous people, and other people of color, I am deeply sorry. I know that apologies are empty unless accompanied by a commitment to change. I am making that commitment, publicly, right now. And I invite you to hold me and other Sierra Club leaders, staff, and volunteers accountable."
Article continues below advertisement
How does Sierra Club plan to take action?
The grassroots organization is determined to implement change, and not just by releasing an apology. Michael mentioned the Sierra Club would work to bring on more leaders of color and amplify the voices of minority staff across the organization.
"Pending approval from our board, we will shift $5 million from our budget over the next year — and more in the years to come — to make long-overdue investments in our staff of color and our environmental and racial justice work," he said.
Article continues below advertisement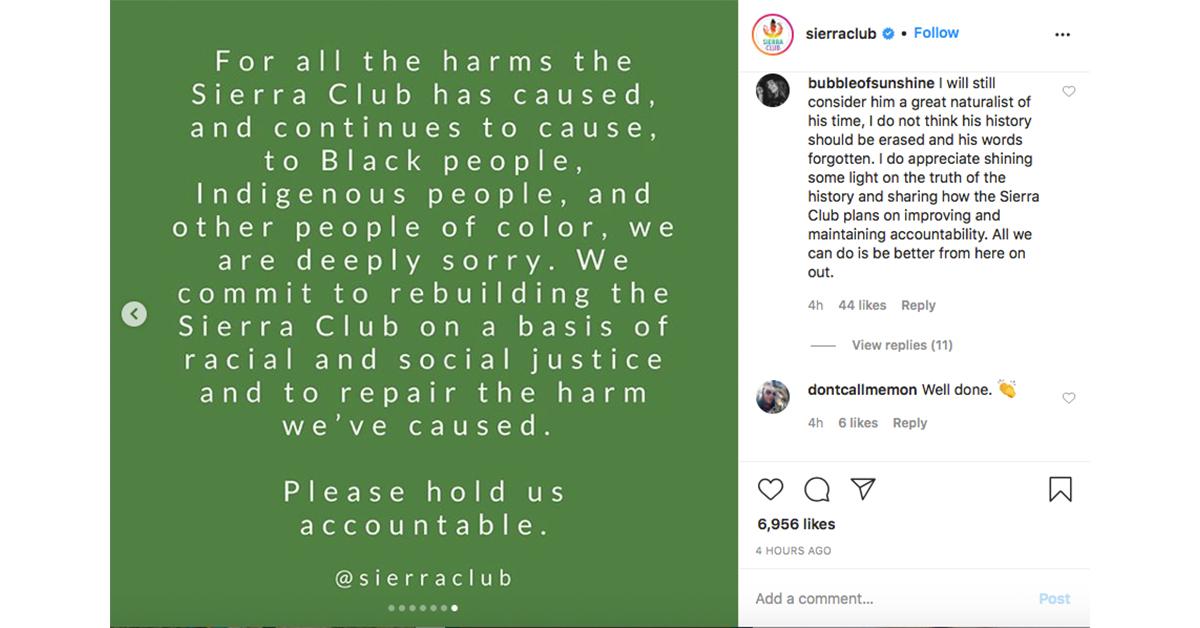 "We will create a dialogue with, and resources for, our members about the intersection between racism and environmental justice issues, and invest in our HR and training capacities to ensure that staff, volunteers, and members are held accountable for any harm they inflict upon members of our Sierra Club community who identify as Black, Indigenous, or people of color."
Article continues below advertisement
He also added, "We will also spend the next year studying our history and determining which of our monuments need to be renamed or pulled down entirely."
Followers are proud of the organization for speaking out.
In light of all the protests and changes sparked by George Floyd's death, people are applauding Sierra Club for acknowledging their racist history and doing something about it.
One user said, "Thank you for telling the truth, this is saddening news and my heart is at a standstill...but your honesty is compassionate and shows more valor than most companies and organizations who are choosing to remain in the shadows."
Another person wrote, "Right on Sierra Club. Setting a great example for us all and a nation as a whole to take responsibility." Here's hoping that this inspires other organizations to take action in fighting against racial inequality.