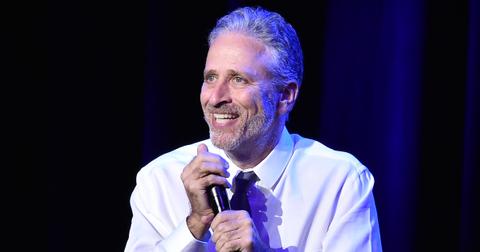 Jon Stewart Asked for Comedy Writers — He Got Flooded With Memes Instead
By Mustafa Gatollari

Feb. 16 2021, Published 9:03 p.m. ET
If you've got any sort of social media following, and in some instances, no following at all, there's a chance that any one tweet you put out will somehow turn into a snowball effect of memes. The cycle is a vicious and short-lived one.
Article continues below advertisement
First there are jokes made in earnest highlighting a witty response to said meme. Then, people dog pile onto it and it ends up everywhere. Eventually, ironic forms of the meme start circulating the internet, until it becomes stale and hated. The Jon Stewart packet meme is no exception.
The weird thing is that the "Jon Stewart packet" meme basically started as a job application.
In case you didn't know, Jon is planning a return to TV. The popular and well-respected comedian took The Daily Show to new heights after taking over the reins from host Craig Kilborn (who went on to become host for The Late Late Show). Under Jon's leadership, The Daily Show churned out countless spinoffs and helped breed other big time stars: Steve Carell, Stephen Colbert, The Nightly Show with Larry Wilmore, Last Week Tonight with John Oliver, and eventually Trevor Noah.
Article continues below advertisement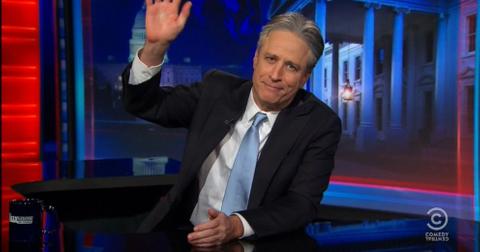 Trevor took over hosting duties after just a short stint as a correspondent in 2014, and the show has continued to flourish under his lead hosting duties, with a slew of other correspondents who've also branched out and gotten programs of their own (Patriot Act with Hasan Minhaj, for example.)
So when Jon Stewart left as Daily Show host in 2015, many people wondered when he'd be back in business as a full-time TV show host.
Article continues below advertisement
Might as well admit I'm also writing that Jon Stewart packet, and hoping no one else will have a slam dunk joke about Grape-Nuts returning to shelves in March

— Chloé Cunha (@ChloeCunha) February 15, 2021
Not much was known about Jon Stewart's future projects.
He did have a significant 2020 with the release of his film, Irresistible, but fans were super stoked to hear that he had a new current events program coming out on Apple TV+. What's interesting is that each show will also have a "companion podcast," as per CNN, which could fast make the series, which will "explore topics that are currently part of the national conversation and his advocacy work," a media powerhouse.
Article continues below advertisement
When word broke out on social media that Jon Stewart's new show was looking at prospective new comedians and fielding through different packets of comedy writers to interview for the program, tons of people began submitting their work.
And others saw it as an opportunity to just make memes out of the whole thing.
Article continues below advertisement
Our new raptor is doing a Jon Stewart packet

— Jurassic Park Updates (@JurassicPark2go) February 16, 2021
Pretty soon everyone and their mother was either preparing a packet for Jon Stewart, or making memes about the "Jon Stewart packet."
Article continues below advertisement
BREAKING: AstraZeneca abandons COVID-19 vaccine research to work on their Jon Stewart packet.

— Gennefer WEAR A MASK Gross (@Gennefer) February 15, 2021
I heard the Jon Stewart packet is just him sliding a can of beans and a can opener across the table to you and watching.

— Jesse McLaren (@McJesse) February 16, 2021
Article continues below advertisement
Even Jon Stewart chimed in, seeing as he's finally on Twitter and all.
Article continues below advertisement
its cool that jon stewart has a "packet", but maybe its more important that he has a "son" just left on adam sandler's doorstep? a guy who doesn't know the first thing about responsibility?

— dylan gelula (@DylanGelula) February 16, 2021
Article continues below advertisement
My Jon Stewart packet:

*rapping*
My name's Jon Stewart
and I'm here to say
Some critical stuff about the USA

— Alex "Dwayne The Rock Johnson" Kendziewski (@canjeffski) February 15, 2021
Article continues below advertisement
Article continues below advertisement