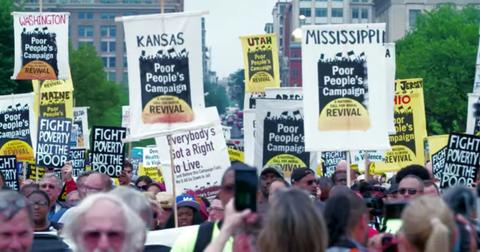 Everything You Need to Know About the Poor People's Campaign's Virtual March
By Nakeisha Campbell

Updated
Despite racial tensions and the fact that we're knee-deep in political chaos right now, it's encouraging to know that more people are taking action and making a difference. Millions of protesters have already taken to the streets in solidarity with the Black Lives Matter movement, more people are reaching out to their local officials to make their voices heard, and of course, there's a plethora of great online petitions to enact change.
So yes, while 2020 has been a complete train wreck, people are still coming together and working hard to ensure a better future. And perhaps one of the most important movements that's working toward this goal is the Poor People's Campaign: A National Call for Moral Revival. The organization will be holding a march on June 20, 2020, but exactly what is this march for? Get the details below.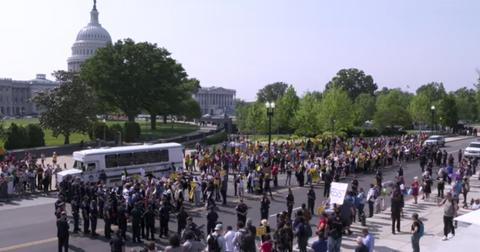 What is the June 20 virtual march?
On Saturday, June 20, the Poor People's Campaign will be holding a virtual march on Washington, D.C.. Officially called The Mass Poor People's Assembly & Moral March, it will be a digital gathering of poor and low-income people, advocates, and faith leaders.
As for the purpose of this march, its aim is to unite and amplify the voices of poor and low-income people across the country, who have been largely ignored and denied protections. The poor have especially been hit hard by the coronavirus pandemic and, according to the movement's website, this has only increased the need for a "broad movement led by the poor."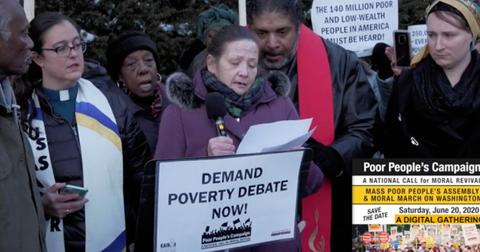 The website reads: "We are marshaling our collective voices to demonstrate the power of our communities. We demand that both major political parties address the interlocking injustices of systemic racism, poverty, ecological devastation, militarism and the distorted moral narrative of religious nationalism."
What is the Poor People's Campaign?
The organization that's leading the assembly is called the Poor People's Campaign: A National Call for Moral Revival. They're a non-partisan, anti-poverty campaign that's "building a broad and deep national moral fusion movement—rooted in the leadership of poor people—to unite our country from the bottom up."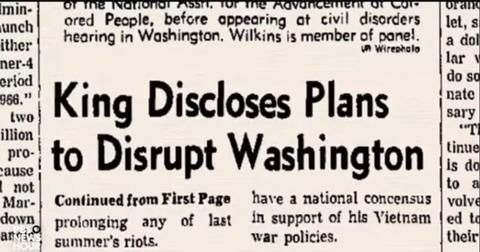 However, this organization was relaunched to continue a movement that was started by Dr. Martin Luther King, Jr. in 1968. His aim was to demand economic and human rights for poor Americans, so he worked with the Southern Christian Leadership Conference and organized a civil disobedience campaign called the Poor People's March on Washington.
Unfortunately, because of his assassination later that year, he never made it to the march. But after his passing, thousands of people set up a protest camp at Washington Mall, where they stayed for over six weeks. It was led by Dr. King's mentor and fellow activist, Ralph David Abernathy, Sr.
Now, more than 50 years later, the original Poor People's Campaign has been revived and is now led by William Barber II and Liz Theoharis. But this march won't be the first major event they've organized. In 2018, the campaign also did 40 days of non-violent civil disobedience, where thousands of people marched together in Washington, D.C. in the fight against poverty.
Why is it happening on June 20?
You may have noticed that this falls right in the middle of election season, and this was no accident. The Poor People's Campaign is hoping to raise awareness about the poverty crisis and, hopefully, impact future political campaigns.
The website explains: "June 20, 2020 falls after the primaries and before the two major political party conventions – a time when thousands of people united and organized can impact the platform of the 2020 Presidential Campaigns going forward. "
Here's how you can get involved.
If you want to sign up, you can visit the campaign's website. The two-hour program will be broadcast On June 20, 2020 at 10:00 a.m. EST and 6:00 p.m. EST and once again on June 21st at 6:00 p.m. EST.