Kanye West Says He's Trying to Divorce Kim Kardashian Because of Cheating
Kanye West claimed that he's been trying to get a divorce from Kim Kardashian for years, and he believes she cheated on him with Meek Mill.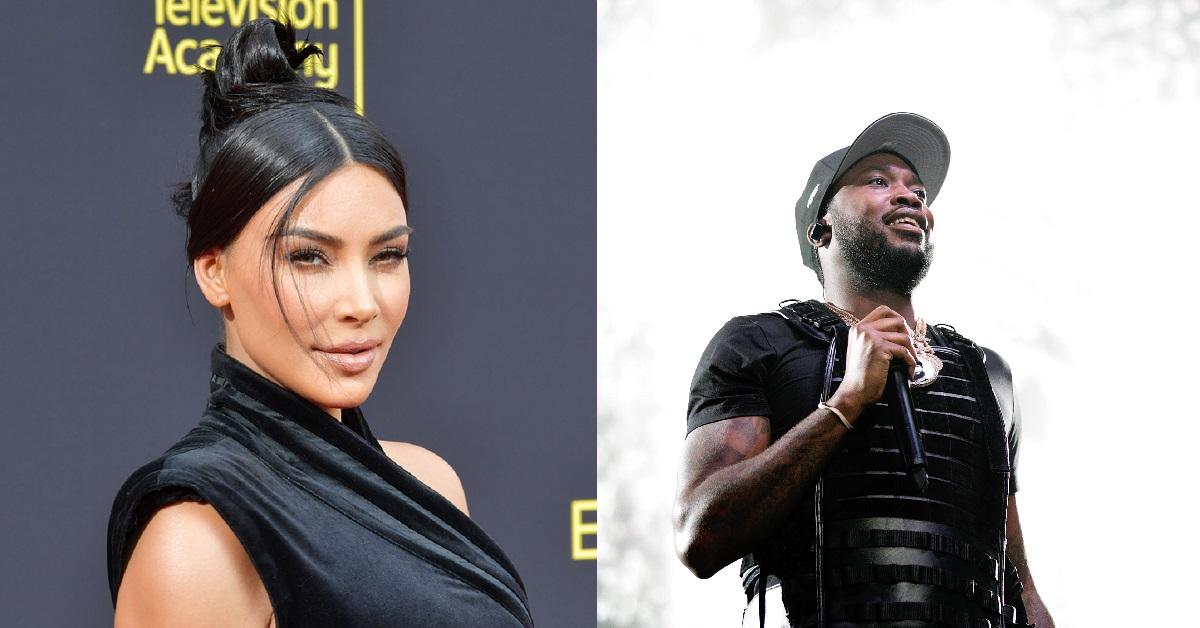 In one of his recent tweets that has since been deleted, Kanye West claimed he has been trying to get divorced from Kim Kardashian for years. In the tweet, Kanye seemed to be suggesting that something had gone on between Kim and Meek Mill when the two met at the Criminal Justice Reform Summit in 2018.
Article continues below advertisement
Kanye West thinks Kim Kardashian cheated on him with Meek Mill.
"They tried to fly in with 2 doctors to 51/50 me. I been trying to get divorced since Kim met with Meek at the Warldolf for 'prison reform," he wrote in a tweet. In another tweet, he added that "Meek is my man and was respectful. That's my dog. Kim was out of line."
There is no other evidence to support Kanye's claim, and it was just one of several that the rapper made over the course of the night.
Article continues below advertisement
What else did Kanye West tweet about?
Elsewhere in his tweets published on July 21, Kanye suggested that someone had murdered Michael Jackson, and implied that Drake and Larsa Pippen were involved in some sort of nefarious activity. He also compared his mother-in-law, Kris Jenner, to Kim Jong-Un and claimed that Kim and Kris had released a statement without his approval. Kanye's tweets were the latest in a string of behavior that has left many of his fans concerned about his mental health.
What did Kris Jenner and Kim Kardashian say?
Although Kris and Kim have yet to release an official statement on Kanye's behavior, as he suggested on Twitter, sources claim Kim is upset about her husband's recent tweets.
"She was most upset that [Kanye] said that Kris isn't allowed around the kids," a source told People. "Nothing could be further from the truth. Kris is an important part of the kids' lives and Kim loves the bond they have. She's 100% allowed around the kids."
Article continues below advertisement
Other recent tweets from Kanye have suggested that Kris is screening his calls and that he believes she was wrong to let Kim pose for a photoshoot with Playboy more than a decade ago. Kanye wrote that he would never allow his own children to participate in anything like that.
Article continues below advertisement
Kanye West is also running for president and releasing an album.
In addition to his recent controversies on Twitter, Kanye has also announced that he is running for president and even held his first campaign rally in South Carolina. At the rally, he claimed he had once considered aborting his eldest daughter, North, and said that Harriet Tubman had never actually freed any slaves. In spite of his claims that he is seeking the presidency, it's unclear where his name will appear on the ballot.
Even as he enters the political arena, Kanye has also claimed that he plans to release a new album on Friday, July 24. In a tweet on July 20, West shared a tracklist for the album, which will be titled "Donda." He's shared tracklists in the past, but the latest edition had substantial changes from the previous versions he's shared. As it stands now, the album will be 39 minutes long and feature 12 songs.