Lifetime Casts Its First LGBTQ+ Leads in a Christmas Movie
Real-life spouses Ben Lewis and Blake Lee will play love interests in Lifetime's 'The Christmas Setup.'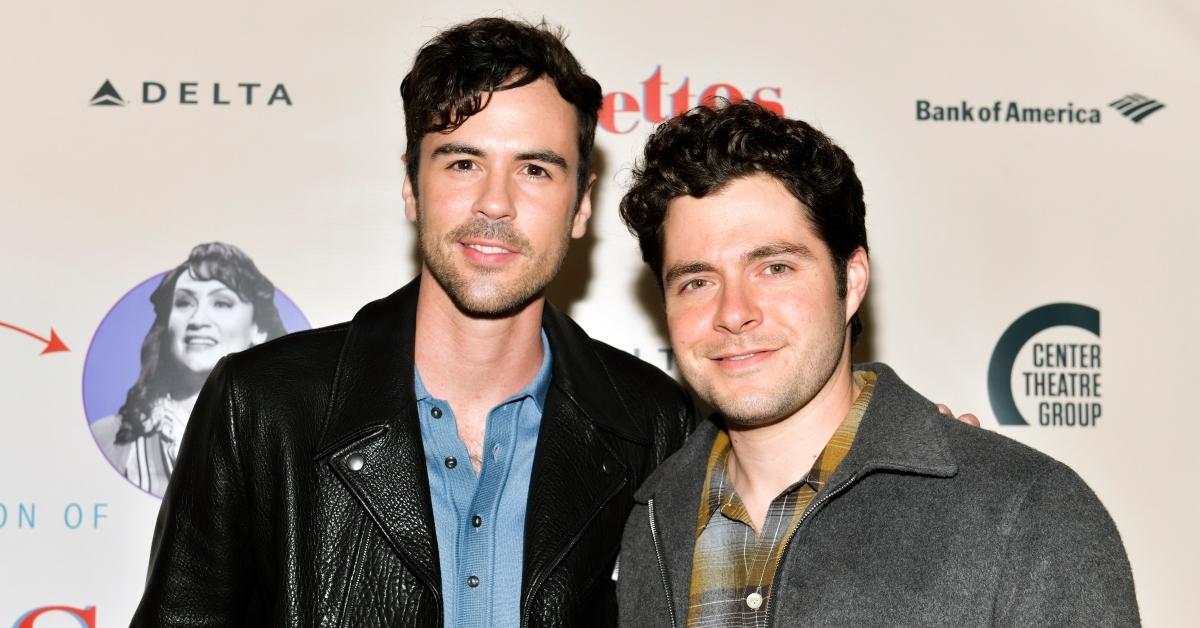 'Tis the season for Lifetime Christmas movie casting news! And there's some big news this year. For the first time ever, Lifetime has cast LGBTQ+ leads in one of its cheesy, made-for-TV Christmas movies.
Article continues below advertisement
Real-life married couple Blake Lee (Parks and Recreation) and Ben Lewis (The Handmaid's Tale) have been cast as the romantic leads in The Christmas Setup. The supporting cast includes The Nanny herself, Fran Drescher, as well as Ellen Wong.
Article continues below advertisement
According to Deadline, "The Christmas Setup follows the story of New York lawyer Hugo (Lewis) who heads to Milwaukee with his best friend Madelyn (Wong) to spend the holidays with his mom Kate (Drescher), who is also in charge of the local Christmas celebrations." Obviously.
"Ever the matchmaker," the movie description continues, "Kate arranges for Hugo to run into Patrick (Lee), Hugo's high school friend and secret crush, who has recently returned after a successful stint in Silicon Valley." So this movie has not one but two romantic leads returning to their small hometowns after making it in the big city. It's perfect.
Article continues below advertisement
"As they enjoy the local holiday festivities together, Hugo and Patrick's attraction to each other is undeniable and it looks as though Kate's Santa-style matchmaking is a success," the synopsis continues. Fran Drescher as a semi-magical Santa figure? Sign me up.
But of course, Hugo then receives word of a big promotion involving a move to London, and he has to decide what's most important to him. Is it lawyering in the UK or pursuing his relationship with Patrick? This movie sounds like it has all the trappings of a perfectly cheesy Christmas TV movie, plus it's got LGBTQ+ leads at the helm. Needless to say, people are excited.
Article continues below advertisement
Lewis shared the announcement on his Instagram with the caption, "There's good-weird and bad-weird. 2020 has been bad-weird (please, for the love of God, #VOTE) but starring alongside my husband @blakeleeblake (not to mention my old friends @ellewongster, @chadjc, and the ICON @officialfrandrescher) in Lifetime's first gay Christmas movie (directed by @patkmills) definitely qualifies as good-weird. In fact, it's the most surreal, wonderful early-Xmas gift I could ask for."
Article continues below advertisement
Not only is this movie celebrating an LGBTQ+ love story, but the two leads are married in real life, which makes it all the more adorable. And although many are excited about this move, let's all hope this isn't a fluke or a one-off but the start of regular representation for the LGBTQ+ community in movies like this.
Article continues below advertisement
"A gay Lifetime Christmas movie, starring an IRL married couple, written by members of the LGBTQ community with a guaranteed happy ending, and a plot that isn't about how awful being gay is," one person wrote, following it with a shocked face emoji.
"As expected the cast for this one is painfully white, but at least they found a way to incorporate Fran Drescher," another person wrote. It's true that this cast doesn't represent the kind of racial diversity that these movies have also been so sorely lacking.
Article continues below advertisement
There's no reason for Lifetime Christmas movies to be white and/or focused on heterosexual relationships. People of all backgrounds and identities have been asked to identify and enjoy stories starting white, hetero couples for so long.
Let's continue to turn those tables and feature underrepresented groups on screen in totally predictable, cheesy, over-the-top Christmas movies. Everyone deserves to see themselves in these stories, no matter how silly they are, and even precisely because of how silly they are!