Diddy Is Bringing Back 'Making the Band' and People Have Thoughts
Diddy announced on Twitter that 'Making the Band' would be getting a reboot, with new episodes hitting MTV in 2020. People had a lot of thoughts about this.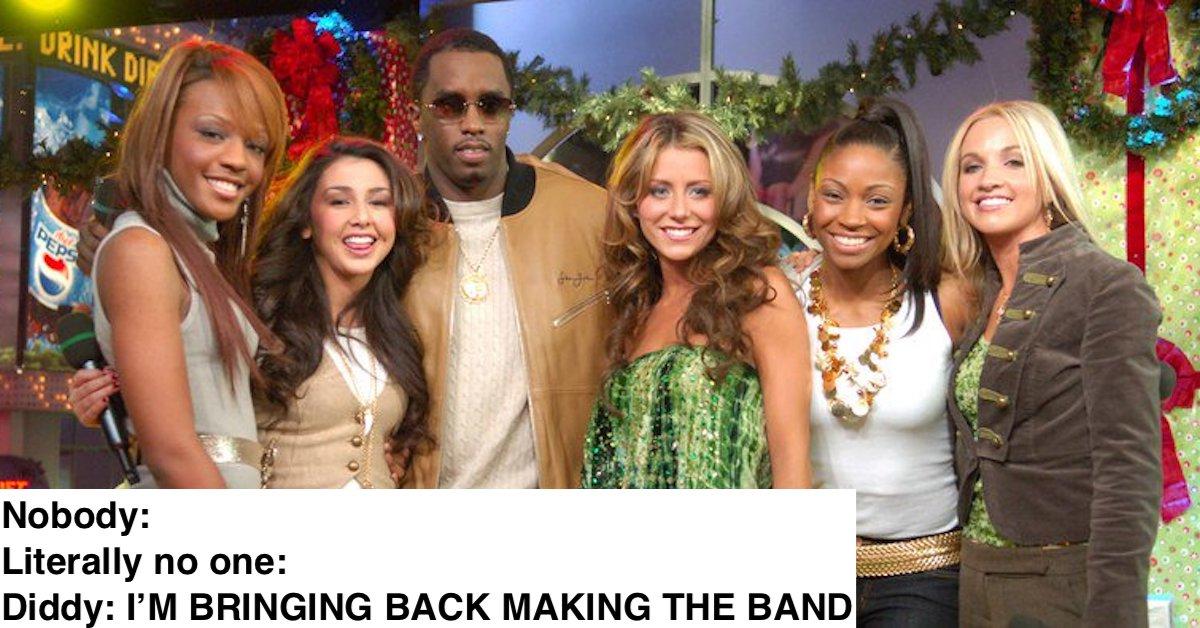 We are living in the golden age of reboots nobody asked for or wanted. Between all the Disney movies and all the MTV shows that are getting mild makeovers, we're up to our ears in barely desired nostalgia. And now, there's one more show to add to the heap. Making the Band is coming back, and yes, Diddy's on board.
Article continues below advertisement
On July 8, Diddy tweeted asking if he should bring back Making the Band. The MTV show originally ran from 2000-2009 and spawned such classic musical acts as O-Town, Danity Kane, and Day26.
It didn't take Diddy long to make up his mind because just yesterday, on July 15, he posted a video on Twitter announcing the return of the show in 2020.
Article continues below advertisement
"Today is decision day," Diddy says before gargling mouthwash and spitting it out into his probably million-dollar sink. "I want to thank Wale," he continues. "I want to thank Seth Rogen for putting this on my radar." What did Seth Rogen have to do with this?! Why, Seth, why?!
Diddy goes on to explain that what they did with the original Making the Band was special, and that is was "one of the happiest times in his life."
"You can't recreate happiness," he says, right before announcing that he will indeed be recreating Making the Band for MTV in 2020.
Article continues below advertisement
"Making the Band 2020," he says. "I really want to do this. I really think that I would have a good time. And I really think — no, I know — that I'm going to build the biggest band in the world! So it's official. Decision's made. Making the Band 2020 is back."
To be fair, some people are really excited about the return of the show.
Article continues below advertisement
There's no doubt that this show had an affect on people. Some of those bands made it big...at least for a little while. And let's not forget that it resulted in hilarious Chappelle's Show sketches. So it wasn't all bad. But most people aren't exactly stoked for this new iteration.
Article continues below advertisement
According to this (and many other Twitter users), Diddy misunderstood when people said they missed Making the Band and they wanted it back. Almost no one wants new episodes of the show. Most people just want old episodes of the show to be put on Hulu or some other streaming service.
MTV has attempted or announced reboots of several of their classic shows recently, including TRL, Daria, and The Real World. And while we will watch them, at least at first, no one really wants them. We just want to be able to watch old episodes, to take a walk down actual memory lane.
Article continues below advertisement
It remains to be seen whether the new Making the Band will be a hit or not. But Diddy is already accepting auditions via Twitter as part of a global talent search, via the hashtag #MTBcasting. And people are definitely using it. So maybe the show will be a hit.
But people are still quite critical of Diddy's involvement in the original seasons of the show. The bands he "made" mostly fizzled out after a year or two because they stopped getting support from him. Many fans pointed out that he should work on keeping the bands instead of continuing to make new ones.
Article continues below advertisement

Judging by the Twitter replies to the announcement of the return of Making the Band, Diddy and MTV may have wildly mischaracterized what people actually wanted. But hey, with a second time around, they have the benefit of all the knowledge they gained the first time around, right? And that means whatever disservice they did to the bands in the original series most definitely will not be repeated in this reboot, right? Right? Only time will tell.