Man Threatens to Call Cops on Black Men Using Their WeWork Office's Gym
The man repeatedly asked the group what office they worked in, before saying that he was going to call 911.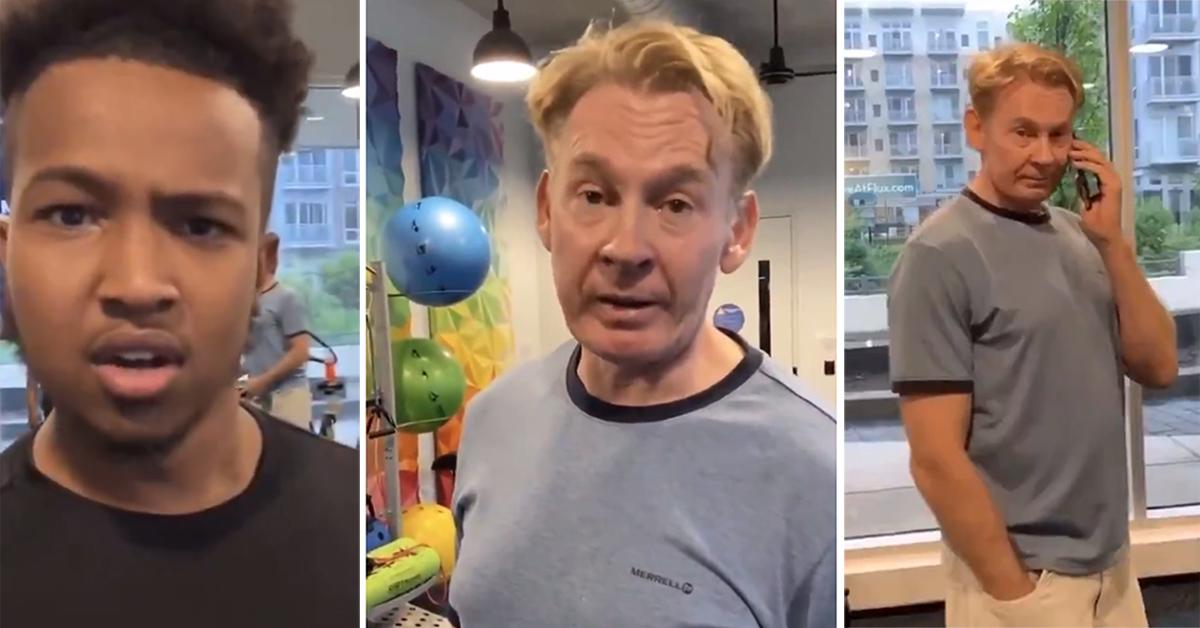 A man threatened to call 911 on a group of Black men who were using a gym located in the Minnesota building where they rent space from WeWork on Tuesday. Video of the exchange has gone viral online, with the group sharing it on their businesses' Instagram page, and others sharing it elsewhere.
Article continues below advertisement
The video appears to show a man, who identifies himself as Tom Austin, questioning three Black men about their tenancy.
"Normally we don't speak out about encounters of racial profiling and age discrimination that we face day to day in our lives as young Black entrepreneurs," the men wrote in a post to the @teamtopfigure Instagram page.
"Although today May 26th 2020 7:51 pm we encountered a situation where a man entered the facility, a shared private gym that we utilize in our WeWork Mozaic East office located in uptown Minnesota. Granted we've been in this office space and have rented and grown our business for the past 1 year and a half here."
Article continues below advertisement
"As we were working out this man approached and immediately asked us who we were and if 'WE BELONG' in this building," the post continues. "Granted in order to enter the building you NEED a key card to enter EVERY part of the building which EACH of our team members individually have."
"We all pay rent here and this man demanded that we show him our key cards or he will call the cops on us. We are sick and tired of tolerating this type of behavior on a day to day basis and we feel that we had to bring light onto this situation."
You can watch the exchange for yourselves below.
Article continues below advertisement
The two parties began recording each other mid-argument, with one of the men off-camera asking: "What did you say we can't do?"
Article continues below advertisement
"I'm Tom Austin, I'm a tenant in the building, are you?" the man in question asks.
"We're all tenants in this building," the men reply. "Don't worry about it, we're reporting this to corporate," one of them adds.
"What office?" Tom Austin replies.
One of the men then turns to the camera and states: "So we have an office here and this guy came in accusing us of we can't be here."
Tom Austin continues to ask the group what office they're in, to which the men reply: "Don't worry about that, we don't have to tell you anything."
Article continues below advertisement
Tom Austin replies: "I'm calling 911 then."
"Go ahead," one of the men states.
In a second video, Tom Austin is on the phone, though he appears to address the person he's talking to as Nicole, so it's unclear whether he's talking to the police.
"As you can see, we're dealing with racism here," one member of the group says.
"This is Tom Austin, I'm at the Mosaic, I don't know what to do here but there's a whole bunch of people who don't appear to be part of the office."
"I see the racism here," one of the group interjects before the video ends.
Article continues below advertisement
In a statement to Bring Me The News, Tom Austin contested the group's description of events, claiming that "several of these guys were trespassing and using a private gym that was authorized only for building tenants."
"Seems like nobody cares about the complete truth," he added. "One of the tenants brought 4 friends and I complained to them that this isn't right and it's unfair to the tenants who pay. They got in my face in a very threatening manner and I threatened back to building call security [sic]."
"I would have done this regardless of race. So this is bulls**t," Austin concluded.
Austin seemed to change his tone in an interview with Star Tribune, telling them he "should have handled it differently. Not my job to have done anything."
Stuart Ackerberg, CEO of Ackerberg Group, which owns the Mozaic East building, said that his "heart hurts" after viewing the video.
Article continues below advertisement
"It appears they had every right to be there and to use that amenity," he said.
Ackerberg also says he spoke to Austin about the incident.
"I shared with him that I did not think it was handled well and there are other ways to go about this," he said. "It's unfortunate. Our goal is to create a safe and inviting experience for everybody."
Austin stated that he and the group continued to work out after the confrontation.
"By the end of the night, we were on talking terms," he said. "I said, 'I'm sorry you thought I was being racist, but I was not. If you were a bunch of women, I would have done the same thing.'"
Both publications note that Austin is well known in Minnesota for having funded an unsuccessful lawsuit to stop Lake Calhoun being renamed Bde Maka Ska.
Article continues below advertisement
The lake was named after United States Secretary of War John C. Calhoun when he sent the Army to survey the area in 1817. Calhoun was a slave owner and pro-slavery politician, leading the Minneapolis Park and Recreation Board to launch an effort to rename the lake to its original Dakota name in 2011.
"My motive to fight for Lake Calhoun had less to do with trying to save the name itself and more to do with fighting for fairness and justice for everyday Minnesotans," Austin wrote in the Star Tribune in 2019.
"Everyday Minnesotans just want to be left alone and not bullied into changing the names of our lakes, our streets, our schools, our landmarks, and our cities. We're sick of the 'holier than thou' morality tone coming from politicians, media, and activists."
Article continues below advertisement
This video comes amid outrage around a similar video, in which a woman, later identified as Amy Cooper, called the police on an African American bird watcher who asked her to place her dog on a leash. Cooper was fired over the incident on Tuesday.
On the same day, a video of a police officer kneeling on a Black man's neck also went viral online. The man died at the hospital a short time later, and the four Minneapolis police officers, who were responding to an alleged forgery in progress, were fired.
Unsurprisingly, the latest video also attracted a strong response from users on social media.
"Thank you for sharing this," one of the men involved wrote to a person who shared the video on Twitter. "Crazy this happens, our team can't even conduct business here anymore, we're breaking our lease."
Article continues below advertisement
Another commenter wrote: "Affluent white people feel their status is lowered when Black people are able to occupy the same space as them."
Article continues below advertisement
"Tom Austin must not have seen the Amy Cooper video or her 48 hour demise," another added. "Instead of unnecessarily calling police on these social media entrepreneurs maybe he'll get an expensive lesson in how social media training works. Anyway, what ever happened to just introducing yourself?"
Article continues below advertisement
We've reached out to both parties for comment, but neither responded in time for publication. This article will be updated when they respond.