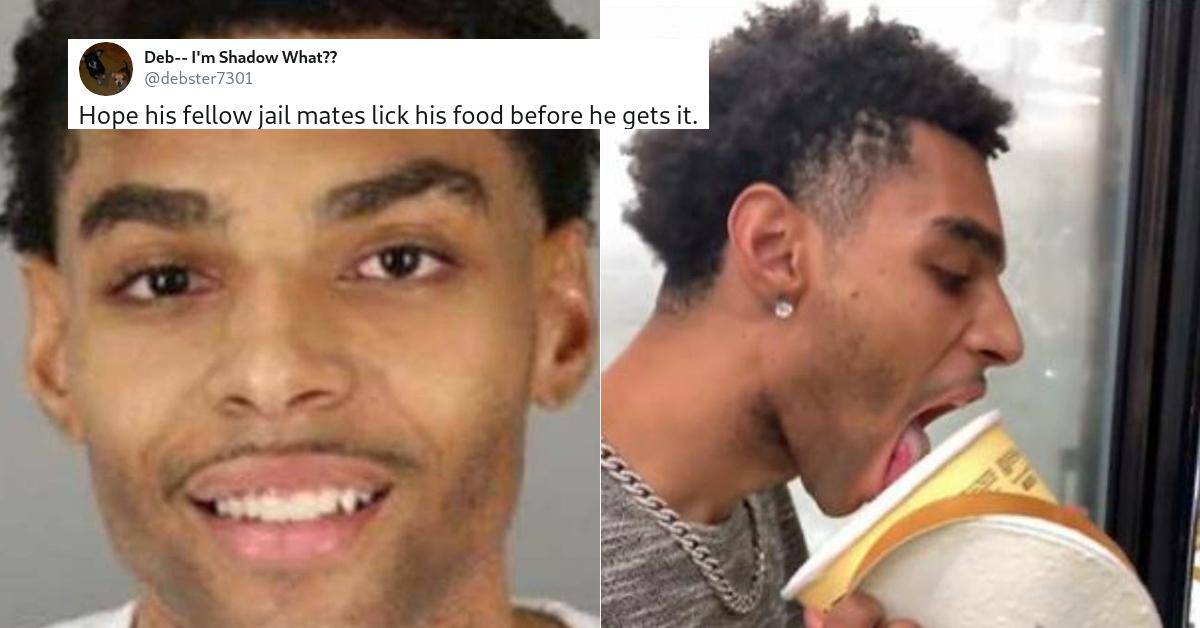 Man Gets 30 Days in Jail for Licking a Tub of Ice Cream Amid Coronavirus Fears
Sometimes, human beings do things that are so stupid, you find yourself convinced we're getting dumber as a species. While I don't know if that's necessarily the case, it is pretty clear that folks are more willing to share their idiocy with strangers online than ever before.
Like this man who licked a tub of ice cream and put it back.
Article continues below advertisement
You may be saying to yourself, "Didn't this happen already?" And it has, there have been other nasty individuals who thought it'd be a good idea to waltz into a grocery store, head to the freezer aisle, and then take a tub of ice cream, remove the lid, and proceed to get their slobber all over the top layer of said delicious frozen dessert.
What 24-year-old D'Adrien Anderson didn't count on, however, is just how scared everyone is of COVID-19 these days.
Article continues below advertisement
That and police take this sort of thing very seriously.
For the strange little gag he pulled in a Texas Walmart, D'Adrien will now have to spend 30 days in jail on charges of criminal mischief. On top of all that, he'll need to complete 100 hours of community service, fork over $1,000 in fines to the state, and then give another $1,565 to Blue Bell for "contaminating" their product, since the company was forced to restock all of its product in the Walmart freezer to address the man's actions.
Where things get a little iffy though, however, is that D'Adrien was only pretending to be a scumbag on social media for the clout. Video surveillance footage from the store reveals that he ultimately grabbed the tub he licked and purchased it. But Walmart reps weren't having it, and don't want to deal with throngs of people coming into their stores from licking tubs of ice cream and putting them back.
Article continues below advertisement
It definitely sounds like an example is being made of D'Adrien and anyone else who thinks this could be a funny "prank" to pull off: "If food is tampered with, or a customer wants to leave the impression that they left behind adulterated product, we will move quickly with law enforcement to identify, apprehend, and prosecute those who think this is a joke. It is not," said a Walmart rep in response to D'Adrien's video.
Article continues below advertisement
If you think his punishment is a little harsh, let's not forget about the San Antonio teen who went viral for licking Blue Bell and putting the tub back. She was not tried as an adult, which lucky for her since she could have faced jail time otherwise. Then there was that 36-year-old guy from Belle Rose, Louisiana who did the same thing. Like D'Adrien, he purchased the tub of ice cream but was still charged by police.
The reason why authorities are so heavily involved with these sorts of crimes and deal out such strict penalties is that tampering with consumer products is a second-degree felony. If you're found guilty of doing so, you'll be facing a maximum prison sentence of 20 years and up to $10,000 in fines.
Article continues below advertisement
The real crime that isn't being addressed here is the crime against comedy. Sure, tampering with a consumer product and possibly spreading the flu or coronavirus is a big big deal: people shouldn't have to worry about food their buying being contaminated with some TikTok-er's saliva.
Article continues below advertisement
But, forgive me if I'm wrong, what's so funny about this? I don't get the joke. It's the kind of prank that Farva from Super Troopers would pull... like offering to get someone a cup of coffee and putting a bar of soap in it. It's just... not funny. Hopefully D'Adrien and other ice cream lickers can work on some of their material while incarcerated. At the very least they'll have some interesting stories to tell!
Then there are other people who do things that are way more vile and seem to get away with it. What do you think? Are ice cream lickers being dutifully punished? Is this an instance of corporations getting more justice than the average American citizen? Or should people just lighten up, because it's not that big of a deal?