Vaccine Advocate Sees a Picture of Himself at an Anti-Vaxx Vigil for Dead Children
Ethan Lindenberger is a pro-vaccine activist who's very much alive, but his picture was used at a vigil for children who supposedly died from vaccines.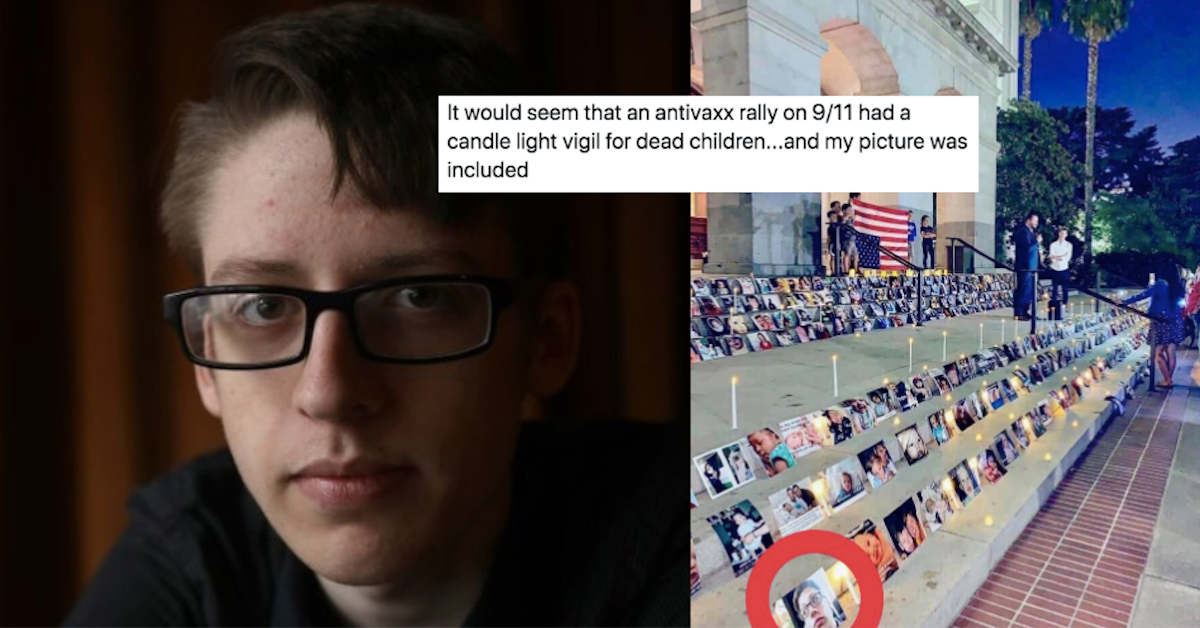 Ethan Lindenberger made headlines some months ago when he took to Reddit to ask for advice about defying his anti-vaxx parents. He had just turned 18, done his own research, and realized that his parents were misinformed and putting him in harms' way by refusing to get him vaccinated.
Article continues below advertisement
Since Ethan went on to get vaccinated, he's been interviewed by various news outlets and has become a pro-vaccine activist or, as he calls it in his Twitter bio, an "anti-anti-vaxxer." This made it all the more strange when he noticed that he was an unwilling participant in a recent vigil organized by anti-vaxxers to mourn children who have been supposedly injured or killed by vaccines.
Article continues below advertisement
California Governor Gavin Newsom recently signed Senate Bill 276 in response to the growing number of unvaccinated children in the U.S. The bill will work to combat fake medical exemptions, which have become a growing concern in California. In other words, it's way too easy for parents to fake that their kid has a medical condition and convince a doctor that they shouldn't have to be vaccinated. This bill will crack down on those illegitimate exemptions.
Anti-vaxxers don't like this new bill. So on September 11, a group of them held a candlelight vigil in the state's capital, Sacramento, using hundreds of pictures of children who've supposedly died or been injured because of vaccines.
Article continues below advertisement
There's only one problem with that (well, there's more than one problem, but you get it): Ethan Lindenberger's photo was among them. And he is very much alive. Someone pointed this strange fact out to Ethan, who took to Twitter to share it. "It would seem that an anti-vaxx rally on 9-11 had a candlelight vigil for dead children...and my picture was included," he wrote, along with a picture from the vigil with his face circled.
Article continues below advertisement
That's Ethan all right! Front and center. Immediately, the jokes started pouring in. "Sorry for your loss," one Twitter user wrote.
The inclusion of Ethan's picture started to make people wonder if there were other pictures included at this vigil of kids who are alive and well and thriving...and maybe even fighting against the anti-vaxxers' own cause.
Article continues below advertisement
It's funny that this person mentioned "stock photo people" because it turns out... they weren't exaggerating. YouTuber Philip DeFranco released a video in which he explored this anti-vaxx rally in detail and even interviewed Ethan about the weird experience of having his photo included among the supposedly dead children.
Article continues below advertisement
And in the process, Philip discovered yet another fake photo included in the candlelight vigil. This time, it was a literal stock photo of a baby crying while being given a shot.
Article continues below advertisement
Philip asked Ethan what his thoughts were when he first realized his photo was being included in this vigil. Ethan said, "I was just really confused because I'm looking through these photos that this anti-vaxxer's sharing, and they're totally like, 'Look at all these dead people," and I'm there." Yeah. That had to be a little bit unnerving!
Ethan first thought it might be troll job, but after some research, he realized that it was, in fact, real. His photo was being used at an anti-vaxx rally for dead children. He realized that if his picture was being used, they could also be using pictures of other kids who didn't die because of vaccines.
Although he was extremely frustrated and confused by this, Ethan very generously still urges everyone to approach anti-vaxxers with sympathy. He told Philip, "These people aren't bad people. They're just misinformed. Even though this vigil was hosted by some people who obviously had no idea what they were doing and are just trying to convince people that all these children are dying, a lot of people are just asking questions, and that's why it's important to engage with them, just be kind, and just try and answer questions, even if it's frustrating."