Man With Wife and Twin Toddlers Demands 100 Percent Silence While He Works From Home
This man believes he deserves complete silence to do his job. The problem is he doesn't even want to hear his wife and kids walking around.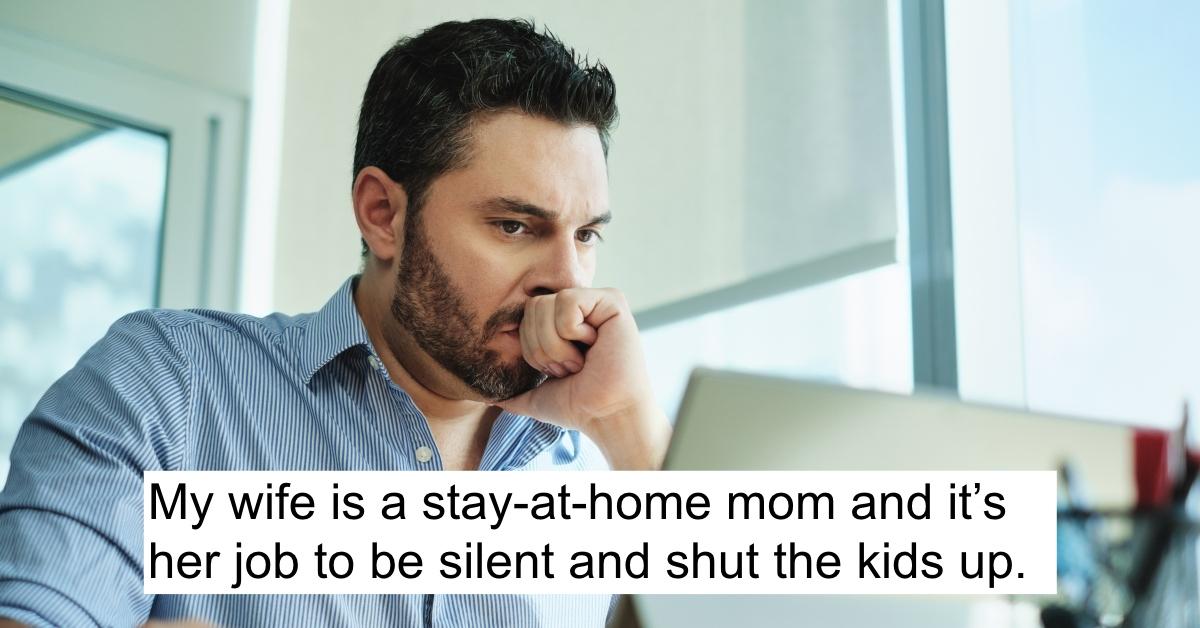 The pandemic has moved many people's jobs from the office to the home, and one unintended consequence of this is that in heterosexual couples, men are suddenly more aware of the effort it takes to maintain a home and a family. Not that they're actually doing more to contribute; in fact, they're doing much less.
Article continues below advertisement
One of these men, no doubt, is the author of the latest viral "Am I the A-hole?" post. In it, he complains that his wife and twin toddlers (TWIN! TODDLERS!) don't maintain 100 percent silence all day long. He claims that's what he needs to get his work done.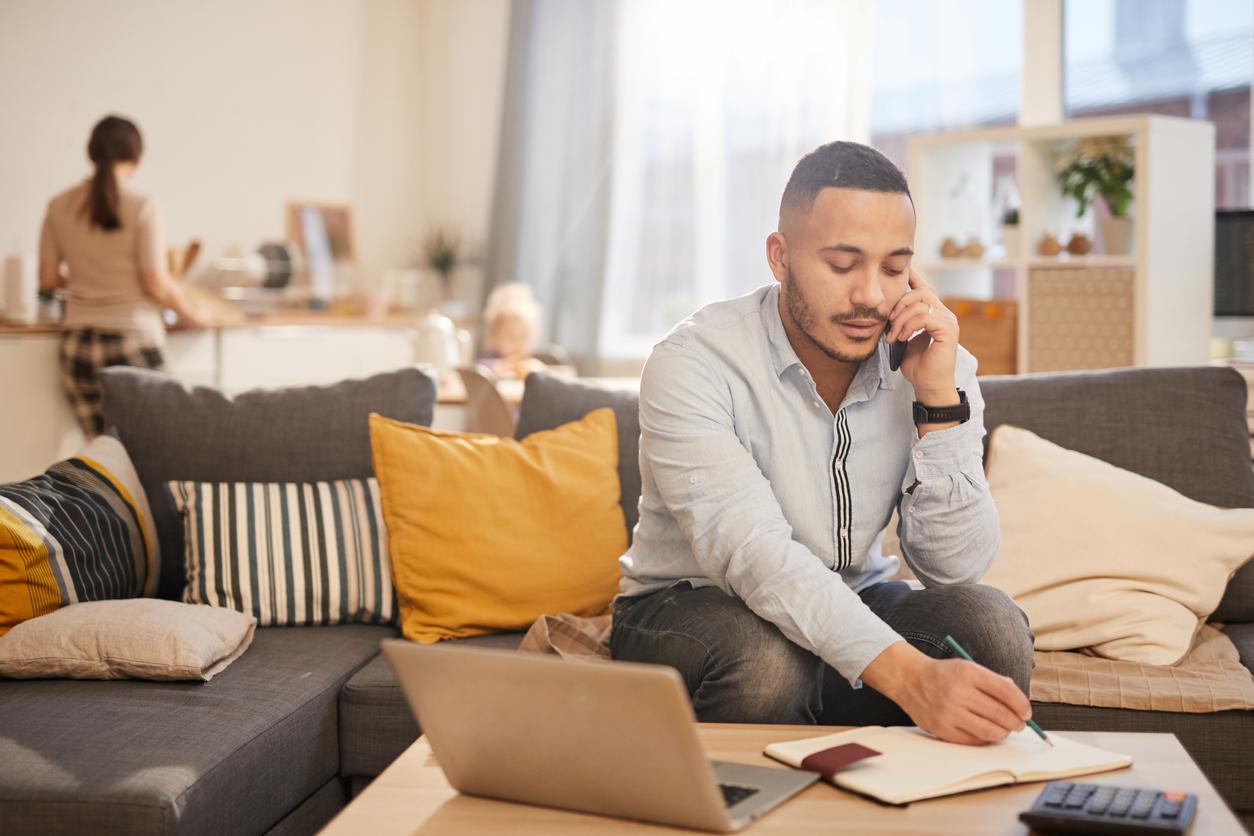 Article continues below advertisement
Look, families are all struggling to figure out how to work, take care of the kids, and get through an unprecedented time. It's hard. But couples are a team. It's not the woman's job to make her partner's life easier. This OP needs to be reminded of this.
He explains that he lives in a "smallish" apartment with his wife and twin toddlers. He doesn't have a home office, so he's just working in the apartment, and he claims that he needs total silence to complete his work, something that wouldn't even exist in a regular office.
Article continues below advertisement
"It has been slowly pissing me off because I am working hours and I hear noises such as my wife talking, watching TV, kids playing from the other room," he writes. "I have been VERY patient with them telling more than once that I need 100 percent silence to focus but even if they are trying to be 'quiet' I still hear some noises (kids, walking around, making food, cleaning, etc.)."
It's not even like his toddlers are screaming or crying or anything. He's literally annoyed that his wife is walking around and making food for his family because he can hear, I assume, footsteps, wrappers being opened, oven timers beeping, etc. I don't know what job this dude has, but there are very few places on Earth where you can achieve true silence, and your smallish apartment isn't one of them. He needs to learn to work with a realistic amount of noise.
Article continues below advertisement
He even went so far as to write, "My wife is a stay-at-home mom and it's her job to be silent and shut the kids up." Yikes. It's not a stay-at-home mother's job to "be seen and not heard," to keep the children away from their own father, and to sit completely still and not move a muscle for 24 hours a day.
Article continues below advertisement
OP also complained that his wife used to ask him to help out with chores around the house when he wasn't working from home. "When I'm off on the weekend, I'm still expected to help out." Yah, dude. It's called having a family. Men like OP really want to get married and have children and have nothing to do with them unless they are serving him in some way. It's a disease. Just stay single, eat take-out every night, and don't drag down a woman who deserves so much more. That's my advice, anyway!
He's tried to tell his wife several times that taking care of the kids and the home are her responsibility entirely, but she won't accept that because her brain, unlike his, exists in 2020. "My wife is angry at me and refuses to back down," OP writes. "The worst part? She claimed that I don't appreciate her."
Article continues below advertisement
He's baffled that after expecting her to do all the housework and childcare while still somehow making no noise whatsoever, she doesn't feel appreciated. Hmm. Wonder why.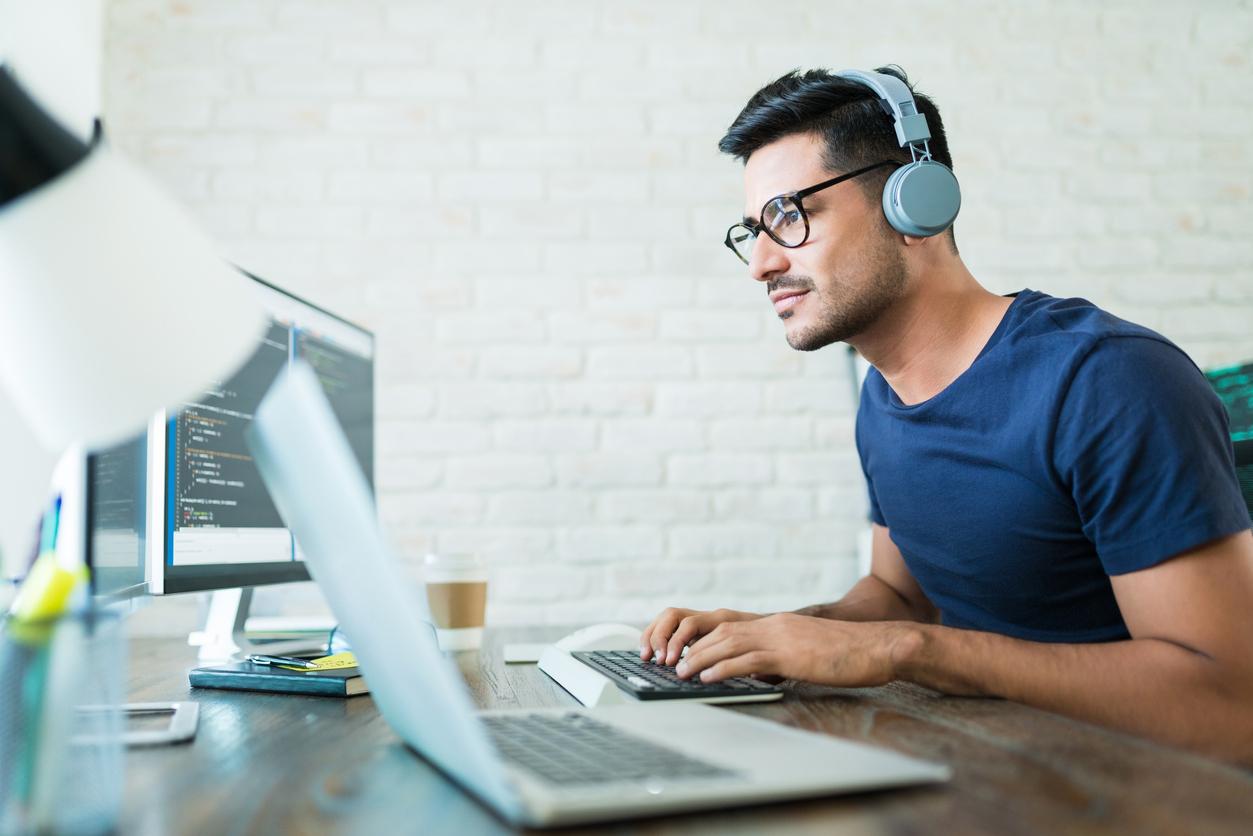 Article continues below advertisement
If you're like me, you're probably questioning why this man got married and had kids at all. He clearly hates them. Sure, I get that working at home probably comes with more distractions than office life, but demanding 100 percent silence from your partner, who already has to take care of you like a third baby, is wild and ludicrous.
Another question that perhaps crossed your mind: Don't noise-canceling headphones exist? They're not perfect, but they'll muffle a lot of the sound. This option hasn't seemed to cross OP's mind, though, because, of course, it's not about the sound at all. It's about thinking he's being "disrespected" and "mistreated" by someone he entered into a partnership with even though he thinks that he's superior to her in every way and that she exists only to serve his wants and whimsies.
Article continues below advertisement
Commenters agreed. "You sound like you don't appreciate your wife at all," one person wrote. "Remember that you get breaks from your paid work; your wife gets none from her unpaid work. What kind of AH expects complete silence from toddlers? Why can't you invest in noise-canceling headphones?"
"It sounds abusive and controlling," another person wrote. "OP expects her to take care of the kids and do all the chores and is livid they are just making NORMAL SOUNDS when doing so. And honestly, the kids sound very well-behaved. OP, YTA and a horrible spouse. Also, your wife isn't a freaking maid."