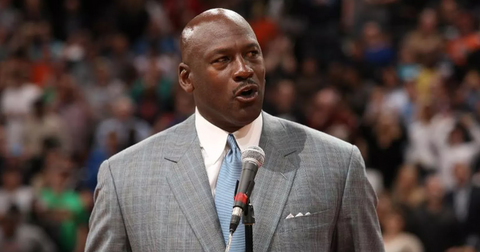 Michael Jordan Donated $100 Million to Organizations to Fight Racial Inequality
By Larry Stansbury

Updated
It's no secret that Michael Jordan is loaded from his prolific career with the NBA — his $2.1 billion estimated net worth speaks for itself. And while he has definitely enjoyed his wealth by living in a number of lavish mansions through the years, the retired professional athlete has also donated his money generously.
Let's take a closer look at Michael's recent philanthropy efforts, which includes a $100 million donation to organizations dedicated to "ensuring racial equality, social justice, and greater access to education."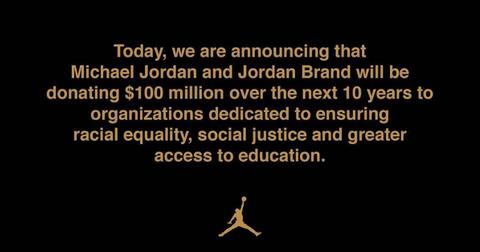 Michael will be donating $100 million to assist Black people with access to education and end social justice.
Michael decided to donate in honor of the death of George Floyd, an unarmed black man in Minnesota who died on May 25 after video footage showed Minneapolis police officer, Derek Chauvin, with his knee on Floyd's neck following his plea of being unable to breathe. Chauvin and the three officers involved in the video footage were fired and he was charged with manslaughter and second-degree murder.
The video footage resulted in a massive outbreak of protests throughout the country, reviving conversation about police brutality, social injustice, and a lack of economic opportunity in Black communities.
Michael, along with other celebrities, were involved in the protesting — and many of them made charitable donations as well. The 57-year-old Hall of Famer announced in a statement that he will be donating $100 million to social organizations in dedicating to ensure racial inequality for black people. He also said he will assist with giving access to education for the next 10 years.
"Black lives matter. This isn't a controversial statement. We are you. We are a family. We are a community," he wrote on Instagram.
"I see and feel everyone's pain, outrage, and frustration. I stand with those who are calling out the ingrained racism and violence toward people of color in our country. I don't have the answers, but our collective voices show strength and the inability to be divided by others. We must listen to each other, show compassion and empathy, and never turn our backs on senseless brutality."
"We need to continue peaceful expressions against injustice and demand accountability," he continued. "The will, the work, the excellence the world has come to know is the result of one generation after another, pouring their dreams into the next. It's 2020, and our family now includes anyone who aspires to our way of life. Yet as much as things have changed, the worst remains the same."
"Black lives matter," the statement continued. "This isn't a controversial statement. Until the ingrained racism that allows our country's institutions to fail is completely eradicated, we will remain committed to protecting and improving the lives of black people."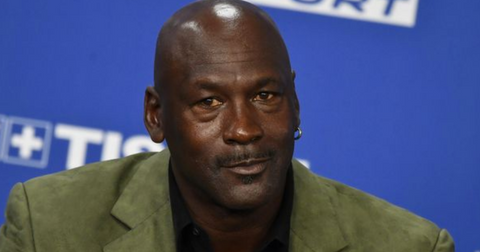 Nike is donating $40 million over the next four years to support black communities.
Michael — who owns theCharlotte Hornets — also has a brand that's a subsidiary of Nike. In a statement, the brand also announced he's committed to donating $40 million for the next four years to support black communities.
"Jordan Brand is more than one man. It has always been a family," the brand said in the statement. "We represent a proud family that has overcome obstacles, fought against discrimination in communities worldwide, and that works every day to erase the stain of racism and the damage of injustice."
Michael Jordan and Jordan Brand are committing $100 million over the next 10 years to protecting and improving the lives of Black people through actions dedicated towards racial equality, social justice and education. #JUMPMANhttps://t.co/CZDt1UdPwF

— Jordan (@Jumpman23) June 5, 2020
Source: Twitter
Through the years, Michael has also made significant donations to Friends of the Children, Hurricane Florence relief efforts, the Smithsonian's National Museum of African American History and Culture, the NAACP Legal Defense Fund, the International Association of Chiefs of Police, among many other causes.
If you are looking for ways to donate your time or money to Black Lives Matter and other antiracist organizations, we have created a list of resources to get you started.