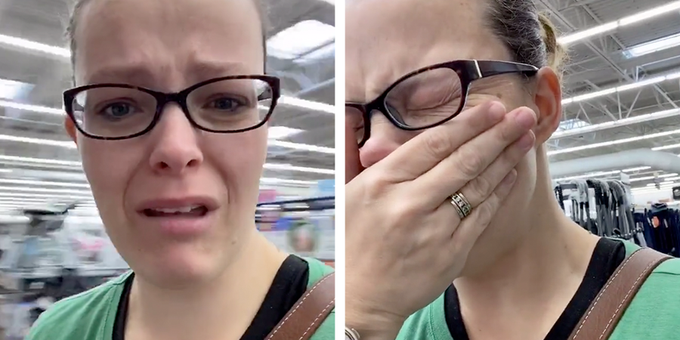 TikTok of Mom Crying In Walmart Because There's No Diapers Left Is Heartbreaking
Across the world, shelves are empty as concern over the coronavirus has given way to panic buying. In many countries, stores have been forced to ration certain items so that more customers can get what they need. Some have even been opening an hour early to make sure that vulnerable groups such as the elderly can get essentials like toilet paper.
Article continues below advertisement
Lauren Whitney, a 36-year-old mom of four young children knows about these shortages all too well. When she tried to find some diapers for her youngest child, she was unable to find any that would fit her daughter at multiple stores.
After being unable to find them at Walmart, she decided to record an emotional TikTok calling out people who are panic buying.
Article continues below advertisement
"To all you crazy people buying out the diapers, how am I supposed to—" Whitney says in the video, as she begins to cry. After collecting herself, the mom continues: "How am I supposed to diaper my child if I can't afford to buy 20 at a time like you can?"
After the video went viral, Whitney told Buzzfeed News: "I took the video intending to keep it in my drafts, but accidentally uploaded it and logged on an hour later to see it went viral. I debated taking it down, but decided it needed to be seen."
Article continues below advertisement
"I'd love for people to realize that all this panic-buying and hoarding is making it hard for lower-income families or families on a budget," Whitney added.
"Some people can't get to the stores when the trucks arrive. Some people don't have the money to go when the trucks arrive because they get paid later. If we all just purchased what we needed at the time, the shelves would stay stocked."
Thankfully, Whitney was able to find some diapers this morning. While she found two boxes that were in her daughter's size, she explained that she only purchased one and left the other for a parent like her.
Article continues below advertisement
Unsurprisingly, most people were heartbroken by the video. "I just saw a video of a mom crying In Walmart because there are no diapers for her baby anywhere," one user wrote. "And someone had the AUDACITY to tell her to stop crying and figure it out. I hate it here."
Article continues below advertisement
While others have been sharing similar stores. "Saw a mom crying in the formula section of Walmart because the only kind left was one that her son couldn't have," one Twitter user wrote. "And it hurt my heart so bad. She looked at me like "what am I going to do?" And I've never felt so helpless."
Please only buy what you need, the grocery stores aren't going to shut down.
The best way to prevent contracting or spreading coronavirus is with thorough hand washing and social distancing. If you feel you may be experiencing symptoms of coronavirus, which include persistent cough (usually dry), fever, shortness of breath, and fatigue, please call your doctor before going to get tested. For comprehensive resources and updates, visit the CDC website. If you are experiencing anxiety about the virus, seek out mental health support from your provider or visit NAMI.org.