Map of the Most Popular Thanksgiving Side Dishes by State Sparks Fierce Debate
Rolls?! Who picks plain bread as their favorite Thanksgiving side dish?! Several states, that's who!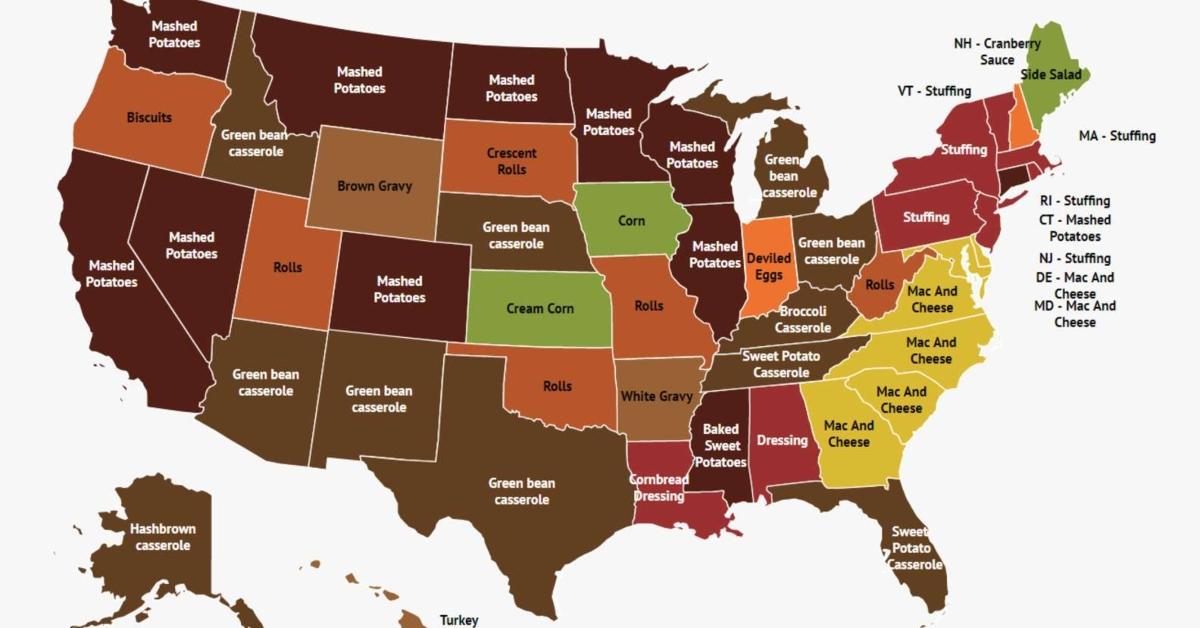 Thanksgiving will definitely look a little different this year, but that doesn't mean you can't still make all the delicious classic dishes that accompany the turkey. You might just have to eat them all yourself. Is that so bad?
Article continues below advertisement
To get us talking about the beloved food-based holiday, Thrillest published some sketchy Google internet research from Zippia. Their goal? To find out the most popular Thanksgiving side dish by state. They compiled all of the answers into one hunger-inducing map and then unleashed it on Twitter, where, unsurprisingly, people had a lot of opinions about it. Take a look at their findings.
Article continues below advertisement
Mashed potatoes seem to reign supreme, followed, perhaps oddly, by green bean casserole. Green bean casserole can be good, but only if you use fresh green beans and make everything by scratch.
Perhaps people in Texas and Idaho and Michigan and other states, too, think they need green bean casserole in order for it to qualify as a Thanksgiving meal. I'm here to tell you you can have it without. Stuffing on the other hand, or dressing, is a must-have. But strangely, only a few states, mostly in the northeast, claim that gooey, buttery bready stuff as their favorite.
Article continues below advertisement
Needless to say, people from all different states had many different opinions on the veracity of this map. Simply put, they had questions. Questions like this one...
Article continues below advertisement
"Rolls????? ROLLS??" There are so many great Thanksgiving side dishes. Whose favorite are the dinner rolls? Missouri, Oklahoma, Utah, and West Virginia need to get it together. South Dakota, with "crescent rolls" as their answer, is skating on thin ice. Oregon can't actually think biscuits belong at Thanksgiving. That's a post-Thanksgiving breakfast side at most. But let's move on.
Article continues below advertisement
No one — and I mean no one — thinks the side salad is the best Thanksgiving side dish. Can it be good? Yes. Can it be a nice, lighter option to have to counter the heavy buttery potatoes and stuffing? Sure. Is it anyone's favorite side dish? Absolutely not. Maine is full of liars.
Article continues below advertisement
This map also answers the question, "What do Arkansas, Wyoming, and Hawaii have in common?" It's not much, but they do all consider gravy a whole side dish, which is absurd. It's worth noting that all three states favor a different type of gravy, but the important part is that those three states see gravy, and they're like, "Ooh yes, I'll have a side of the goopy stuff, please."
Article continues below advertisement
Article continues below advertisement
Many people share the belief that we, as a society, can do so much better than green bean casserole. But we must point out that Alaska's apparent number one side is is something called hash brown casserole. I have no idea what it is, and to be fair, it sounds delicious, but this Twitter user is right. Somehow it just doesn't seem right. Alaska always seems to be doing its own thing.
Indiana also went its own way and chose deviled eggs as their favorite side dish for the classic Thanksgiving meal. Hey, I love a good deviled egg. It's like a tiny, contained, egg salad cup, and who could complain about that? But is it the best thing about Thanksgiving? Does it even belong at Thanksgiving? These are the questions the people of Indiana must ask themselves.
Article continues below advertisement
The southern "mac and cheese belt," as one Twitter user dubbed it, has to have a similar conversation. Sure, it's perfectly acceptable to have mac and cheese at Thanksgiving. But it's perfectly acceptable to have a Thanksgiving without mac and cheese, which makes it, sadly, inessential. Basically, sure, have mac and cheese, but it should not take the place of either mashed potatoes or stuffing.
Article continues below advertisement
After a week that was completely filled with non-stop staring at color-coded maps of the United States, the last thing some people wanted was another map-based disagreement. But with Thanksgiving coming up, what were we supposed to do? Not have an inane argument based on suspicious research about favorite Thanksgiving side dishes by state? I mean, seriously.