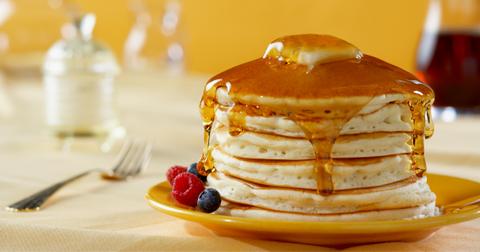 Here's a Short Stack of the Best National Pancake Day Deals
By Abi Travis

Updated
Warning: If you continue reading, you are absolutely going to start craving pancakes. Luckily for you, you can get them for free! That's because it's National Pancake Day, and we went ahead and gathered up all the best deals to help you celebrate!
Here are the best National Pancake Day deals you need to know about.
IHOP
OK, this is obviously the big one. You can't name a restaurant "International House of Pancakes" and then not deliver on National Pancake Day. Luckily, IHOP is totally on top of things.
Visit your local IHOP restaurant on Tuesday, Feb. 25 starting at 7 a.m. and get a free short stack of buttermilk pancakes. That's three pancakes! For free! But that's not all. You can also enter to win free pancakes for life! They say breakfast is the most important meal of the day, so free breakfast for the rest of your life is definitely one of the best prizes ever. But it's not the only prize — you can also enter to win a bike, scooter, socks, or a $500 IHOP gift card.
The best part is that at select IHOP restaurants, donations and proceeds from National Pancake Day sales will benefit local children's hospitals and other charities — check your local restaurants to find out how you can help!
Denny's
All-you-can-eat pancakes have been a staple of the Denny's Value Menu for a couple of years now. But this year, there's an even sweeter deal: The Super Duper Slam features two fresh eggs, two strips of bacon, two sausage links, and crispy hash browns, plus all-you-can-eat buttermilk pancakes for $6.99! Only available at participating locations.
Jewel-Osco
If you live near a Jewel grocery store, today is your chance to get some free pancake mix! Just say the word "PROTEIN" at the register and you'll receive a free box of Krusteaz Protein Pancake Mix. Then you can go home and make your own pancakes!
Online
Need some syrup? It's not really National Pancake Day without it, right? According to an Instagram post from the company, Maple Valley Cooperative is offering 15 percent off your online purchase of organic maple syrup if you use the code "SWEET" at checkout. The code should work throughout the entire month of February!
Don't like syrup? How about Nutella?
If you happen to be traveling through Grand Central Terminal on Saturday, Feb. 29 (technically a couple of days after National Pancake Day), you can get a free jar of Nutella! Well... sort of free, anyway. All you have to do is bring in a bottle of syrup — opened or unopened — and trade it in at the Nutella pop-up shop for a 13 oz. jar of Nutella. You'll also get pancakes topped with the chocolate hazelnut spread!
If you can't make it to any of these locations, don't worry! Pancakes are pretty easy to make at home! What better way to celebrate National Pancake Day than with a short stack (or a very, very tall stack) or your own homemade creations? No matter how you celebrate, we hope you have a great National Pancake Day this year!