Some Are Claiming This Proves COVID-19 New Case Numbers Are Overhyped
Some on Reddit are claiming that since typing any three numbers and the words "new cases" into Google proves COVID-19 is being overhyped.
The U.S. is slowly reopening after being held at a standstill for two months due to the novel coronavirus outbreak, putting a strain on hospitals' resources as the number of cases across the country continue to increase.
But just because the country is reopening doesn't mean COVID-19 is completely over. Most of the states that have reopened are doing so against the advice of medical professionals, as some believe the government regulations are an overreaction.
Article continues below advertisement
This has led to a lot of dangerous conspiracy theories that the COVID-19 pandemic isn't as contagious or deadly as it's made out to be, suggesting it's a hoax or government plan.
A recent conspiracy theory that seems to have started on Reddit claims that Google is helping to hype up the virus to make it seem worse than it is, inflating the number of new cases.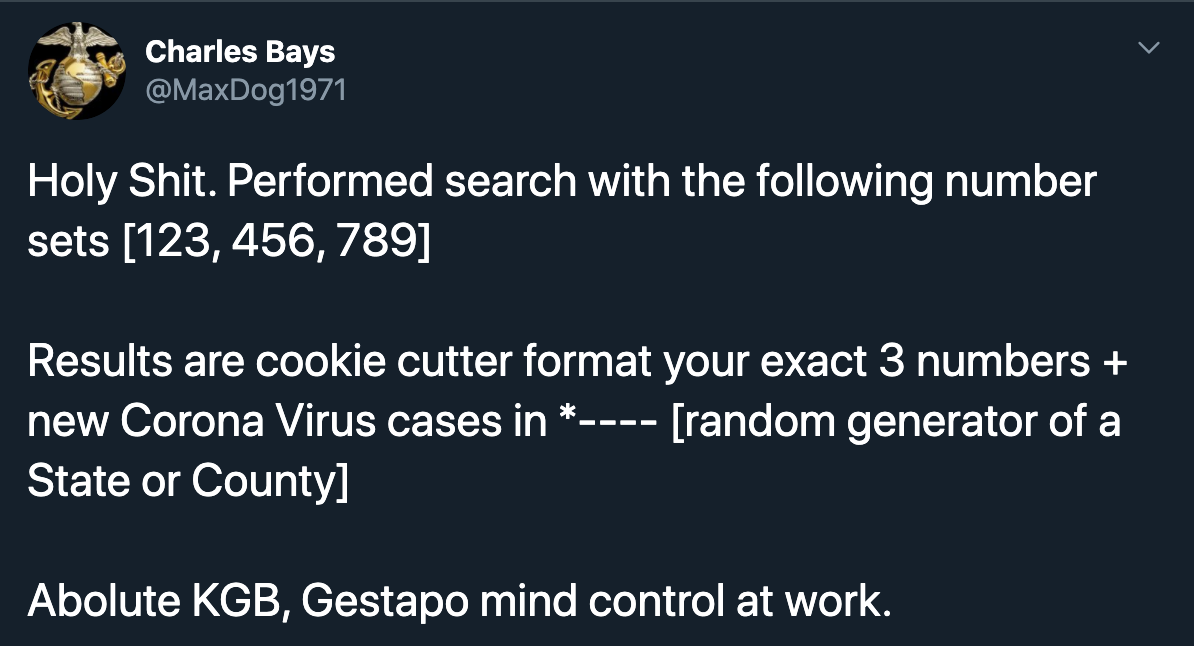 Article continues below advertisement
This conspiracy suggests the number of new cases is being overinflated.
This new theory claims that if you type into Google any three numbers between 100 and 999, along with the words "new cases," the first results will include any number of news articles with that exact number of confirmed "new cases" of COVID-19.
Many online users claims that these results will suggest the articles about the new cases will have recent timestamps, which they interpret as proof that the numbers are being dramatized.
One Twitter user who tried three different combinations of numbers claimed it was "[Absolute] KGB, Gestapo mind control at work," while another tweeted, "One of the biggest scams perpetrated on the US!"
"I did it 9 times. Every time Google showed me the same info with the new number claiming that was the number of new cases," one Twitter user said. "What a freaking sham. Like seriously can't anyone tell the truth?"
Article continues below advertisement
Some have taken this a step further, connecting this conspiracy theory to the fact they've never seen President Donald Trump wear a facemask himself.
At the very least, those who believe in this dangerous conspiracy theory suggest that the media has overhyped how serious the virus is.
Article continues below advertisement
Since April 2020, there have been at least 18,000 new confirmed cases of COVID-19 a day. The searches will include both national and local news sources, ranging from small-town newspapers and state-specific outlets to larger media companies like The New York Times and The Washington Post. This explains how so many of those numbers can have a news article attached to them, especially given that there are currently more than 2.3 million confirmed cases in the US, according to the CDC.
The best way to prevent contracting or spreading coronavirus is with thorough hand washing and social distancing. If you feel you may be experiencing symptoms of coronavirus, which include persistent cough (usually dry), fever, shortness of breath, and fatigue, please call your doctor before going to get tested. For comprehensive resources and updates, visit the CDC website. If you are experiencing anxiety about the virus, seek out mental health support from your provider or visit NAMI.org.