20 Pics That Look Photoshopped But Aren't
No, they're not photoshopped — they just look like they are. These 20 pics seem to amazing to be real, but they truth is, no digital manipulation is going on here.
We've taken great pains to determine whether the following images are Photoshopped, but we don't blame you if you don't believe us — they really do look like they're Photoshopped! Thanks to some happy accidents, tricks of the camera, or tricks of nature, the subjects of these photos look too incredible to be believed.
Article continues below advertisement
This dog with permanent heart-eyes.
I've confirmed it with video — this adorable Dalmatian, Charlie, really does have heart eyes all the time thanks to the cordiform black patches of its eyes. Naturally, he has his own Instagram. In fact, this influencer pup from Charlotte, NC, has nearly 100K followers!
This Batman vs. Joker sand sculpture
People who can do elaborate sand sculptures already amaze me, but the way this team executed their Batman and Joker "better half" composition is next level. The clean lines cutting off each half really do make it appear that somebody manipulated this image in a photo editing program. However, the sculptors, David Ducharme and Marielle Heessels made it for the Canadian Open Sandsculpting Competition in 2015. They took first place in the doubles category and were voted by their peers to take home the Competitors' Choice award.
Article continues below advertisement
This "blurry" tree.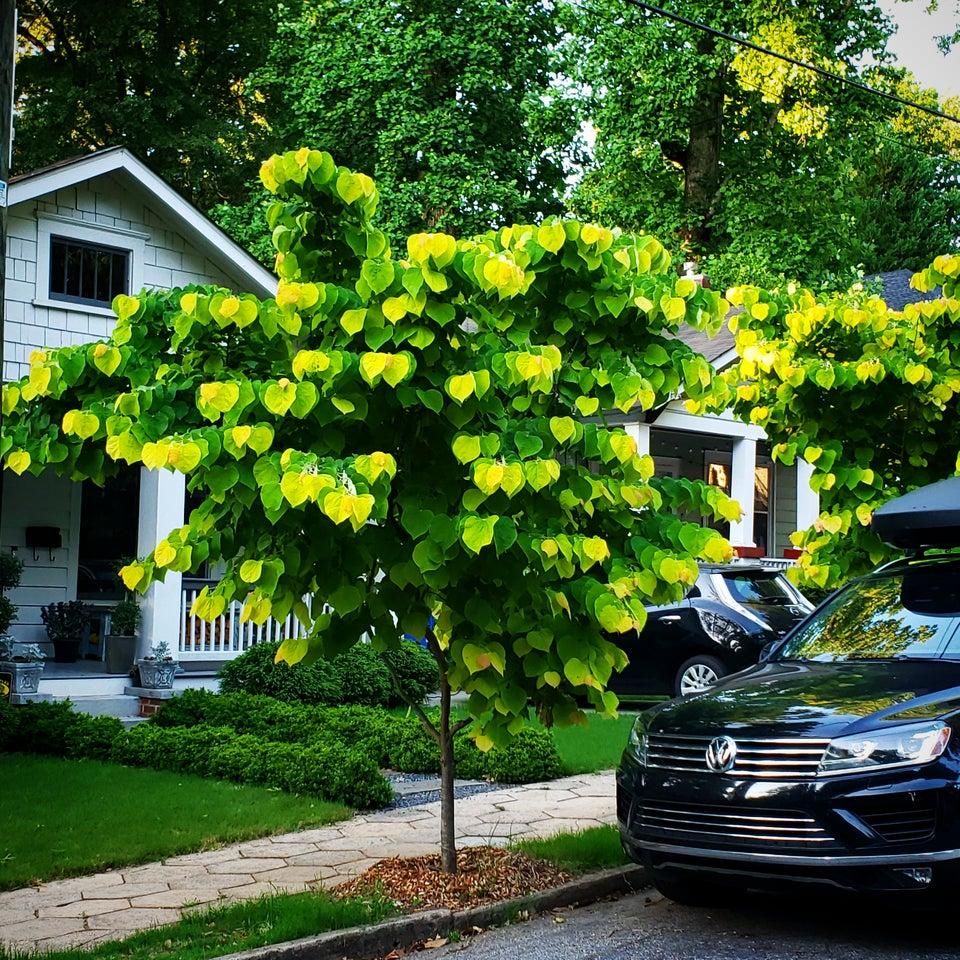 If looking at this tree for too long makes you get a headache, you're not alone. It doesn't look real, but this is actually what an Eastern Redbud (Cerscis canadensis) cultivar called "Rising Run" looks like in the spring. Trippy, huh?
Article continues below advertisement
This super modernist high school campus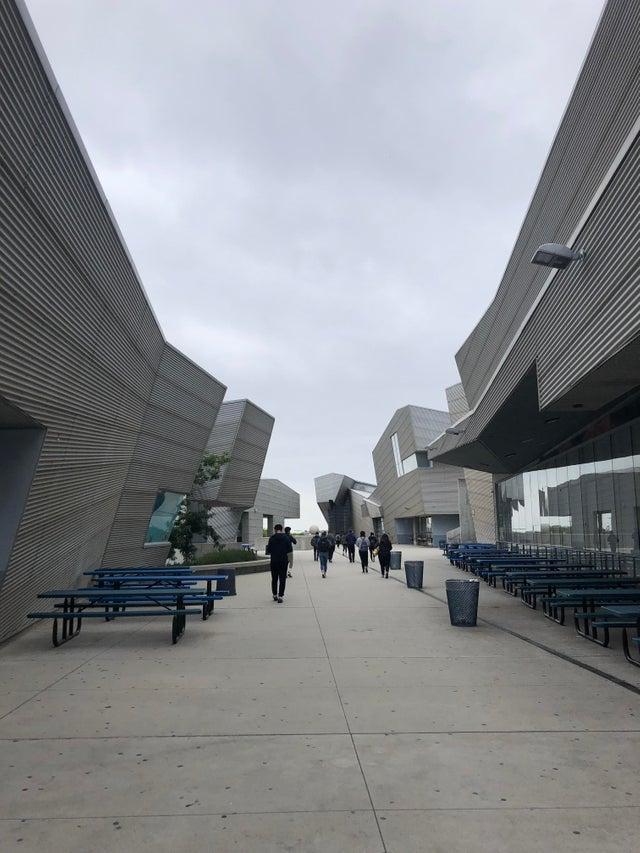 Believe it or not, this is what the campus of Diamond Ranch High School in Phillips Ranch, CA really looks like. Morphosis, the architecture firm responsible for the unconventional campus, built on a site previously thought to be impossible to develop. If it looks familiar to you, that could be because it's appeared in several movies , including Orange County and The Cell.
Article continues below advertisement
This iconoclastic flower.
This stubborn sunflower in a sea of dutifully-sun-facing ones looks like something that was photoshopped for a motivational poster about not following the crowd or being an individual. But if you're a sunflower, you shouldn't heed that advice. You could die. Sunflowers follow the sun's rays for a reason: photosynthesis!
Article continues below advertisement
This shadow that needs spellcheck.
It's trippy, but the placement and angles of the spotlights over the top of this sign make the shadows of the Fs and the Es overlap a bit. That creates the illusion that one of the Fs is missing in the shadow. Here's a markup to demonstrate what's going on there.
Article continues below advertisement
This little Kitler.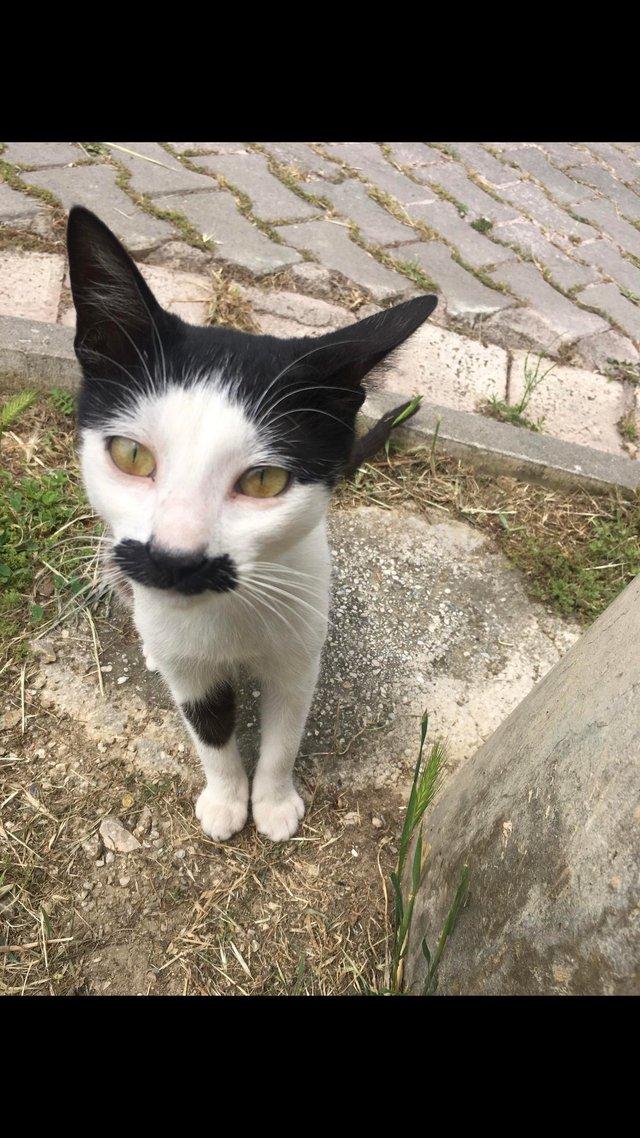 Whatever you do, keep this cat out of Poland.
Sorry, sorry, but that really does look like the feline version of Der Fuhrer. Other, more flattering comparisons are Freddie Meowcury, Groucho Mrowx, and Tomcat Selleck.
Article continues below advertisement
This "melted" car.
That's why you should always park in the shade. JK, this isn't what happens if you leave your car out in the sun too long, it's a sculpture at a gallery in Lille, France called Gare Saint Sauveur.
Article continues below advertisement
This house on top of a dorm in San Diego.
I know it looks like a tornado dropped that house onto a bland office building, but what you're looking at here is actually a San Diego art installation by Korean sculptor Do-ho Suh called "Fallen Star." You can actually tour the interior of the "house, which is decorated to look like the artist's childhood home in South Korea.
The large-scale installation atop Jacobs Hall at UCSD is meant to represent the feeling of displacement immigrants often feel, as if one was "dropped from the sky" into an American apartment building
Article continues below advertisement
This dark sky atop a bright, sunlit field.
Some storm clouds really have a way of making a scene look otherworldly. The dark foreboding sky above this field that looks so bright and golden seems like an altered image, but it's a snapshot of the sky taken somewhere in the middle of the U.K. While it looks like the sort of sky that precedes a tornado, the person who shot it says the storm it foretold wasn't too bad.
Article continues below advertisement
This "all-season" window view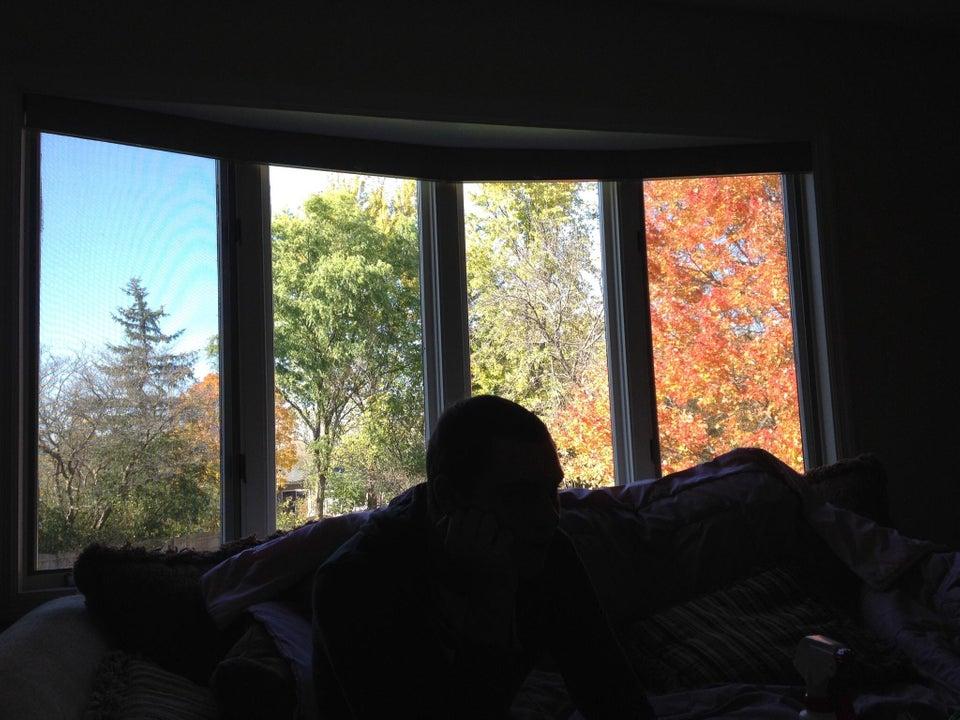 This almost looks like someone took outdoor photos from winter, spring, summer, and fall and 'shopped them onto this view from the couch, but it's just a happy coincidence of the way the flora outside is planted in relation to the four panels. Pretty neat, huh?
Article continues below advertisement
This Day-Glo shirt in a sea of blue.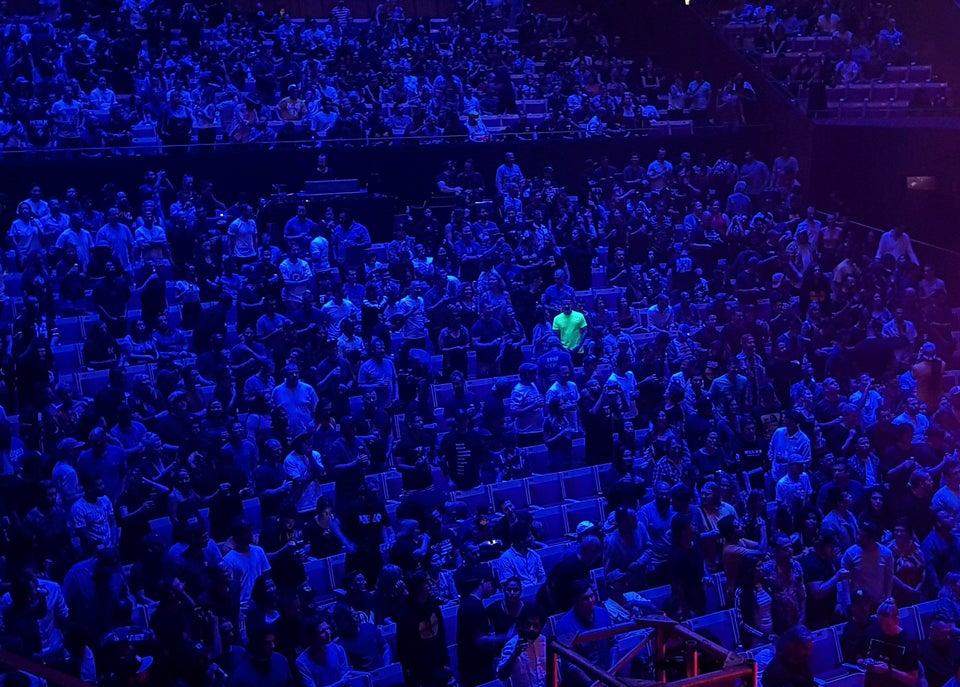 Pretty incredible that ouf of this whole crowd shrouded in indigo light, only one audience member is wearing a fluorescent shirt, making it look like someone singled him out and did some creative color correcting.
Article continues below advertisement
These "conjoined" golden retrievers.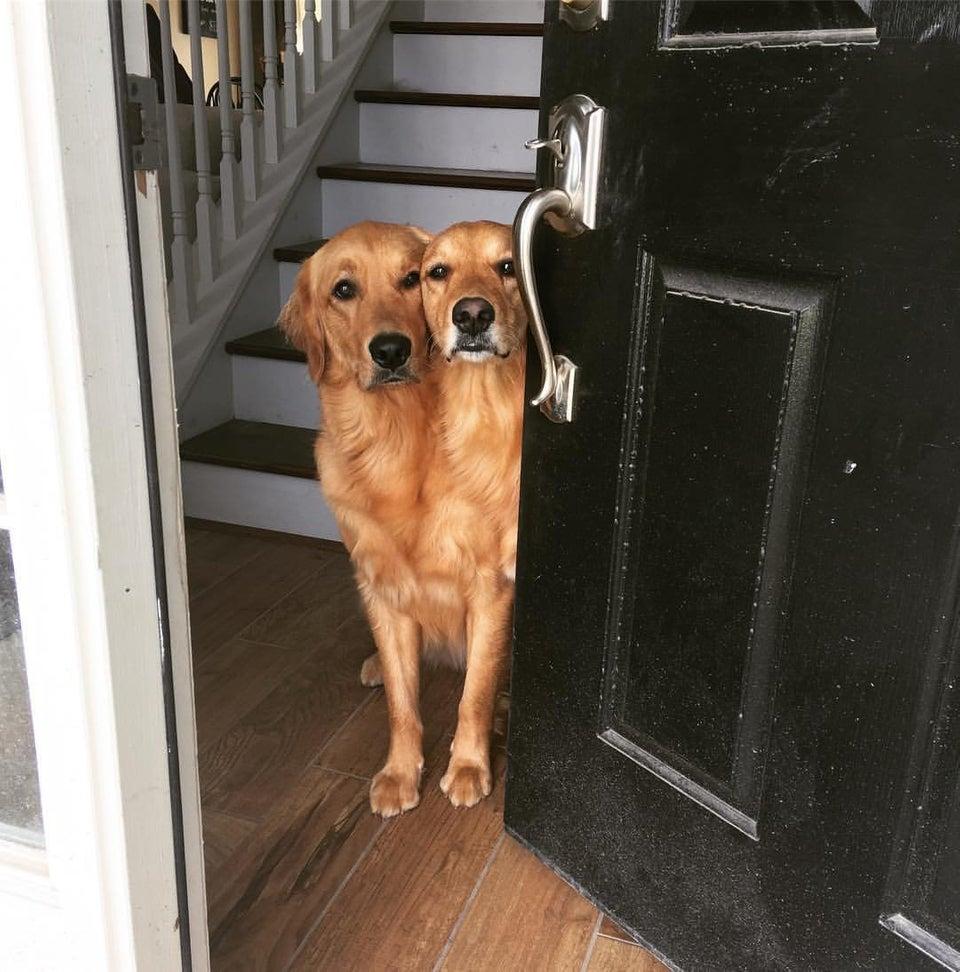 This looks like either a Photoshop or a set of conjoined dogs, but it's actually two separate doggos — presumably with eight legs between them — standing very close together.
Article continues below advertisement
This out-of-this-world reflection.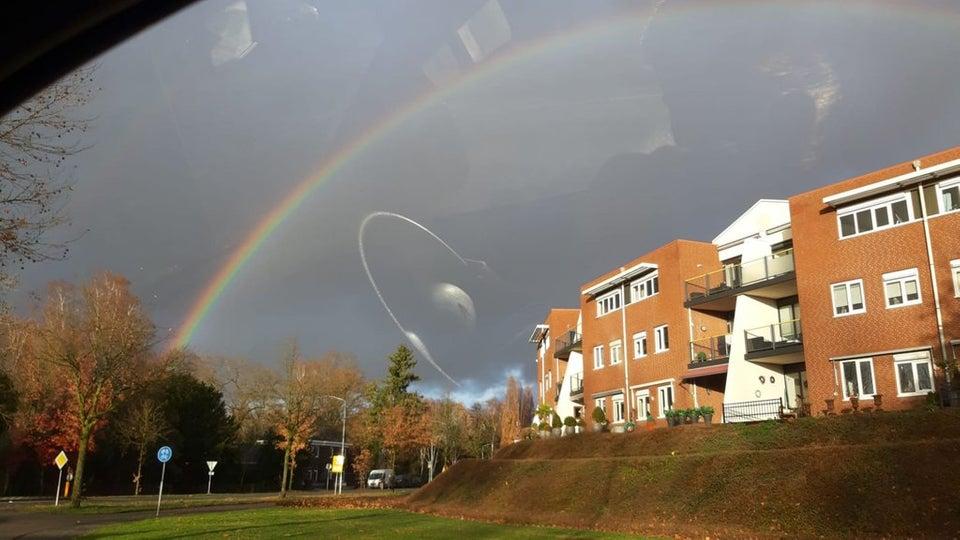 Looks like a ringed planet very, very close to Earth is making an appearance in the sky beside a rainbow, doesn't it? But it's actually a reflection of the steering wheel inside the car where the photographer took this shot.
Article continues below advertisement
This bumper full of also-rans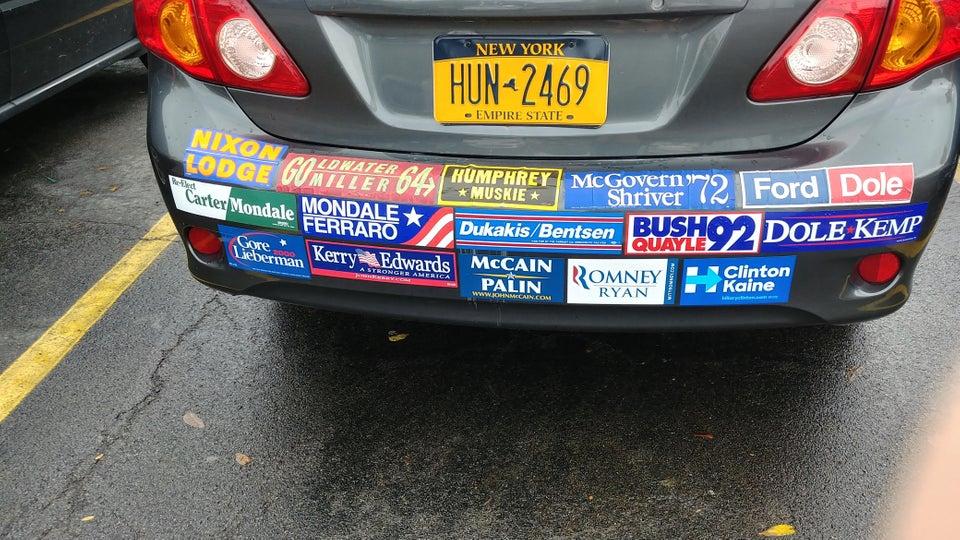 Why does this car look photoshopped? Because it seems too improbable for one person to have supported that many failed candidates in one lifetime, not to mention the make of this car looks way too new to have been around for ten of these losing tickets. But I'm guessing the owner had themselves a collection and figured it was more fun to display them as they're intended rather than at home in a display case.
Article continues below advertisement
This unicorn poster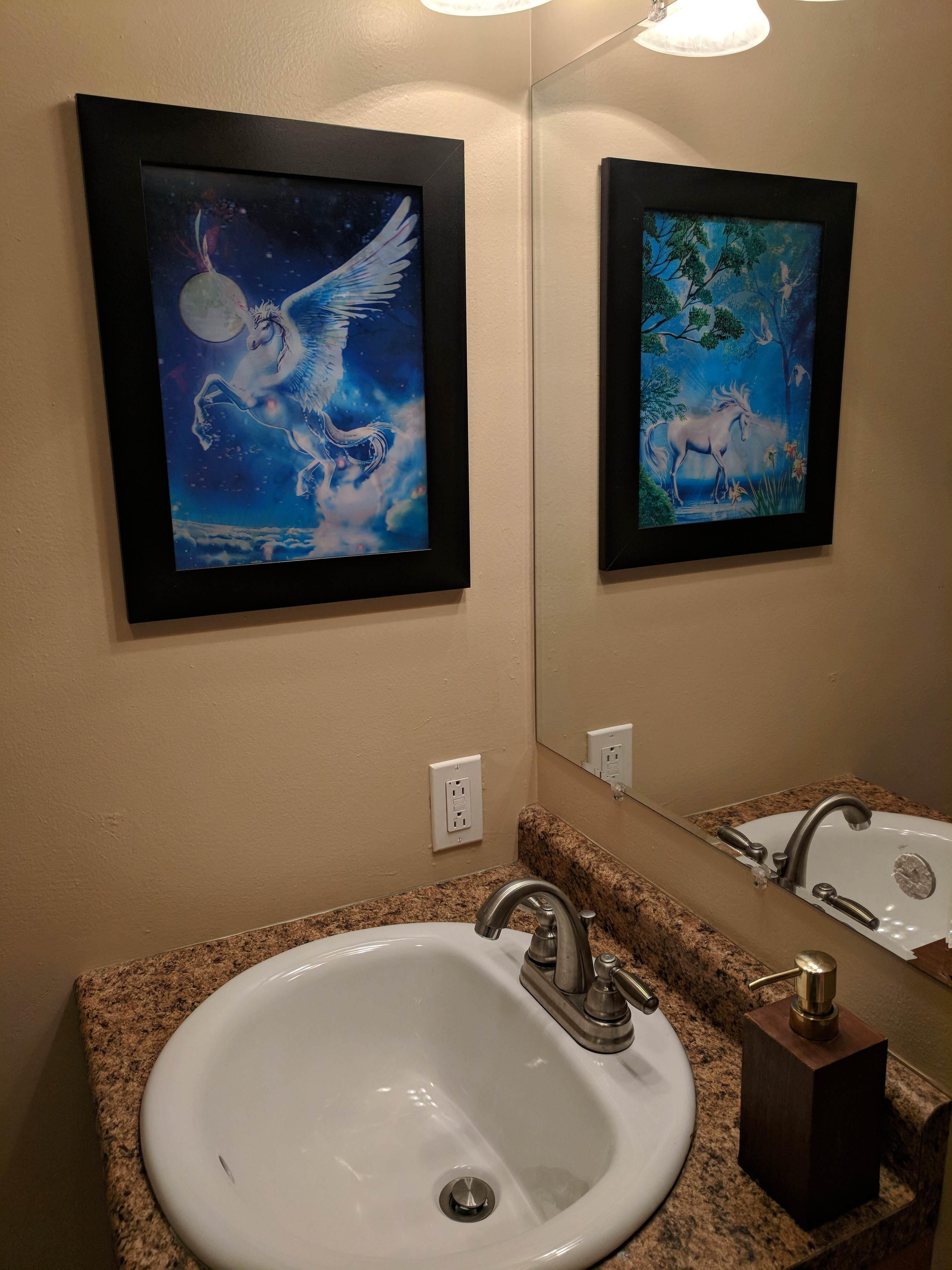 Looks as though the mirror image of this poster is a completely different illustration, and it is... sort of. The poster is using a technology called lenticular printing, which shows two different images depending on the angle you view it. If you were a kid in the '90s you no doubt had "animated" stickers that pulled off this trick, and it's also been used in billboard displays. (BTW, you can buy this exact poster on Amazon if you want to creep yourself out in the bathroom late at night...)
Article continues below advertisement
This "sky is falling" scene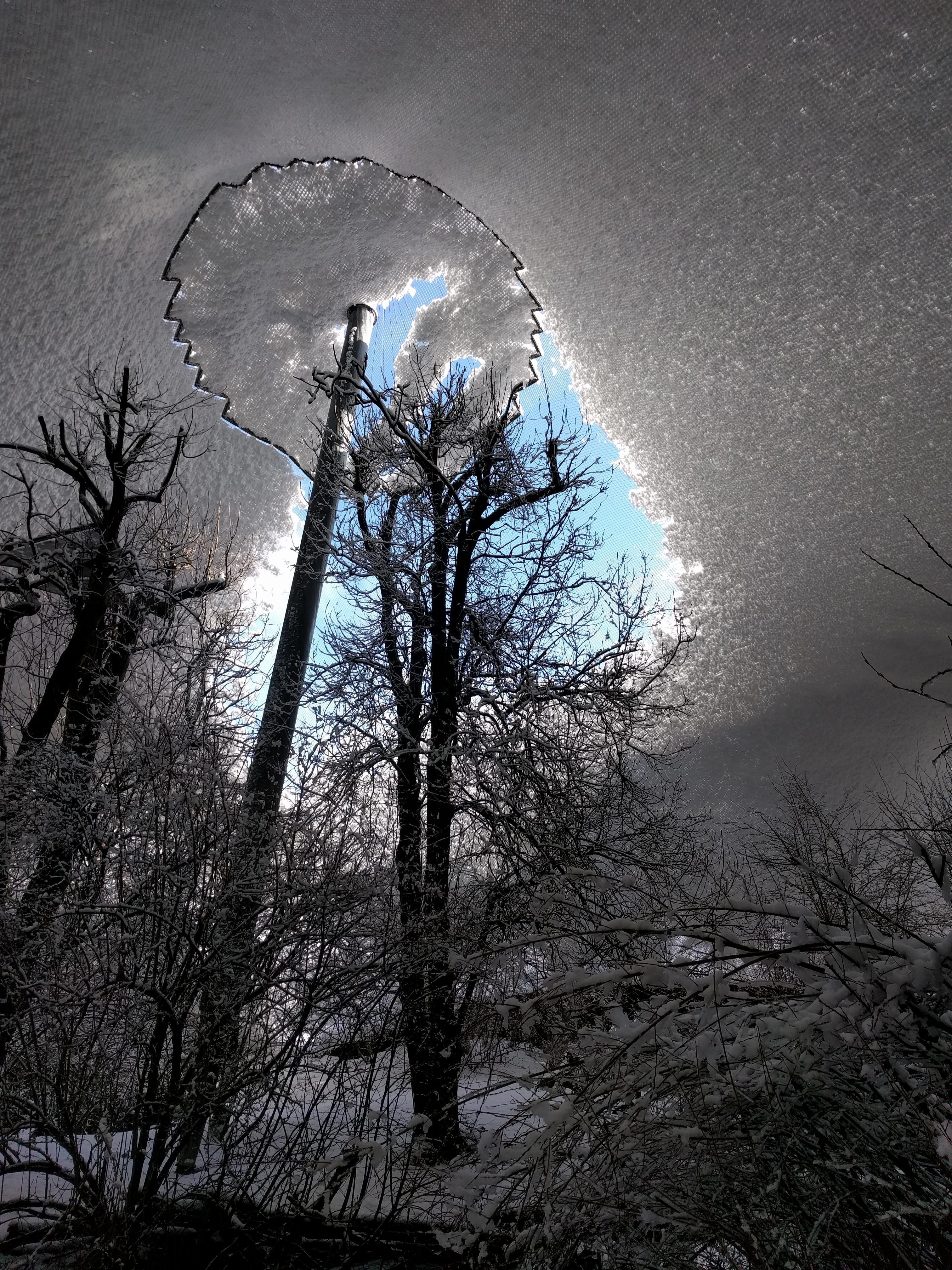 As on commenter on reddit pointed out, this looks a lot like when you accidentally "magic wand" away part of the sky in Photoshop. In actuality, This is an aviary with a fine mesh net to keep the wildlife in, which has also collected snow that has partially melted in the portion where the bright blue sky outside shows through.
Article continues below advertisement
This photo of the Charles River in Boston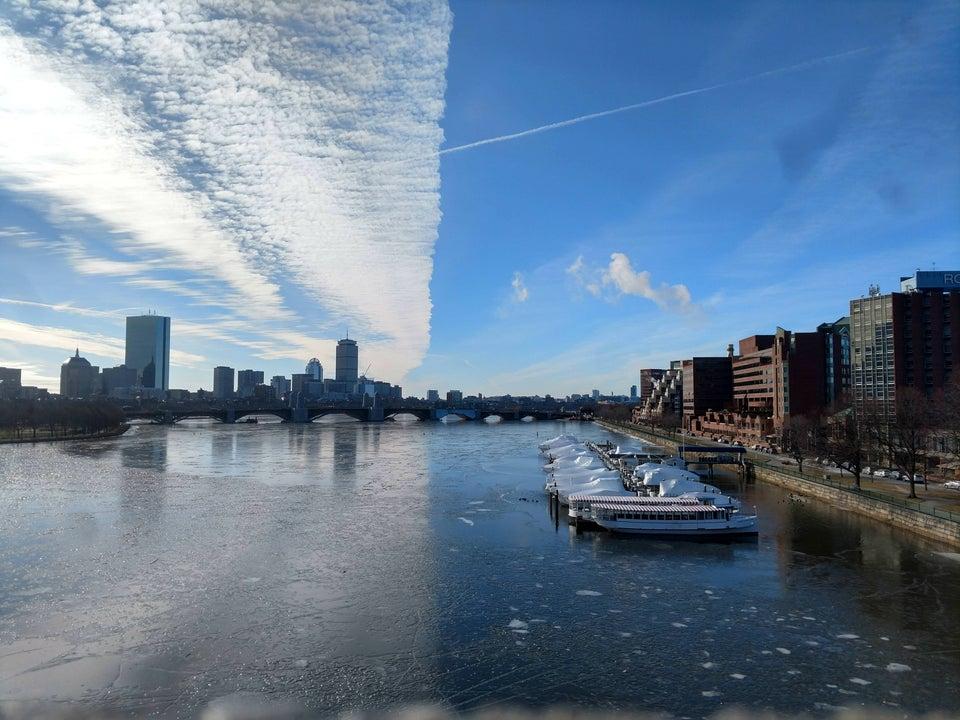 This looks like someone spliced together two different photos of the river on different days or times of day, but it's just a neat cloud pattern and its reflection on the water below.
Article continues below advertisement
This 5 spot with a family photo "printed' on it.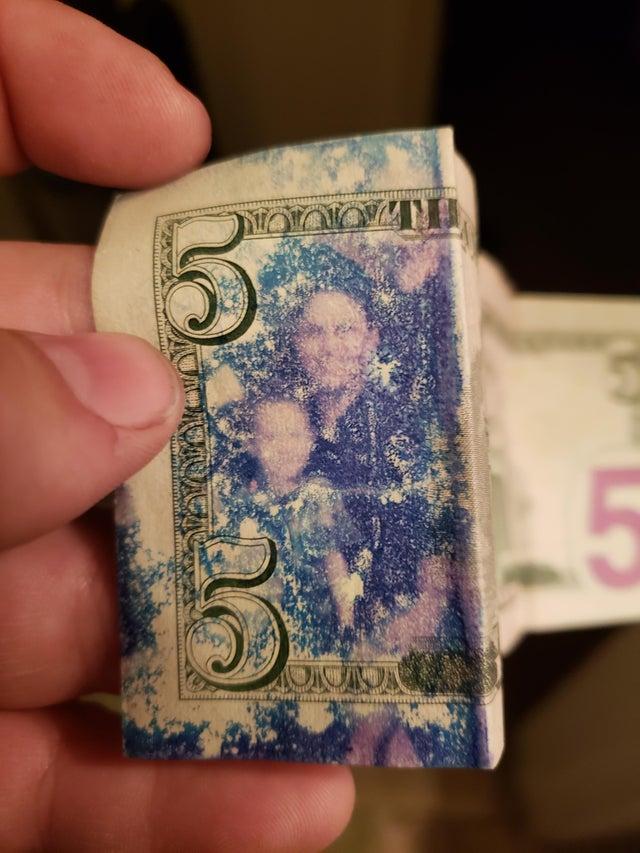 Wow, somebody had that $5 bill in their wallet a long time – long enough for a photo of their loved ones to transfer to the bill. Here's hoping whatever they bought with it was as precious as the people depicted in the portrait! It also makes you wonder how far this money circulated from the people in the photo — wouldn't it be trippy to get change back and find yourself staring back at you right next to Abe Lincoln?
Article continues below advertisement
This dubious Catch of the Day pic.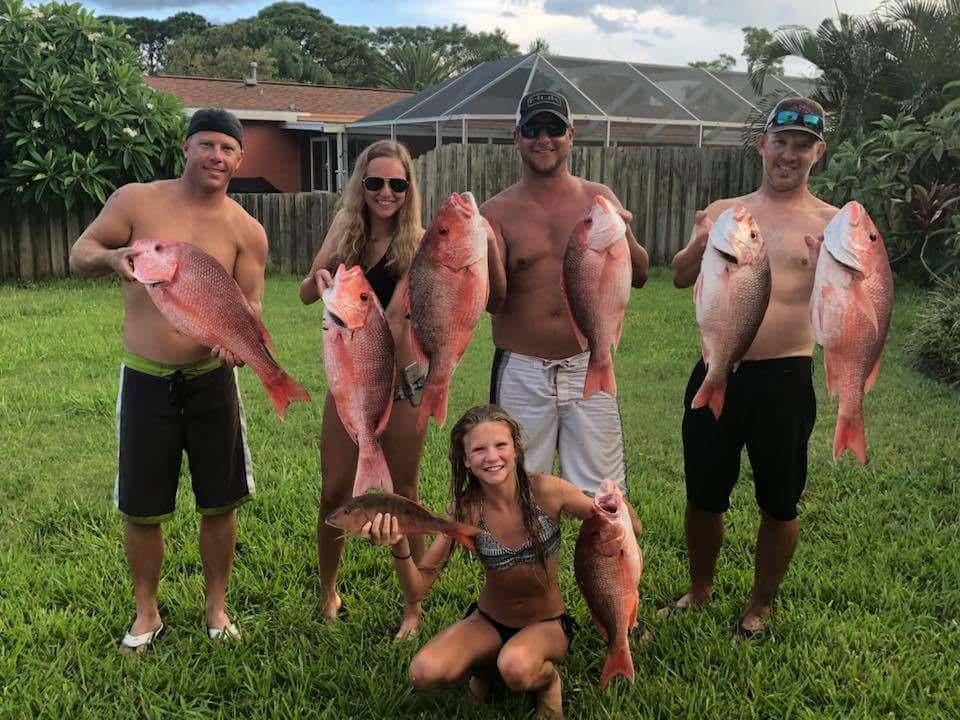 The way these red snapper are being held and the lack of shadow due to the lighting make this photo of some friends showing off their catch of the day look like a Photoshop job — a really bad one. "Yeah, nice try, but no one believes you guys really caught those fish. But they swear, no photo manipulation took place here!