Nurse Slammed for Posting "Grief-Bait" TikTok Minutes After Losing a Patient
A nurse was mocked on TikTok for attempting to cash in her grief over a patient's death for views and she deleted her account as a result.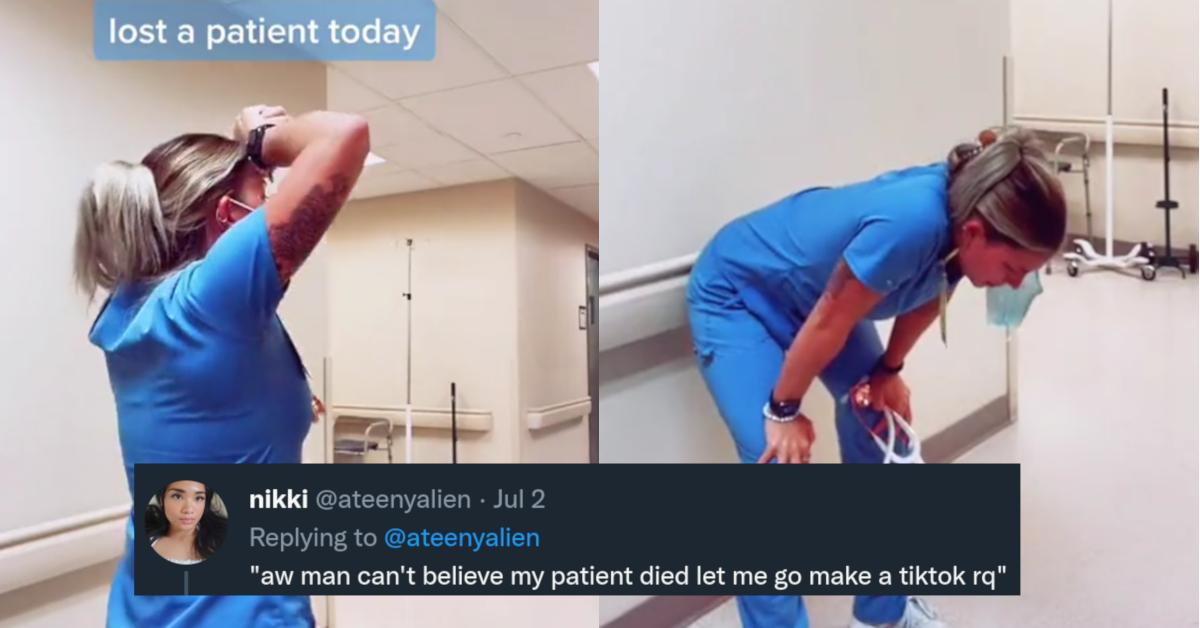 Social media is often lambasted as being a cesspool of in-authenticity, with folks shilling false personas and imagery of themselves that depict an idyllic e-life that really isn't as glamorous once it's challenged IRL. From folks parading around TikToks pulling off half-hearted dance moves with mirthless grins rocking trendy clothes to whatever song that's trying to capitalize on an algorithm to pull money from Spotify streams, to moms uploading videos with their stillborn baby for views, there are plenty of Darwin-award worthy moments.
Article continues below advertisement
Oftentimes if one goes into the comments section of videos many folks find cringe-inducing or controversial, there will be a hefty number of people supporting that particular individual's means of expressing themselves, even if all they're expressing is "look at me I want views."
But in the case of TikToker @olivia_tylerr33, that doesn't seem to be the case after she posted a clip of what was allegedly her reaction to learning that she lost a patient today. In the clip she records herself having an "emotional breakdown" after being so broken up over the presumed death of a patient, all set to Sia's "Unstoppable."
Article continues below advertisement
She puts her hands over her head, distraught. She leans against the wall and removes her mask, needing to breathe in a bid to get herself together for the next five hours to finish out her shift.
Prior to doing all of this, however, she had to set her phone down and ensure she got the correct framing before capturing her distraught collapse.
Article continues below advertisement
A slew of comments mocking the video must've forced @olivia_tylerr33 to delete her TikTok account as it's currently no longer active on the popular social media platform.
TikToker Luke Cook posted a "hilarious" stitch with the clip highlighting what so many people's problem with it was. It begins with Olivia's emotional reaction, then cuts to Luke dressed as a medical staffer.
Article continues below advertisement
He's holding a phone, pretending as if he's recording and then mock hands it over to the nurse: "Nice. Put some emotional music over that, you got a viral hit on your hands. Uhhhh, we should probably tell the family now, huh?"
Article continues below advertisement
The video soon made the rounds to other social media platforms, like Twitter, where it was equally bashed. Some people were shocked that the "first" thing she thought to do was upload a TikTok to show how much she cared about the patient and her job.
Article continues below advertisement
Others used it as an opportunity to highlight how so many medical professionals are uploading clips of them dancing or acting out skits while working at their respective hospitals/facilities.
Article continues below advertisement
Some users called the post narcissistic saying that the nurse, by showing just how hurt they were by losing their patient, that the individual's death becomes more about the nurse herself and not the patient or their loved ones.
Other folks noticed that there were other nurses who posted videos of themselves showing how distraught they were over losing patients, even rocking the "same pose" as the one Olivia used in her own clip.
Article continues below advertisement
"I just know somebody walked by and ruined the shot and she had to film her grief all over again," someone wrote in response.
What do you think? Is anything fair game for social media posts and are people getting up in arms over her video for no reason? Or is it as "cringe-inducing" as many are saying it is?