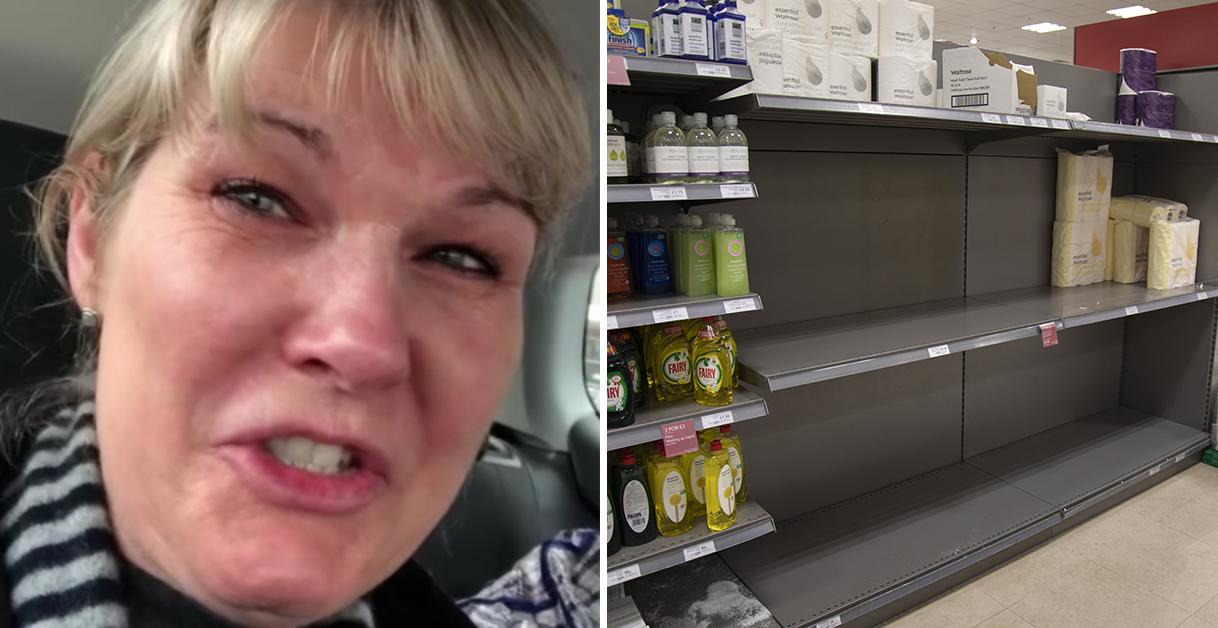 Nurse Posts Emotional Video After Finding Empty Grocery Store Shelves Following 48-Hour Shift
Dawn Bilbrough, a 51-year-old nurse from the United Kingdom, has taken to Facebook to post an emotional video after she discovered empty shelves at grocery stores following a 48-hour shift.
Article continues below advertisement
The spread of coronavirus has led many to stockpile essential goods such as food and toilet paper, with stores struggling to keep up with demand. In response, many have limited the number of goods that people can buy and even introduced shopping hours reserved for the vulnerable.
Despite these measures, some people are still finding it hard to get items. Dawn Bilbrough broke into tears as she struggled to find essential items following a 48-hour-shift at a hospital in York.
Article continues below advertisement
"So I've just come out the supermarket," Bilbrough explained in the video. "There's no fruit and veg and I had a little cry in there. I'm a critical care nurse and I've just finished 48 hours of work and I just wanted to get some stuff in for the next 48 hours."
Article continues below advertisement
She went on to add: "There's no fruit, there's no vegetables and I just don't know how I'm supposed to stay healthy. Those people who are just stripping the shelves have basic foods you just need to stop it because it's people like me that are going to be looking after you when you are at your lowest and just stop it, please."
The video quickly went viral, attracting dozens of positive comments from friends and family.
"My heart with you Dawn Bilbrough," one user wrote. "I am also taking care of a covid patient and sure we need to nourish ourselves with proper food so we don't get sick. I hope things will be better there in the UK."
Article continues below advertisement
While another added: "We need to prop each other up at the moment. Sadly at times like this, people show their true colors. It's not everyone but too many."
The United Kingdom has over 2,700 confirmed cases of coronavirus, with 137 deaths.
The best way to prevent contracting or spreading coronavirus is with thorough hand washing and social distancing. If you feel you may be experiencing symptoms of coronavirus, which include persistent cough (usually dry), fever, shortness of breath, and fatigue, please call your doctor before going to get tested. For comprehensive resources and updates, visit the CDC website. If you are experiencing anxiety about the virus, seek out mental health support from your provider or visit NAMI.org.