Councillor posts photos of trashcans overflowing with food amid coronavirus panic buying
A lot of the food that people are buying could go to waste.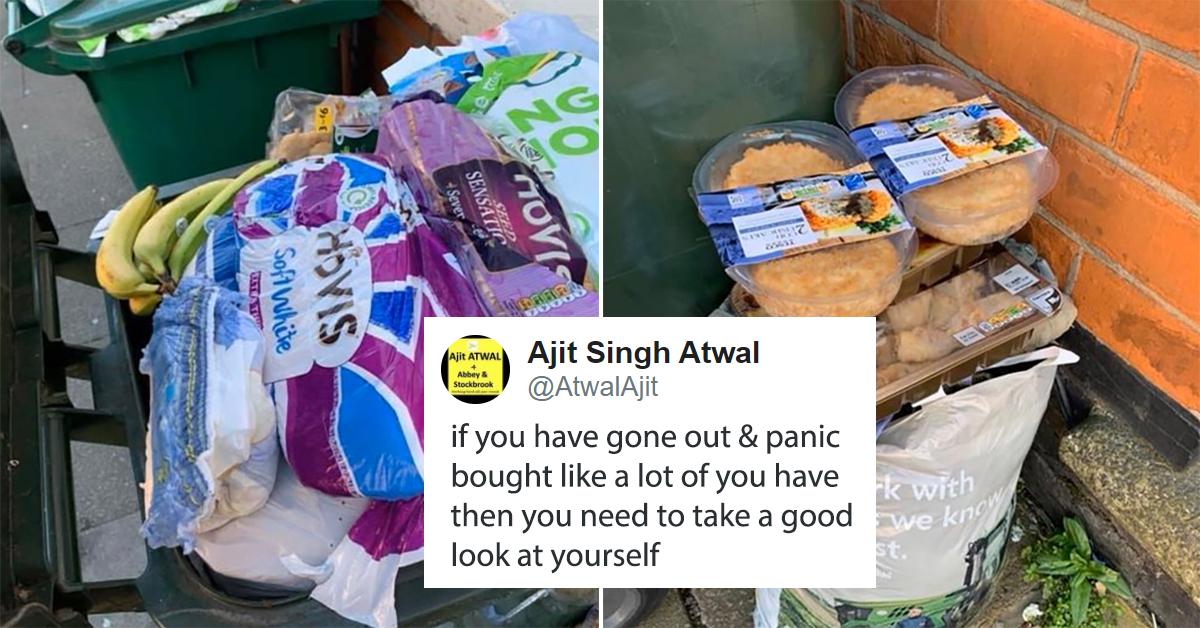 Like many places across the world, the United Kingdom has struggled to keep store shelves stocked as fears over the coronavirus gave way to panic buying. This led many stores to place limits on items, as well as dedicate certain hours to the elderly and healthcare workers.
Article continues below advertisement
And now, it appears that much of the food that people bought could be going to waste. Ajit Singh Atwal, a Councillor for Derby in the United Kingdom, recently took to Twitter to share photos of bins filled with loaves of bread, fish cakes, chicken, and fruit.
In a caption alongside the images, Atwal wrote: "To all the people in this great city of ours in Derby, if you have gone out & panic bought like a lot of you have and stacked up your houses with unnecessary items you don't normally buy or you have bought in more food than you need, then you need to take a good look at yourself."
Article continues below advertisement
The post has since attracted nearly 5,000 retweets and over 900 comments. Though as Metro points out, the images don't appear to have been taken in Derby.
"I'm highlighting a countrywide issue never said they were bins in Derby," Atwal told one commenter.
Article continues below advertisement
Instead, the Coventry Telegraph seems to believe that the bins belong to international students who had "just hours to leave the city during the chaotic early phases of the global Covid-19 pandemic." The Telegraph reports that many students were forced to dump their food as they got flights home.
Regardless of the situation around the photos, they've definitely sparked a conversation about panic buying. "Disgraceful. I hope these people look back and realize they have let themselves and their communities down," one user wrote.
Article continues below advertisement
While another added: "There should be financial penalties for this kind of thing."
Article continues below advertisement
Food waste is a massive problem in the United States; estimates put food waste at 133 billion pounds and $161 billion worth of food in 2010 — or approximately 40 percent of our food supplies. And while there may be some questions around the validity of these photographs, there's no question that many people bought way more than they can eat in the face of coronavirus.
The best way to prevent contracting or spreading coronavirus is with thorough hand washing and social distancing. If you feel you may be experiencing symptoms of coronavirus, which include persistent cough (usually dry), fever, shortness of breath, and fatigue, please call your doctor before going to get tested. For comprehensive resources and updates, visit the CDC website. If you are experiencing anxiety about the virus, seek out mental health support from your provider or visit NAMI.org.