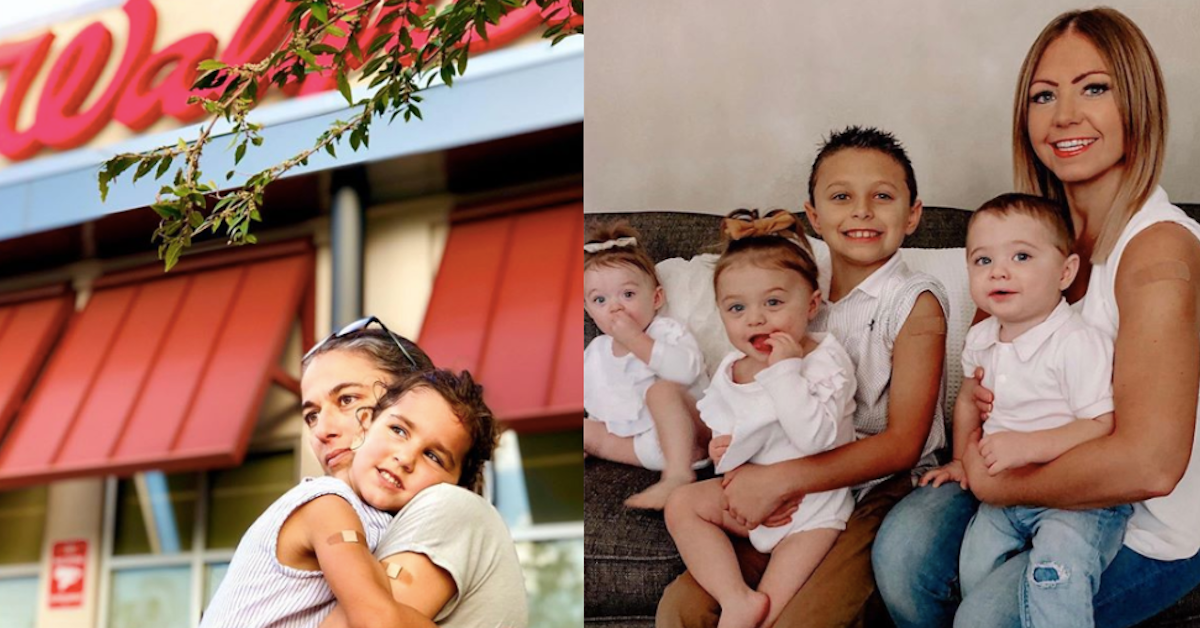 Parents Attacked by Anti-Vaxxers for Posting Sponsored Content of Kids Getting Vaccinated
Article continues below advertisement
BuzzFeed News reports that parents who are influencers on Instagram were offered money to promote a Walgreens flu vaccine campaign. These parents posted pictures of themselves and their children with bright red adhesive bandages on their arms and write sponsored posts promoting the flu vaccine. Almost all of them have started to receive threatening, vitriolic messages from anti-vaccine activists, so much so that they have disabled the comments on their posts.
Article continues below advertisement
Vanessa, the mom who runs @thisjoyful_life blog and Instagram account, wrote in the caption for this photo, "We are a busy family of 5, soon to be 6, and we don't want to risk the chance of getting sick with the flu this season. Getting sick with the flu is not fun and can keep you from so many important events in your life. My hubby got so sick from the flu that he missed out on a big family birthday event one year. This year we've partnered with @walgreens to be a flue fighter because we don't want to miss out on all the important moments in our life. What was your worst flu month? Share + tag @walgreens #ad."
These are the posts on which anti-vaxxers are commenting, threatening parents and their children. For people who purport to be concerned about the health of kids, they're certainly doing more harm than they are good.
Article continues below advertisement
Bryce and Jeffrey, the parents who run the @thisiswherewestarted Instagram account, told BuzzFeed News, "There were comments talking about how we don't deserve children or that we might as well just kill our children. Being a same-sex couple, we are used to people leaving mean comments while hiding behind their keyboard. We were shocked at the level of comments we received."
Article continues below advertisement
Shannon, the mom who runs the @boys_plus_triplets Instagram account, said of the anti-vaxxers, "I was personally attacked by many of them and received some very threatening messages, which was very ironic [because] they wanted to hurt me for choosing to keep my children healthy."
Laura, of @frugalforluxury, said the comments on her Walgreens flu vaccine post "were so relentless that she considered canceling an upcoming family trip, fearing online dissenters would find out where they were going." She told BuzzFeed that they accused her of "poisoning" her family and "child neglect" for getting her children the flu vaccine.
Article continues below advertisement
The #WalgreensFluFighter hashtag, which is included on many of these sponsored posts, has not been co-opted by anti-vaxxers. These parents, most of whom were paid $200 from Walgreens for their posts, are now facing harassment the likes of which they could have never predicted. Anti-vaxxers are accusing them of unethically doling out medical advice in addition to poisoning their own children.
Article continues below advertisement
But Shannon doesn't think she did anything wrong by agreeing to post this content. "Advising people where to go for those wanting a flu shot is not giving medical advice," she told BuzzFeed News. "One anti-vaxxer commented that doctors know very little and have little training, which was very laughable to me."
She added, "Obviously, like everything else, there can be side effects, but my family and I personally choose to get the flu vaccine because it has proven to work for us each year, and thankfully none of us have ever had side effects from the vaccine."
Article continues below advertisement
There are lots of problems with anti-vaxxers, but among them is the fact that they are so militant. So judge-y! If you want to make the choice not to vaccinate your own children, that's not good, but whatever. Why do you have to force your beliefs on someone else?
In conclusion, get your flu shot. It's important. Thank you.