Photojournalist 'Accosted,' Called 'Fake News' by Parents at Baseball Tournament While Trying to Do His Job
Patrick Breen was at the park taking photos of the baseball tournament for 'The Arizona Republic' when parents accosted him and called him "fake news."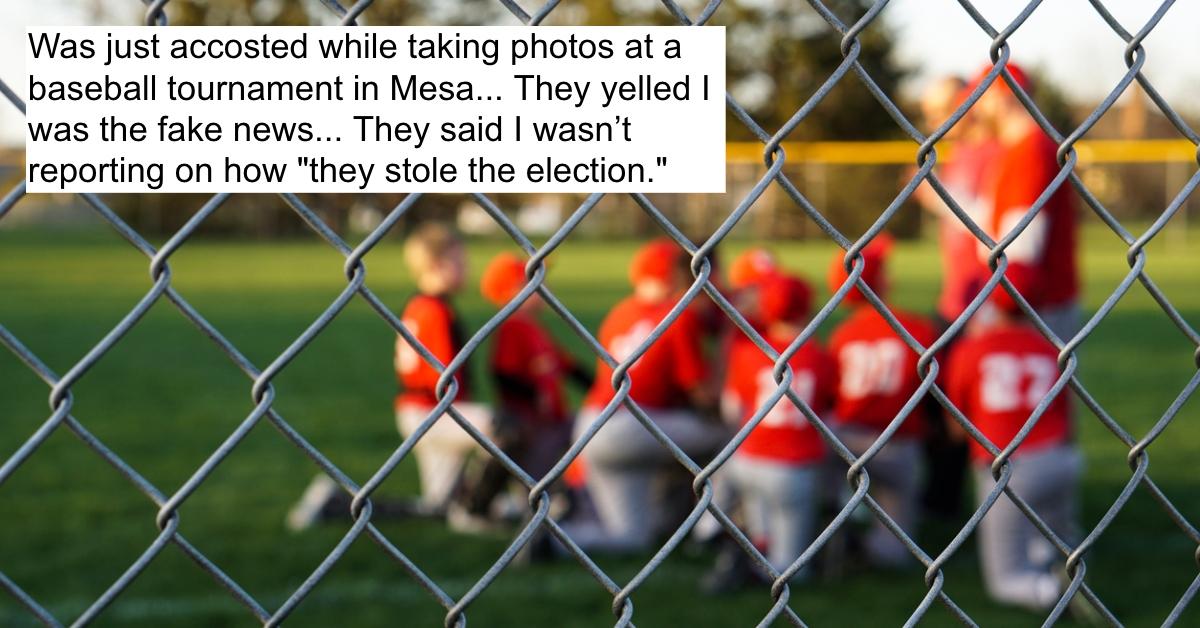 Patrick Breen is a photojournalist with The Arizona Republic who recently had a harrowing experience when he was trying to do his job and photograph a local baseball tournament. In a viral thread, Patrick explains that he was harassed, threatened, and driven away after parents became suspicious of his presence.
Article continues below advertisement
They yelled at him and called him names and talked about how they weren't reporting the stolen election. Meanwhile, Patrick was there simply to cover the baseball tournament.
Article continues below advertisement
Donald Trump and other Republicans have sowed so much distrust in the media that parents couldn't fathom that Patrick was telling the truth. Instead, they yelled at him and threatened him. But then it continued to get out of hand and even more wildly random.
Article continues below advertisement
They called him "fake news" and a "pedophile." Then they said he wasn't reporting on how "they stole the election." But he was there to cover a local kids' baseball tournament. His job that day had nothing to do with the election, nothing to do with politics. He was a photographer taking pictures for the newspaper coverage of a baseball tournament.
These angry parents couldn't believe that for some reason. They thought that because he is part of "the media," he is in the pocket of liberals and Democrats. They had clearly given in to the conspiracies. Patrick was shocked.
Article continues below advertisement
He tried to explain that he was there to take photos for The Arizona Republic. Although what he was doing was perfectly legal, he told them he wouldn't take photos of their kids if they didn't want. But they wouldn't listen. Instead, they drove him away, all the while calling him names and accusing him of being a pedophile.
Article continues below advertisement
Patrick loves his job, and he loves his community. He was excited to do his job that day, and then this angry horde of parents took that away from him. "So here I am in the parking lot at a public park in Mesa feeling ashamed for doing one of my favorite things in the world — taking pictures," he wrote. "If we all were just a little kinder."
Article continues below advertisement
Most people were sympathetic to Patrick and expressed that she never should have had to go through this. "This is awful, Patrick," reporter Sam Dykstra wrote. "Please know there are plenty grateful for your work. Bet there are tons of kids and parents elated to see their pictures in the Republic, thanks to you. Keep your head up, if you can, and keep putting good into the world."
Some critics wanted to know if he had a press pass or if he was invited by the baseball tournament. "Did parents of participants sign waivers giving rights to have images of their kids used in any form?" one person wrote. "If not, bye-bye." Of course, that's not how journalism works, and Patrick was well within his rights to photograph that tournament for his job.
Still, most understood that this incident points to a deep problem with the way some people view the media and journalists these days. If a photographer for a newspaper can't photograph a local sports event without being harassed, that's a huge problem.