Snowvember Is Back and Twitter Is in Awe
While we'll never have another Snowvember like 2014, photos from Snowvember 2019 are seriously making it feel like a winter wonderland.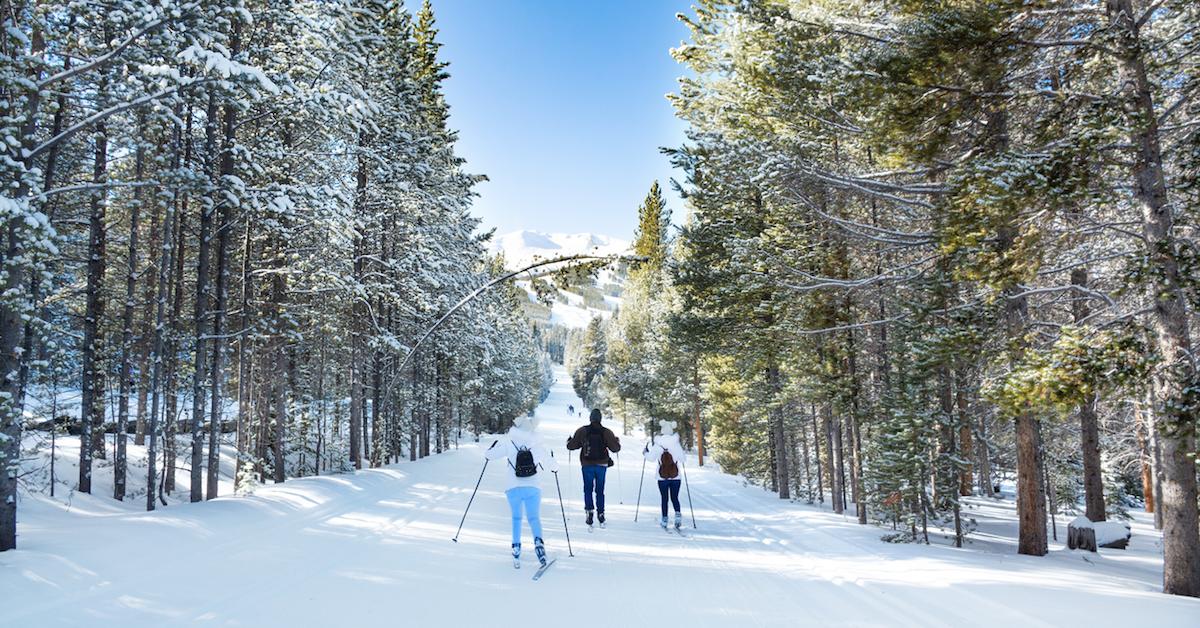 If you're reading this right now, chances are you were around for the OG #Snowvember which took place exactly five years ago, on Nov. 17, 2014. A large portion of North America was completely covered in several feet of snow just before Thanksgiving.
This past weekend, much of North America was, once again, covered in a white glittery blanket, and although the dump wasn't quite as drastic, definitely check out these photos of Snowvember 2019 — they'll totally make you want to curl up by a fire.
These photos of Snowvember will leave you in awe:
Article continues below advertisement
1. Snow Pups
If you happen to be a dog, lucky you — you're probably elated about this pre-mature winter weather. Because really, what's better than running around in your fur coat, soaking in the ice cold gloriousness?
Twitter user @AliceByNature and her pup are both taking in the winter wonder right now, and TBH, I wish I was doing the same.
2. Glistening Office Views
Having a scenic view from your office is one thing... but it's totally different when everything is covered in a few inches of snow.
Will Twitter user @some_eventful end up taking the rest of the day off to snowshoe in the winter scenery? Stay tuned.
Article continues below advertisement
3. A Winter Wonderland Campus
OK honestly, I wish I, too, could watch the snow fall from a college campus for a multitude of reasons.
1) It would mean I'm still in college
2) With snow, class could be canceled
Seriously, though, do you see this? If Twitter user @saramstricker doesn't go sledding in her campus quad I will be royally disappointed.
Article continues below advertisement
4. Scenes From a Lunchtime Stroll
Maybe you're frolicking through a winter wonderland during your lunch break, just like Twitter user @jenniferbaron7 is. And for your sake, I hope you're snapping all of the #instagrammable nature pics too.
Article continues below advertisement
5. Skiing Through Fresh Pow
FYI: Anyone who happens to be skiing right now like Twitter user @anielsen1 is so incredibly lucky. Now excuse me while I gaze at these fresh tracks longingly until 5 p.m. hits.
Article continues below advertisement
6. An All-White Backyard
@bizteacher4 is showing off her snowy backyard, and living in New York City, I'm jealous beyond belief. Will she build a snowman? Make some snow angels? I need updates, there's so much snow for activities.
Article continues below advertisement
7. Snowy Bird-Watching
It seems like people and animals alike are currently enjoying the frigid winter weather — Twitter user @Rxgirl89 has presented us with this lovely snapshot of backyard wildlife spreading their snowbird wings.
Article continues below advertisement
8. Building Snowmen
Instagram user @nfdeacon3 is taking advantage of the packable powder by building some friendly-looking snowmen. Don't forget to combat yours with a hat and scarf, though — it's hella cold out.
Article continues below advertisement
9. Chilly Nature Walks
Instagram user @stephrayyyy is flexin' on all of us right now by serving up this gorgeous nature realness on a Monday afternoon. Me? Jealous? Maybe a little.
Article continues below advertisement
10. Icy Jungle Gyms
Growing up, there was nothing better than playing on the playground after it snowed. Between a slippery slide and piles of soft snow to catapult into off the swing, it's the best way to play outside... and Instagram user @momblockparty knows exactly what I'm talking about.
Article continues below advertisement
11. Curling Up With a Good Book
Whether paperbacks are your cup of tea, or if you'd rather swipe through pages on your Surface Pro tablet, there's no better feeling than checking books off your reading list during a blustery, snowy day.
And if you happen to be @gabriellasgoodreads, your books may be perfectly color-coded for the icy weather.
Article continues below advertisement
12. Winter Baking
There's no better way to combat cold weather than with cookies, and @creative.cravings knows that all too well. Whether it's so the oven heats your house, or to prepare for hibernation, baking while it's snowing outside is truly gratifying.
Snowvember may not be as mighty as it was five years ago, but it's here nonetheless, and it's seriously gorgeous. Get outside (or get cozy by a window) and enjoy the scenery, because it's truly magical.