Professor Praised for Buying Transparent Face Masks so Deaf Students can Lipread
While face masks are essential in a pandemic, they can be problematic for Deaf and hard of hearing people.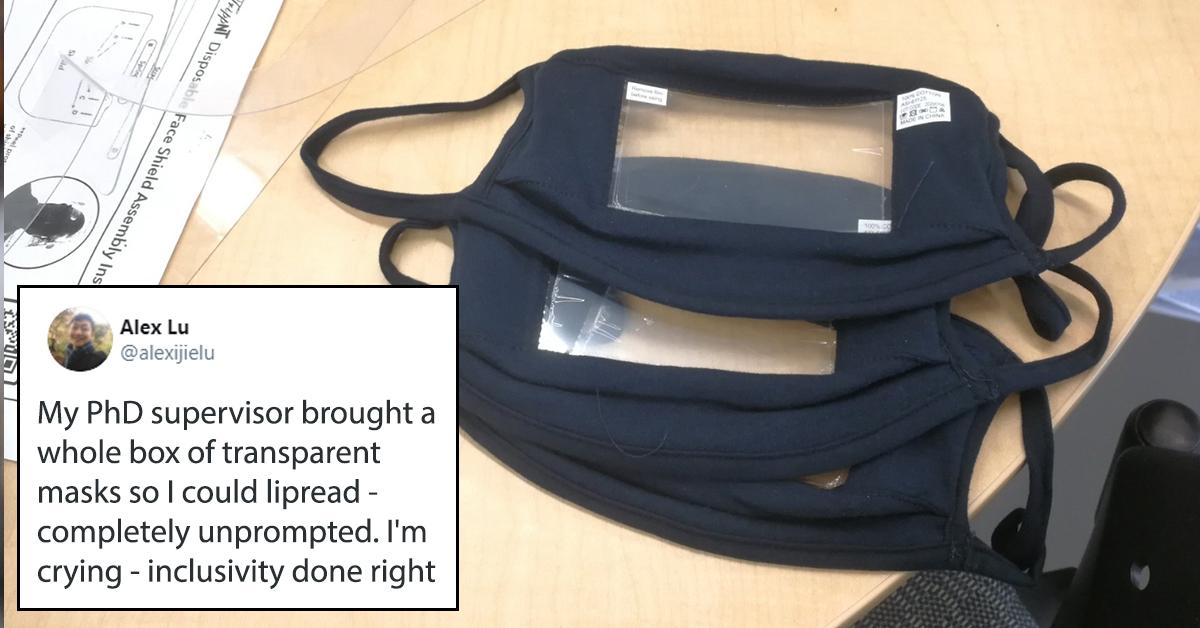 Wearing a face mask is imperative to stopping the spread of coronavirus. Whether it's going to the store or an increasingly rare face-to-face meeting, masks have become part of everyday life. However, the widespread use of masks has led to problems for those who rely on lip-reading to communicate.
Article continues below advertisement
One of these people is Alex Lu, a Ph.D. student at the University of Toronto, studying microscopy image analysis and unsupervised machine learning. Lu, who is Deaf, had trouble communicating with one of his professors because he was wearing a face mask. After that incident, Lu was presently surprised when his professor purchased a pack of transparent face masks to allow Lu to lipread.
"My Ph.D. supervisor brought a whole box of transparent masks so I could lipread - completely unprompted," Alex Lu wrote on Twitter. "I'm crying - inclusivity done right." In a further tweet, Lu explained: "He noticed he had to take off his mask once or twice to talk to me and then he just went ahead and ordered it."
Article continues below advertisement
Unsurprisingly, Lu's professor earned plenty of praise online, with others sharing similar experiences they have encountered during the pandemic. "Not being able to read lips has been such an unexpected pandemic challenge for my hearing-impaired husband," one user wrote. "We need more of this!"
Article continues below advertisement
Another added: "I am a bartender and I have a deaf regular. I have been learning one phrase per day so we can speak to each other instead of writing on napkins. This mask would be a great way for us to communicate!!"
Article continues below advertisement
"I attempted to make my own after I started dating someone who's deaf," one user explained.
Article continues below advertisement
"My kid's school gave all of the kids one and they are my daughter's favorite," another added. "She had severe speech delay and it helps people understand her and speaking to people in these masks helps her understand them."