People Are Still Finding Ways to Throw Parties While Quarantined
From entirely virtual parties to socially distant drinks, these people know how to party even while we're stuck at home.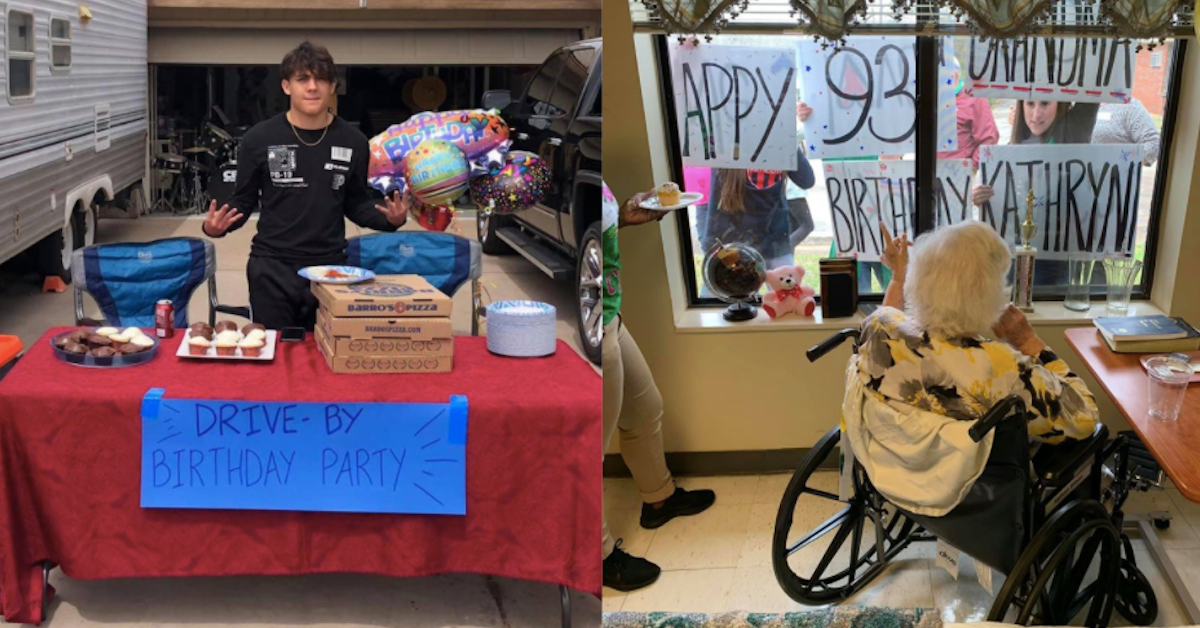 Just because we're all sheltering at home doesn't mean birthdays and other milestones aren't happening. It also doesn't mean you can't find a creative way to celebrate. Quarantine parties don't look like the parties we're used to. There are fewer people gathered in one place, for instance.
But people are coming up with very innovative ways to celebrate these special moments in their lives while still adhering to social distancing.
Article continues below advertisement
This kid turned 15 and so he had a drive-by birthday party! People stopped by for pizza and cupcakes. I bet it was very fun. Also, on an unrelated note, I clearly have no idea what 15-year-olds look like because that person looks like a grown man.
This person threw their boyfriend a birthday party. Obviously, none of their friends could come, but they populated the party with the next best thing: skeletons and a witch from their Halloween decorations. This is hilarious. The boyfriend doesn't seem too pleased with his party, but his partner is, and that's really what matters.
Article continues below advertisement
In case you couldn't tell, it was Mirek's birthday. Obviously, the neighborhood kids couldn't get together to celebrate, but they all decided to share festive messages wishing Mirek the best birthday one could possibly have while unable to leave their house. How cute is this?
Article continues below advertisement
Friends did actually gather...at a safe social distance, for the birthday party of another friend, who celebrated from their balcony. It looks like a fun, responsible time was had by all.
Article continues below advertisement
This awesome mom took her daughter (and their dog) on a legit camping trip for her daughter's 12th birthday. This might not have been what she had in mind for her birthday when the year started, but this is pretty awesome. And perfectly safe to do...as long as you stay safe the whole time.
Article continues below advertisement
People are escaping into video games and virtual worlds like the Sims and Animal Crossing during the quarantine, and it's really helping! This whole Animal Crossing village threw a birthday party for this person. (Full disclosure: I don't actually know what Animal Crossing is and I have no idea if these villagers are other human players or just part of the game. Either way, still cute.)
Article continues below advertisement
This adorable girl had her first birthday party over Zoom with all her family and friends. Then, I hope she was allowed to stick her face in that cute little cake and eat all of it. It looks delicious. Dang, now I want cake.
Article continues below advertisement
This person's wife had to cancel her birthday party, so they built her this incredible cozy fort. I want one of these. The string lights and (fake) candles in decorative paper bags really send this over the edge into cozy town.
Article continues below advertisement
Kathryn's family couldn't visit her at the nursing home for her 93rd birthday party, so they showed up at her window with festive signs and she was able to have a cupcake. It's obviously sad that this couldn't be a real party, but it's definitely better than nothing.
Article continues below advertisement
This poor guy is all alone for his birthday, and that's no fun. I feel for the people who are sheltered in place totally alone. I at least have my husband and our dog. But because this dude is totally by himself, he decided to throw himself a whole birthday party. And you know what? It looks like he had a great time.