Get your Instas Ready! Starbucks has a Groovy New Drink!
Starbucks released their limited new creation: the Tie-Dye Frappuccino. This tropical flavored drink is currently only available while supplies last!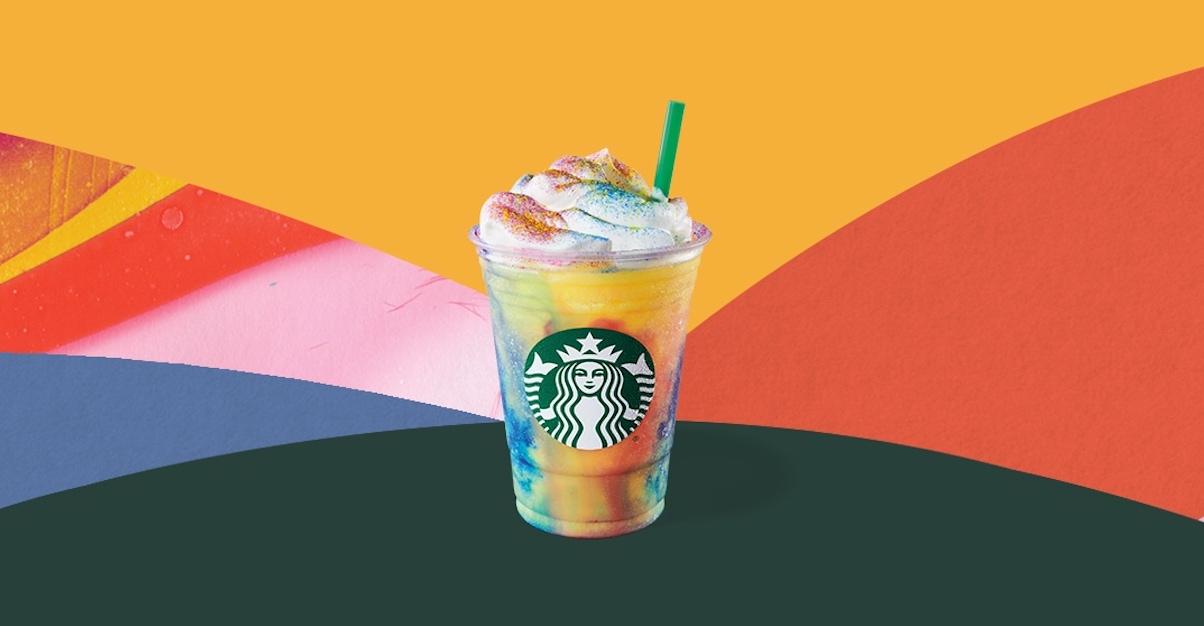 Starbucks released their Tie-Dye Frappuccino and it's so beautiful! It is no secret that tie-dye is the latest summer fashion trend and Starbucks' latest debut was what this summer needed! With Starbucks' reputation for cute drinks, this round of bright colors and summer camp nostalgia was meant for Instagram.
Article continues below advertisement
The Tie-Dye Frappuccino consists of "tropical flavored crème" with tie-dye swirls of red, blue, and yellow powder. It's topped with vanilla whipped cream and sprinkles of yellow, blue, and red. The powder gets its color from turmeric, red beets, and spirulina! Some people who've tried it said it taste like banana.
Article continues below advertisement
In a statement released on Starbucks.com, the drink's designer, Paloma Carrington-Bataller said, "We wanted to create something that celebrates summer and really conveys it both visually and through flavor within the beverage.
"We knew it had to make you smile at first and our Tie-Dye Frappuccino does all this! It's summer in a cup and something everyone can relate to; it takes you back to sunny warm days of summer spent at camp or with friends and family," she continued.
Article continues below advertisement
Unfortunately, caring customers and baristas are not excited to make this drink.
Though this drink is aesthetically pleasing, some customers and baristas have been advocating against the groovy looking beverage. They claim it'll be hell to make due to it's intricate design. One Twitter user said, "If you order the tie Dye Frappuccino when it launches, just know every barista working hates you."
Article continues below advertisement
Article continues below advertisement
Though this drink has sparked some negative commentary, people are still excited to try it out and make that judgement for themselves. One customer said via Twitter, "A rainbow/tie Dye Frappuccino?!? Starbucks is speaking my language!!! Make something colorful and I'll buy it...make something colorful AND delicious?? I'll buy 10."
Other customers have also expressed it tastes similar to a banana-flavored Laffy Taffy. Literally, what a time to be alive to relive your childhood!
Article continues below advertisement
If your curiosity has been triggered, grab your wallet and head to your local Starbucks because this drink isn't hanging around all summer. Though we don't have a specific time frame, Starbucks did say it will only be here for a couple of days.
The franchise mentioned on Twitter, '"YESSSS! #TieDye is here and it won't last long." Bummer! However, I'm sure your Instagram would look super cute with one of these beauties on your feed.
Article continues below advertisement
The new Tie-Dye Frappuccino doesn't sound like your thing? No worries! 
If tie-dye or banana isn't really your cup of frappe, the coffee chain has an array of refreshing beverages and recently rereleased their infamous Mocha Cookie Crumble and Caramel Ribbon Crunch Frappuccinos for the season!
Either way, it's way too warm to not indulge in a tasty blended Starbucks drink.