People are Mad That a Tiger Was Tested for Coronavirus, but It's Not That Simple
A tiger at Bronx Zoo tested positive for coronavirus and is believed to have been infected by an asymptomatic zookeeper.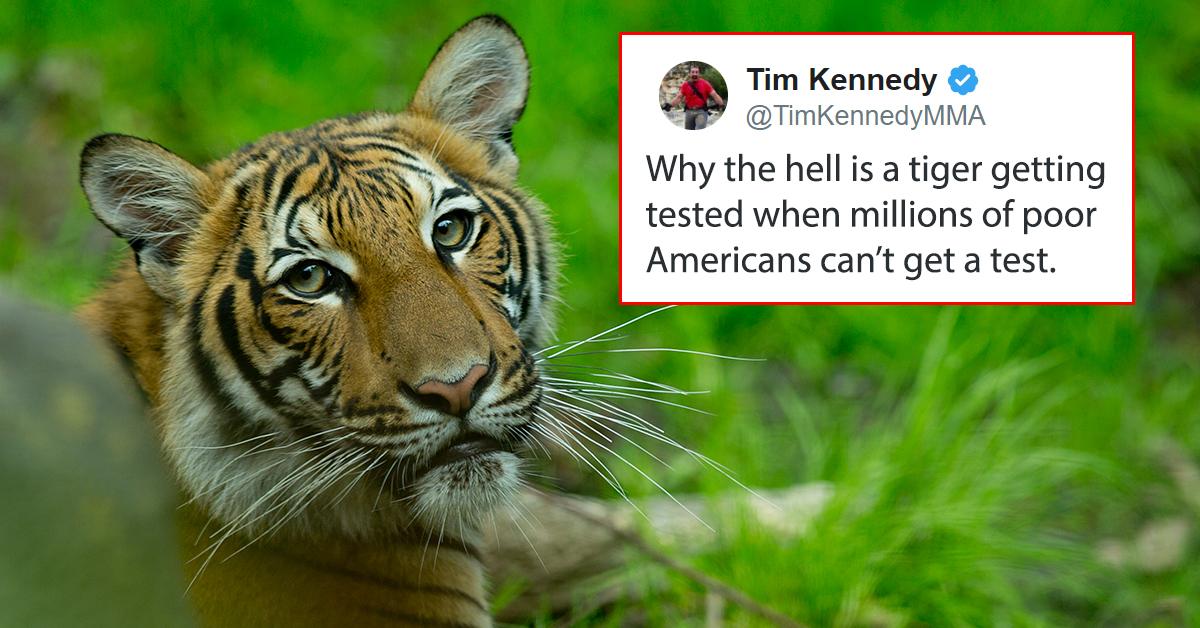 Nadia, a four-year-old Malayan tiger at the Bronx Zoo, has become the first known case of an animal infected with COVID-19 in the United States. Nadia tested positive for the disease caused by the coronavirus after she developed a dry cough.
Article continues below advertisement
The Bronx Zoo said the results had been confirmed by the National Veterinary Services Laboratory in Iowa. Nadia and six other big cats are believed to have been infected by an asymptomatic zookeeper.
"This is the first time that any of us know of anywhere in the world that a person infected the animal and the animal got sick," Paul Calle, the chief veterinarian at the zoo, told Reuters.
While there have been a few incidents of animals testing positive for COVID-19, experts do not believe that they can become sick or spread the disease.
"We tested the cat [Nadia] out of an abundance of caution and will ensure any knowledge we gain about COVID-19 will contribute to the world's continuing understanding of this novel coronavirus," the zoo said in a statement.
Article continues below advertisement
Nadia, her sister Azul, as well as two Amur tigers and three African lions have all shown symptoms. Although the cats have experienced a loss in appetite, they "are otherwise doing well under veterinary care and are bright, alert, and interactive with their keepers." None of the zoo's other big cats are showing any signs of illness.
The news prompted a strong response from some users. "Why the hell is a tiger getting tested when millions of poor Americans can't get a test," one user wrote.
Article continues below advertisement
While another added: "1. Wait, what? 2. Did a tiger get a COVID-19 test that could have gone to a human?"
Article continues below advertisement
And another user concluded: "How did the tiger get a test when human beings coughing up a lung can't get one?"
Article continues below advertisement
The zoo went on to address concerns that a tiger had been tested. "The COVID-19 testing that was performed on our Malayan tiger Nadia was performed in a veterinary school laboratory and is not the same test as is used for people," the zoo's chief veterinarian wrote.
"You cannot send human samples to the veterinary laboratory, and you cannot send animal tests to the human laboratories, so there is no competition for testing between these very different situations."
Article continues below advertisement
Coronavirus is believed to have originated in animals and passed to humans at a live animal market in Wuhan, China. There have only been a few instances of the disease jumping from humans to animals, including two dogs in Hong Kong.
The zoo's statement noted that there is "no evidence that any person has been infected with COVID-19 in the US by animals, including by pet dogs or cats."
Article continues below advertisement
Dr. Sarah Caddy, Veterinarian and Clinical Research Fellow at the University of Cambridge, told the BBC: "It is surprising that the tiger has become infected with what must have been a fairly low dose of virus - we can assume the tiger did not have continual close contact with the asymptomatic zookeeper. It is also interesting that the tiger showed clinical signs consistent with COVID-19 in humans. Although scientific proof is lacking, the chance this is just a coincidence is low."
The best way to prevent contracting or spreading coronavirus is with thorough hand washing and social distancing. If you feel you may be experiencing symptoms of coronavirus, which include persistent cough (usually dry), fever, shortness of breath, and fatigue, please call your doctor before going to get tested. For comprehensive resources and updates, visit the CDC website. If you are experiencing anxiety about the virus, seek out mental health support from your provider or visit NAMI.org.