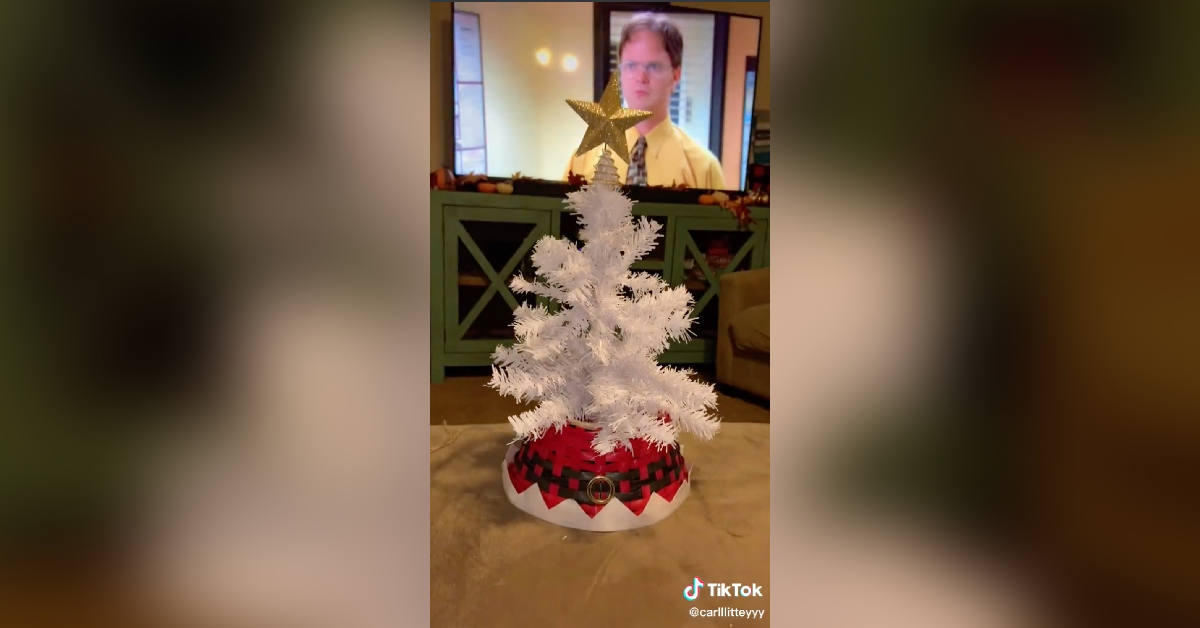 The Best (and Easiest) DIY Holiday Decorations on TikTok
The holiday season is upon us, but making your house feel Christmas-ready can easily break the bank. Instead of buying those expensive decorations from your local department store, why not try to make some yourself? Luckily, there are some DIY geniuses on TikTok who know what they're doing.
Here are some of the best holiday DIY decorations you can make for your home in minutes.
Article continues below advertisement
This Dollar Tree Christmas tree
Sometimes your wallet doesn't match the amount of Christmas cheer in your heart — so you'll need cheaper ways to make your home look like a winter wonderland. By taking two of the Dollar Tree's small trees, some tape, and a fun festive basket, you can create a little, yet full tree to either put in your equally small apartment or make a room feel a little more festive.
How to make the little trees look fuller.
This tutorial shows you more in-depth how to make the Dollar Tree's small Christmas trees look fuller and worth the couple of dollars you'll spend on them.
Article continues below advertisement
A dried citrus garland for easy yet classic decorations.
If the Christmas trees and Santa Clauses aren't your thing this time of year, that's OK, because there are other easy ways to decorate your apartment festively for the holiday without breaking the bank. With some citrus fruits of your choosing, an oven, and some twine, you can make this fun garland to hang in your space.
Article continues below advertisement
This mason jar wreath ornament.
You might be able to complete this project without even leaving your house! Feel free to use any rope, twine, or macrame cord you may have laying around your house, and you can gave this project done in minutes!
Article continues below advertisement
A "real" tree for apartment-livers.
If you live in a cramped apartment, then you know getting a real Christmas tree is usually not worth the hassle. But just by gathering some sticks in varying lengths, you can make a space-saving Christmas tree that's made with "real" materials!
Article continues below advertisement
Make your tree really sparkle this year.
If you're not a painter, but still want to decorate one of those acrylic ornaments from your local craft store, why not mod-podge some confetti or glitter on it? This is probably one of the easiest DIYs you can do!
Article continues below advertisement
These little winter hats are so festive.
If you're a crafty person, then making these hats will be right up your alley — and could be a good opportunity to use some recycled materials! You can use these mini hats for a variety of things and make them any color you want to.
Article continues below advertisement
These easy DIY wreaths.
With some garland and any cheap wreath you find at the Dollar Tree, you can create these simple yet festive wreaths to hang around your home. You can also try upgrading them with ornaments, mini hats (see above), or whatever else you think it might need!
Article continues below advertisement
Get creative with the supplies at your local craft store.
One of the coolest things about DIYs is it's actually about doing what you can with what you have. If none of these other ideas are speaking to you, maybe take a walk around your local Hobby Lobby or Michaels to see if you can find some inspiration (or go buy all of the materials to make this exact wreath because it's pretty cool).
Article continues below advertisement
Here's a cheaper version of a Pottery Barn Christmas decoration.
The original design retails for an easy $150, but you can create it using Dollar Tree items easily. If you're looking for a modern, yet obviously festive DIY this Christmas, this might be it for you.