"I Was Still Needed" — Woman Claims Workplace Rejected Her 2 Weeks' Notice Request
A woman claimed on TikTok that her workplace denied her 2 weeks notice request, forcing her to stay on the job.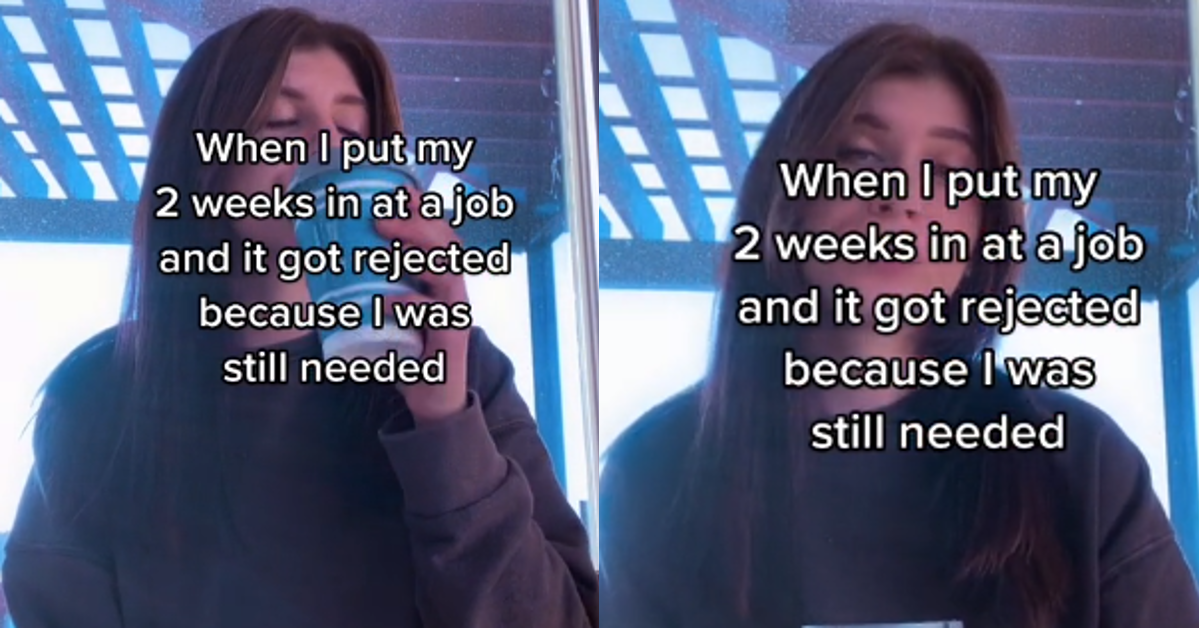 Ever since the onset of the COVID-19 pandemic, a lot's been written about America's labor shortage. This has sparked a litany of debates, with many job seekers and employees claiming that there isn't a dearth of people who are willing to work, just a lack of businesses who are willing to fork over a livable/attractive wage to get folks to come and put in hours.
Article continues below advertisement
This hasn't just seen an uptick in think pieces about the state of employment in America, but companies offering extra incentives and increased wages for new/current employees to keep working with them. But in some instances, this means that those who stay onboard are taking on more job responsibilities than ever before.
In the case of TikToker Courtney Reder, it means that she wasn't even able to put in her two weeks notice, i.e. her job "didn't allow" her to quit. A now-viral TikTok uploaded by the woman under username @courtneyyy_lynn shows her drinking out of a coffee cup with a text overlay that reads: "When I put my 2 weeks in at a job and it got rejected because I was still needed."
Article continues below advertisement
Of course there's nothing stopping her from quitting the job and not showing up to work, however, that could lead to some enmity/animosity from upper management and potentially stop her from using the workplace as a reference should she try and get employment at another business down the line.
Article continues below advertisement

In the caption for the video, she writes, "I now have 3 jobs and still trying to make ends meet."
Throngs of TikTokers offered up some advice on how to best handle the situation. Some folks simply instructed Courtney learn how to "say no" to her employers.
Article continues below advertisement

She further delineated the situation in the comments section, stating that upper management basically said "nah" to her giving them notice.
Article continues below advertisement

But there were a bunch of TikTokers who didn't understand why she simply wouldn't just stop showing up to work on the day that she informed them she wouldn't be working there any longer.
Article continues below advertisement

Courtney did say that she ultimately came up with a compromise: she'd stay at the job but would be working reduced hours there because even though she put in her notice that she would be leaving, she enjoyed working there.
Article continues below advertisement

It's unknown whether or not she leveraged the fact that she was clearly in demand at her job by asking for a raise, which is something at least one commenter suggested she do. Much has been written about employees using the "labor shortage" as an opportunity to net bigger salaries, and there are various articles that provide suggestions on how to best navigate that prospect.
Article continues below advertisement

Generally speaking, demonstrating value and bringing forth hard numbers in one's bid for a higher salary is a good rule of thumb.
Have you ever had upper management decline your bid for leaving a job? How did you handle it?