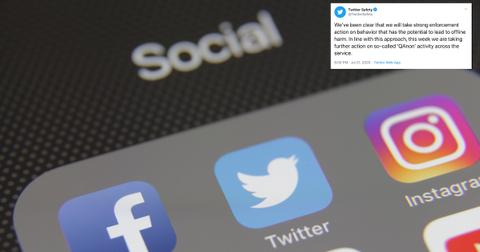 Twitter Confirmed That Thousands of QAnon Accounts Will Be Deleted
By Shannon Raphael

Updated
While Twitter does exist for the purpose of allowing users to express their thoughts, the social media platform is cracking down on accounts that express misinformation that targets individuals. On July 21, the official Twitter Safety account, which enforces the community guidelines, confirmed that content related to the conspiracy theory group QAnon would be removed from the site.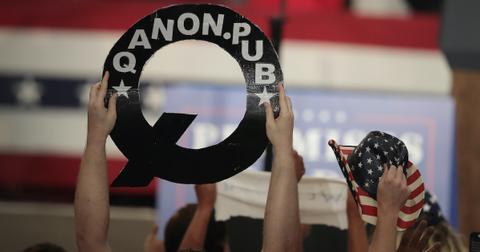 Did Twitter ban QAnon?
The safety account for the platform confirmed in a string of tweets on July 21 that QAnon accounts and tweets would be removed. More than 7,000 users have already been permanently suspended and there are an estimated 150,000 platforms that are associated with QAnon.
"We've been clear that we will take strong enforcement action on behavior that has the potential to lead to offline harm. In line with this approach, this week we are taking further action on so-called 'QAnon' activity across the service," the Twitter Safety account wrote.
The thread accused the QAnon tweets of inciting "abuse."
"We will permanently suspend accounts Tweeting about these topics that we know are engaged in violations of our multi-account policy, coordinating abuse around individual victims, or are attempting to evade a previous suspension — something we've seen more of in recent weeks," the statement continued.
A plan was then outlined to get these accounts offline:
"No longer serve content and accounts associated with QAnon in Trends and recommendations
Work to ensure we're not highlighting this activity in search and conversations
Block URLs associated with QAnon from being shared on Twitter."
"These actions will be rolled out comprehensively this week. We will continue to review this activity across our service and update our rules and enforcement approach again if necessary," the thread read. "As we work at scale to protect the public conversation in the face of evolving threats, we'll continue to lead with transparency and offer more context on our efforts."
After the platform took an official stance against the group, many were left wondering what exactly QAnon stood for.
What is the QAnon movement?