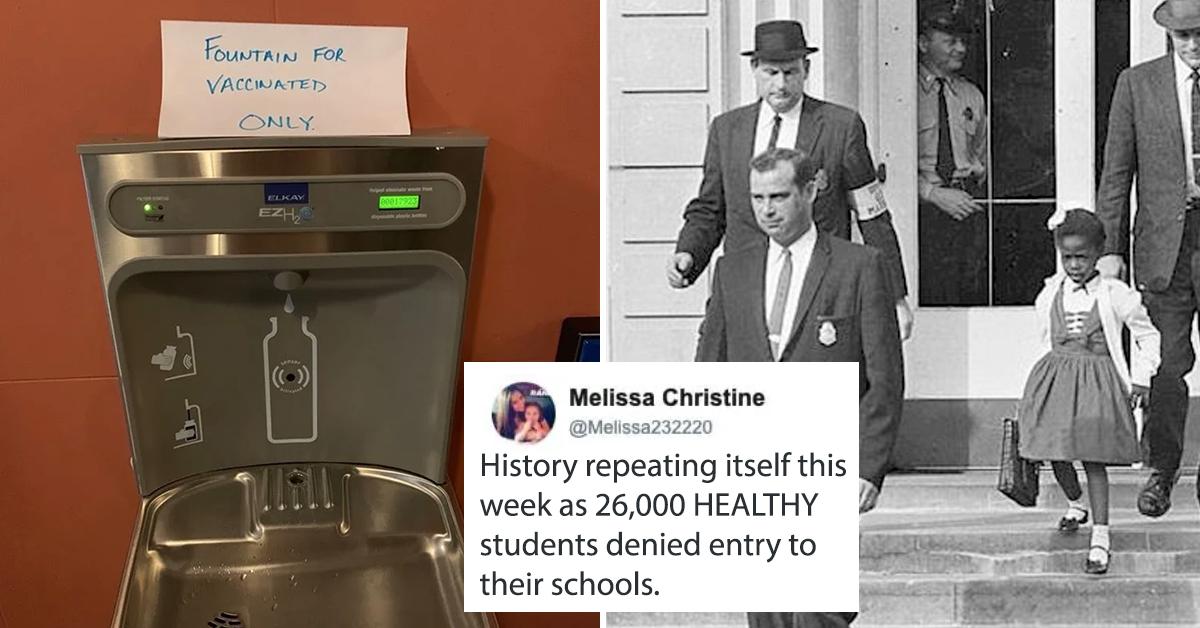 Unvaccinated Kids Are Barred From School in New York and Anti-Vax Parents Aren't Happy
Earlier this summer the state of New York passed sweeping laws that barred children who are not vaccinated from attending class. Amid one of the state's worst measles outbreaks in recent history, New York did away with religious exemptions for children attending school, meaning that only those with valid medical reasons can attend schools unvaccinated.
Article continues below advertisement
The law, which was enacted in June, "prohibits a school from permitting any child to be admitted to such school, or to attend such school, in excess of 14 days without sufficient evidence that the child has received all age-appropriate required vaccinations," according to the New York Department of Health, Office of Children and Family Services, and the State Education Department.
That 14-day grace period has since ended, meaning that schools have started barring unvaccinated kids from attending class or removing children from schools to be picked up by a parent. If parents decide to have their children vaccinated, then they can return to school.
Article continues below advertisement
State officials told Buzzfeed News that there were 26,217 unvaccinated New York children claiming an exemption on religious grounds in the 2017-18 school year.
"Immunizations give children the best protection from serious childhood diseases and the science is crystal clear that vaccines are safe and effective," the New York Health Department told Buzzfeed News.
Unsurprisingly, parents who have chosen not to vaccinate their children on religious grounds aren't too happy about their children being kicked out of school.
Many have since taken to social media protesting the decision, and saying that they now plan to homeschool their children.
Article continues below advertisement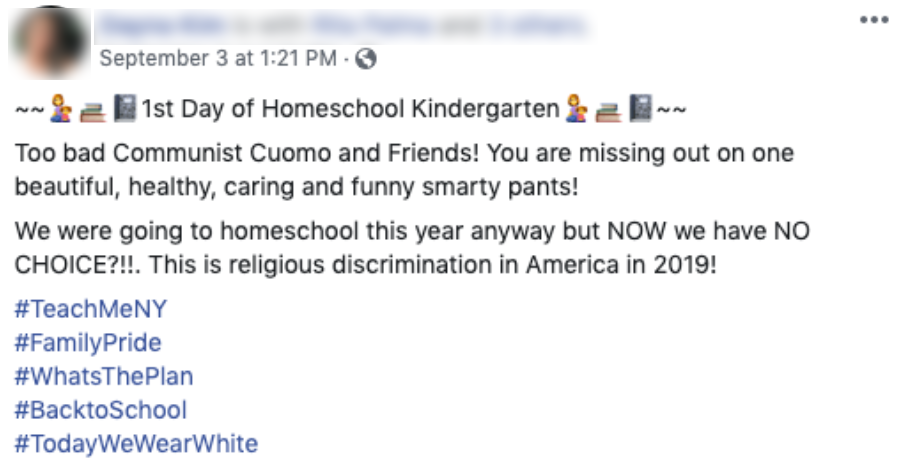 Others took to social media to share pictures of their children from various protests.
Paris Pappas, 43, told Newsday that the ban had made the lives of many local parents "absolute hell." "We're just watching everybody else's school life go on, and my life has stopped, basically," Pappas now plans to home school her daughters, aged 14, 12, and 6.
Article continues below advertisement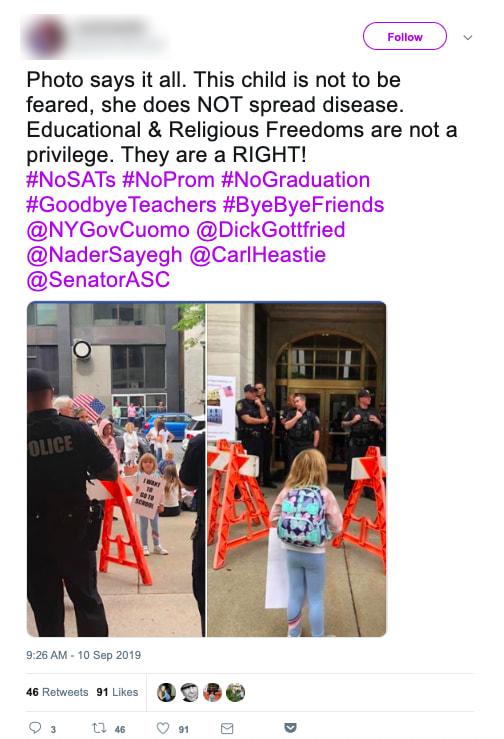 Some anti-vaxxers have even gone as far as to compare the new law to the Jim Crow laws and racial segregation in the United States. One Twitter user shared a photo of a drinking fountain, on which they'd placed a paper sign that read: "Fountain for vaccinated only."
Article continues below advertisement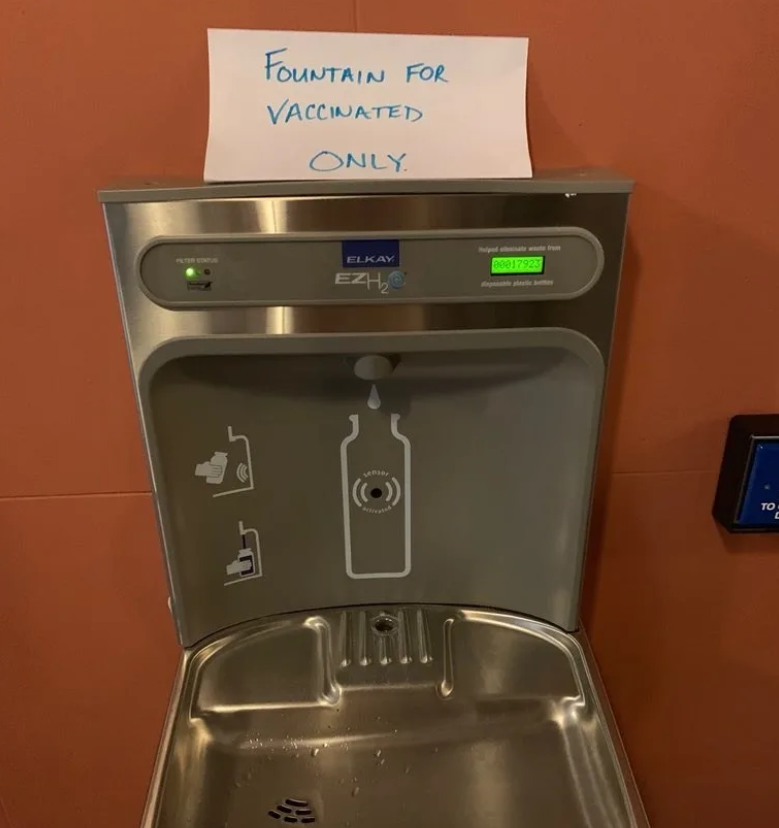 Another Twitter user shared a photo Ruby Bridges, the first child to desegregate the all-white William Frantz Elementary School in Louisiana. Bridges had to be escorted from and to school by U.S. Marshals because of threats against her life.
Article continues below advertisement
The Twitter user wrote: "History repeating itself this week as 26,000 HEALTHY students will be denied entry into their schools."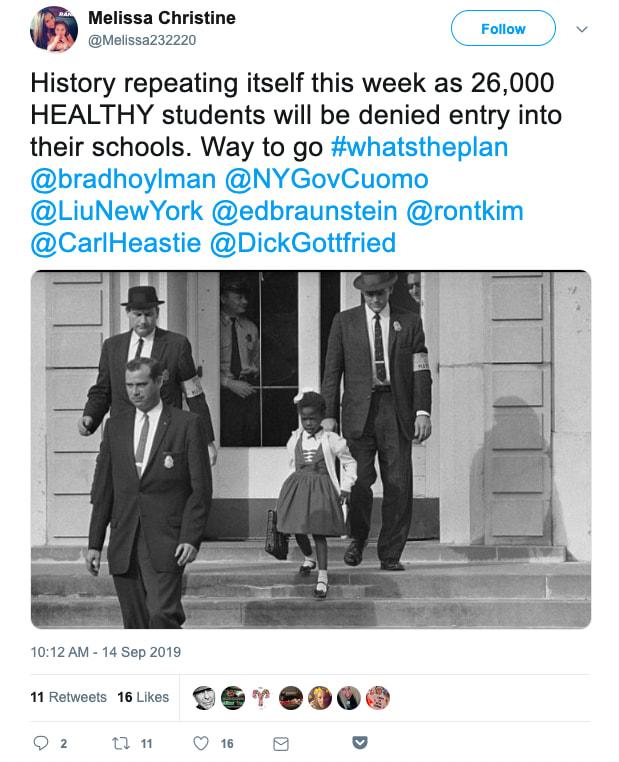 Article continues below advertisement
Another user compared the situation to that of Anne Frank, sharing an image that read: "Anne Frank was denied an education and forced to home school." State Sen. Brad Hoylman, the bill's sponsor, laid into the tweet on social media, writing: "Your child is not in school because you are choosing not to vaccinate. One of these is not like the other."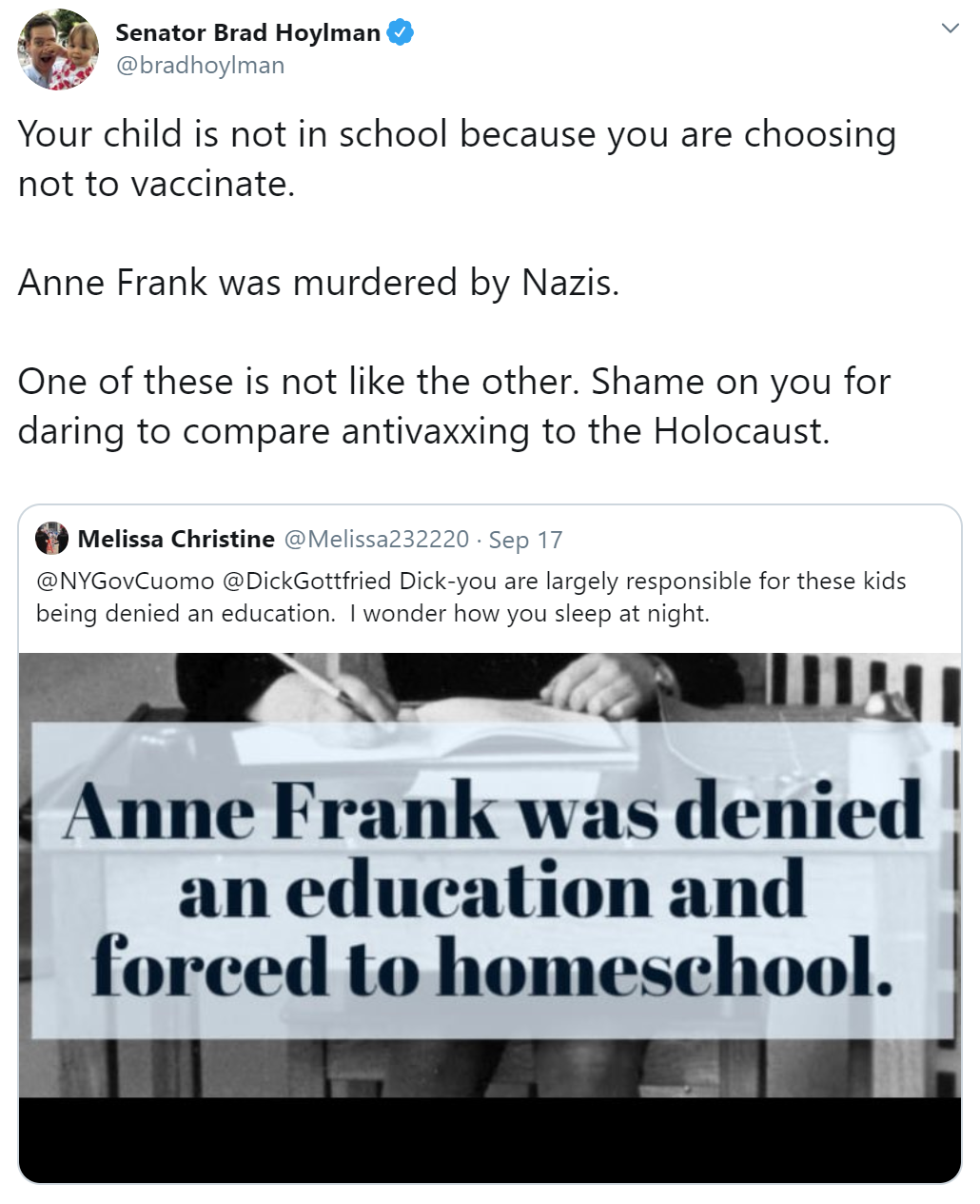 Article continues below advertisement
Parents have also been sharing photos of children who can no longer attend school.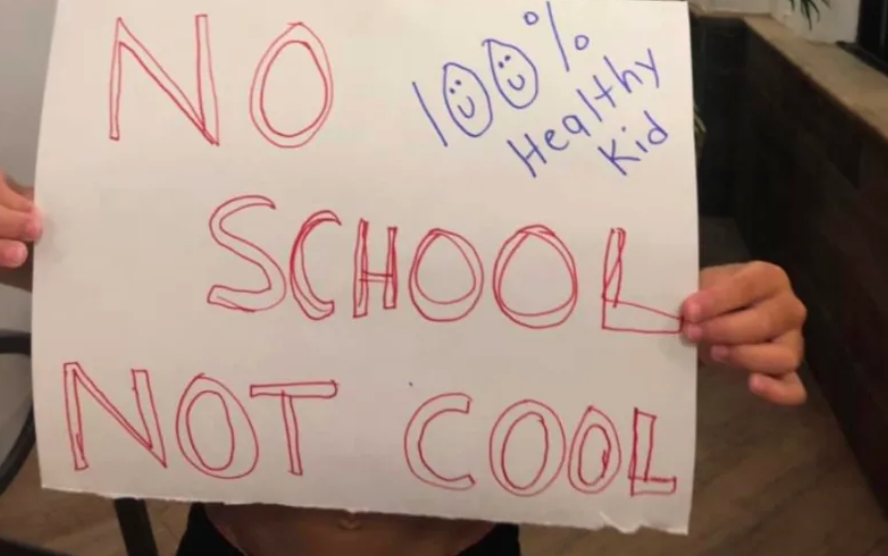 Article continues below advertisement
A photo of a crying first-grader holding a goodbye card from his teacher and classmates had been shared more than 2,000 times before it was removed.
"This little boy can't go back to school. Why? Because our state legislature thinks we're a bunch of ignorant pariahs," Rita Palma, founder of the anti-vax My Kids, My Choice, wrote in a caption alongside the image. "So the sensible thing to do is deprive children who want to go to school of an education. Makes perfect sense, right? This is so horribly wrong."
After signing the bill in June, New York Gov. Andrew Cuomo told reporters: "I understand freedom of religion. We all do. We respect it. I've heard the anti-vaxxers' theory, but I believe both are overwhelmed by the public health risk."
Article continues below advertisement
Controversy around vaccinations began in 1998 after a British paper alleged that the measles, mumps and rubella (MMR) vaccine was linked to autism. That study, which was based on 12 children, was found to be fraudulent and was widely rejected by the academic community. It has since been withdrawn, though many vaccine deniers still quote the findings.
A recent study which followed the 657,461 children born in Denmark between 1999 and 2010 found that there was no increased rate of autism between children who had received the MMR vaccination and those who had not. The study is the largest of its kind.