Was Joe Biden Wearing a Wire During the First Presidential Debate With Trump?
Folks watching the debate at home wanted to know if Joe Biden was "wired" during the debate and being fed lines. He wasn't. Details inside.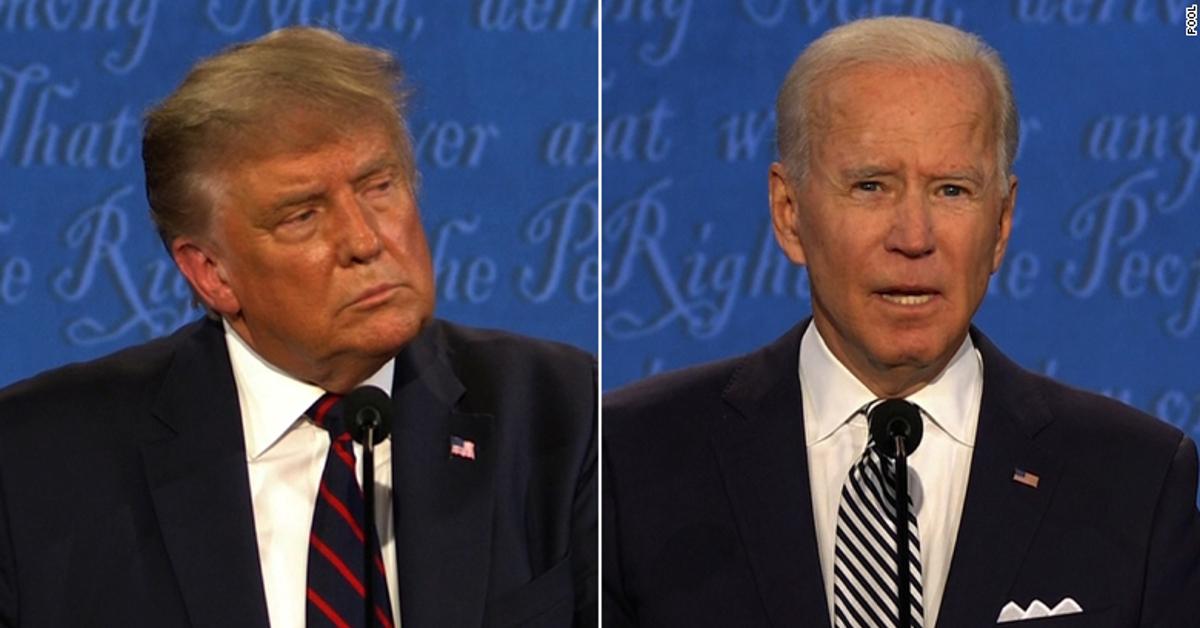 Presidential debates have always been interesting affairs where candidates vying for the position of commander in chief discuss policies they plan to implement while throwing in subtle, or not-so-subtle, jabs at their opposition. Due to the nature of bipartisan politics in America, with two major parties struggling to gain as much power as possible, people are going to pick sides, which may be why people are wondering if Biden was wired during the debates.
Article continues below advertisement
Was Biden wired during his first presidential debate with Donald Trump?
"Joe Biden doesn't know he's alive!" said President Trump multiple times leading up to the 2020 election. A staunch narrative from Trump's administration, conservative media outlets, and various Trump supporters and republicans is that Joe Biden is mentally unfit to serve as president of the United States. This led many folks to theorize that Joe would not be able to string any coherent thoughts together during the verbal contest.

Article continues below advertisement
Both Trump and Biden got their personal barbs in at one another during the debate: it wasn't the "dignified" type of discussion one would expect of a prestigious office but then again, politics haven't really been the same ever since Donald Trump became president. Taking "the high road" didn't necessarily work out so well for Hillary Clinton, and Joe Biden didn't seem to have a problem with attempting to talk over Donald Trump throughout the debate and vice-versa.
Since Joe's mental acuity was called into question several times leading up to the debate, with many theorizing he would even attempt to "pull out" of the back-and-forth with Trump, lots of folks were surprised to see him not get verbally steamrolled by Trump and wonder if he was wearing a wire during the debate.
Article continues below advertisement
Article continues below advertisement
Conspiracy theories began flying around the internet and people started screenshotting instances of the debate, calling into question not only Joe's integrity but the integrity of the DNC as well.
Article continues below advertisement
So was Biden wearing a wire during his debate with Trump?
USA Today and PolitiFact both highlighted response posts to these conspiracy theories that demonstrate, in other parts of the video, that the "wire" in Biden's chest under his jacket is actually a crease in his shirt. The "microphone" in his wrist was possibly a pen.
Article continues below advertisement
Why he would have a microphone in there is kinda crazy to begin with, it's not like he's going to be able to say anything into his hand on national television, and it's not like whoever's feeding him lines can't hear what he's saying at the podium anyway.
The "wire theory" comes mostly from folks who couldn't believe that Joe didn't absolutely crap the bed during the debate.
Article continues below advertisement
"Why was Joe Biden not fumbling his words as much during the presidential debate? Joe Biden was wearing a wire, he was being fed information through an earpiece. Joe made the mistake of adjusting his jacket, the wire pops out for a matter of 3 seconds, just long enough to prove it. Notice his wrist when he coughs? That little black nub on his wrist is the microphone at the end of his wire."
Article continues below advertisement
It's also highly likely that the "microphone" on Joe Biden's wrist was actually rosary beads.
Joe always wears a rosary on his left wrist that used to belong to his late son Beau Biden, who passed away on May 30, 2015 due to brain cancer. The former vice president keeps the prayer beads with him at all times in order to honor the memory of his child.
Article continues below advertisement
So, while there are plenty of memes about the presidential debate circulating the internet, with lots of folks taking pot shots at both candidates and recordings of the barbs they traded back and forth at one another, there's no credible evidence to suggest that Joe was "mic'ed up" during the debate whatsoever, and plenty of folks who disproved it.