You'll Be Thankful for the Mending Machines in This Season of 'Fortnite'
A mysterious chrome liquid is creeping through the Fortnite map, threatening to engulf certain areas and putting players on entirely new quests.
But with these new threats that come with the season change, there are also new resources available to players. This season, Mending Machines have been introduced, and you'll need them to complete some quests. But what are Mending Machines, and where are they located?
Article continues below advertisement
A Mending Machine can help you heal in a pinch.
Mending Machines are a new feature introduced as part of Season 4 of Fortnite's third chapter — and they're incredibly helpful, especially if you're running low on help.
For a few Gold Bars, you can stop by any of the Mending Machines located around the map to purchase some healing items. These machines have an inventory of bandages, medkits, and small and shield potions.
Of course, if you plan to use these (or need to complete a quest), you'll have to stack up on Gold Bars to afford the items.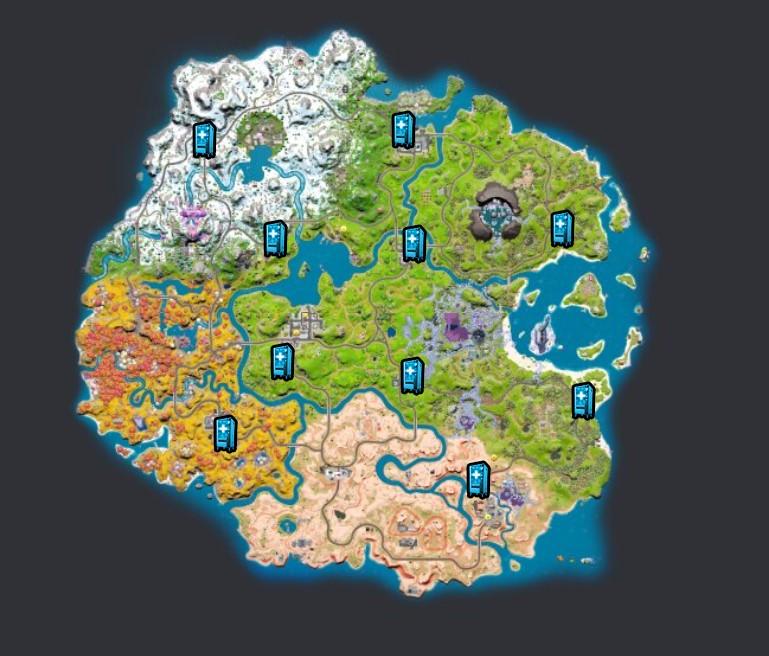 Article continues below advertisement
Where to find all of the Mending Machines in 'Fortnite.'
In total, there are 10 different Mending Machines scattered around the Fortnite map. Thankfully, they're all spread out pretty evenly, so there should be one within a reasonable distance from your location if you ever find yourself in a pinch.
Starting in the upper-left corner of the map, you can find a Mending Machine in the compound to the east of the Wreck Ravine. Another is located in the northwest corner of the Sleepy Sound.
There's a mending machine a short distance to both the east and the west from the Lustrous Lagoon; one is in the upper-right corner of Coney Crossroads, while the other is just off the shoulder of the road to the east of the chrome-covered lagoon.
There's another in between buildings to the south of the Tilted Towers, and another in a building to the east of the Picturesque Paradox. If you're touching the chrome coming from Herald's Sanctum, you've gone too far.
Another is just south of The Perch, and one more on the west side of the Gleaming Condosseum, but north of the Cloudy Condos. Lastly, there's a Mending Machine within the Greasy Grove.
As these machines are needed to complete some quests in Season 4, be sure to be on your guard when approaching them, especially if you're injured, for other players who may also be trying to spend their Gold Bars to heal.