Fans of The Walking Dead were captivated yet left hanging after the Season 10 midseason finale at the end of November. It's been nearly two months since the popular gritty drama has been on AMC with new episodes, which is why viewers are itching to see their favorite horror series back on the small screen. So, when does The Walking Dead return in 2020? Scroll down for everything we know about the hit show coming back to TV!
When does 'The Walking Dead' return in 2020?
Luckily for anxious fans, The Walking Dead returns with new episodes from the 10th season on Sunday, Feb. 23 at 9 p.m. on AMC. This new episode will be the ninth one from the 10th season.
Since many of the seasons before this have been 16 episodes long, viewers can expect the show to air another eight episodes over the next eight weeks, meaning the 10th season of The Walking Dead should be expected to conclude sometime in mid-April.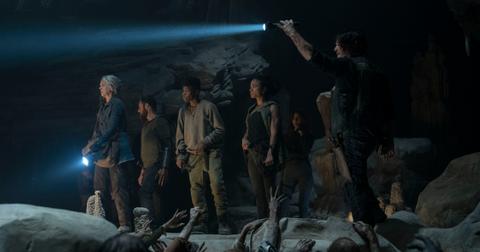 What will the rest of 'The Walking Dead' Season 10 be about?
The AMC website gives a perfect description of what fans can expect after the Season 10 midseason finale. "With the Whisperer War upon them, the collective communities must come together and possibly sacrifice all they have to find a way to silence the Whisperers once and for all," the description for the Season 10 midseason premiere reads.
Based on this description, we obviously can't wait to watch the star-studded cast battle in the Whisperer War.
Who is in the Season 10 cast of 'The Walking Dead'?
The second half of The Walking Dead Season 10 will welcome back your favorite cast members, including Jeffrey Dean Morgan as Negan, Norman Reedus as Daryl Dixon, Christian Serratos as Rosita Espinosa, Melissa McBride as Carol Peletier, Cassady McClincy as Lydia, John McDermitt as Eugene Porter, Nadia Hilker as Magna, Dan Fogler as Luke, Eleanor Matsuura as Yumiko, Ryan Hurst as Beta, Samantha Morton as Alph, Lauren Ridloff as Connie, Angel Theory as Kelly, Avi Nash as Siddiq, and many more.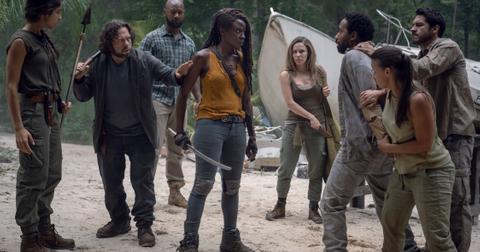 Sadly, in the last eight episodes, fans won't be seeing any more of their favorite leading man Andrew Lincoln as Rick Grimes. During this second part of the season, we will also be saying farewell to Michonne, who is played by Danai Gurira.
Where can I watch older episodes of 'The Walking Dead'?
If you want to catch up on the first eight episodes of Season 10 of The Walking Dead before the show returns on Feb. 23 or if you're interested in binge-watching the past nine seasons of the groundbreaking series, you can head to AMC.com, Netflix, Philo, fuboTV, YouTubeTV, iTunes, Amazon Prime Video, Google Play, or Vudu for full episodes.
And don't worry. As far as we know, The Walking Dead isn't ending anytime soon, so now is the perfect time to get hooked on the show!